Other interesting news
---
British & Irish Masters Cross Country International, 13 November 2021
The 2021 British & Irish Masters Cross Country International will be hosted by Ireland and takes place in Santry Demesne, near Dublin, on Saturday13 November. England, Scotland, Wales, Ireland and Northern Ireland compete in age group teams in four races (M35-49, M50-64, Women 35-64 and Men & Women M65+).
Six men are selected for each of the M35, M40 and M45 age groups. Four men are picked for each of the remaining age groups up to M75. Four women are selected for each age group up to W75.
Each country has its own means of application and selection. England, under the auspices of EMAA (England Masters Athletics Association), will hold trials in Derby on Saturday 9 October 2021. Those applying for selection are strongly advised to enter the trial races.
The trial races are incorporated within the scheduled North Midlands Cross Country League races on 9 October. The venue is Markeaton Park, Keddleton Road, Derby DE22 4AA. Entry is via the OpenTrack system only and the closing date is Friday 24 September. Follow the links for Details of the Trial and for Entry to the Trial Race.
VAC is proud of the members who are selected. It would be great to see lots of VAC members wearing the VAC vest in Derby for the trial races.
Those wishing to apply for selection for the England team, including anyone not available for the trial race, must complete the Application Form which should include information about the athlete's relevant performances in 2021.
For all women and men 65+, the first three athletes from each 5-year age category will be selected from the results of the trial. For men aged 35 to 64, the first four athletes in each 5-year age category will be selected. The remaining England team members, including reserves, will be selected by area selectors after the trial races on 9 October, taking into account information in the application forms.
VAC Committee Member, Mike Mann, is VAC's representative on the England team's selection panel and will handle VAC members' applications. He is happy to provide further advice.
VAC members wishing to apply for selection, including anyone not available for the trial race, should complete the Application Form and submit it to Mike Mann (mcmann90@yahoo.co.uk) by 2 October.

---
VAC featured in Runner's World! 2-06-20
The July 2020 issue of Runner's World includes a great article about VAC. Click to view the article. The journalist spoke to Ros Tabor, VAC's Chairman, and elicited quotes from two of our members. He has captured the spirit of the Masters scene as well as admiring our members for defying age and continuing to compete, with many successes. The article should appear in due course on the Runner's World website.

---
VAC Members Track & Field Competitions Survey 2020
On 10 January 2020, the Membership Secretary sent a survey by email to 492 members of VAC who have a track and field interest. 66 responses were received.
Here is a Summary of the Responses to the T&F Survey as of 7 March 2020.
More responses are welcome during 2020. See the background below and follow the link to the VAC Track & Field Survey. Send responses to Peter Kennedy at memsec@vetsac.org.uk.
Conclusions of the Committee
1. There is full support for continuing to have a traditional championship.
2. There is moderate support for multiple meetings when members would be competing against those of similar ability, leading to overall winners for the whole season.
3. A significant number of members would be willing to help in the organisation of the club's T&F events.
Action Plan proposed by the Committee
1. Incorporate VAC championships into both indoor and outdoor South of England Masters Championships.
2. Continue to organise the VAC 5,000m and 10,000m Championships, as well as entering teams in the inter-area competitions.
3. Investigate whether both 2nd Claim and 1st Claim VAC members could compete in the Rosenheim League as guests or as a team. Identify T&F Open Meetings which VAC members could compete in to make up a summer series, not necessarily the same meetings for each discipline (sprints, hurdles, middle distance, throws, pole vault, high jump, long/triple jump), leading to overall winners at the end of the year in each discipline and age group.
4. Give further consideration to awards for best age graded performances in each discipline.
5. Approach those members who said they might be willing to help in order to identify who would be willing to be part of a team to organise 2-4 above instead of having a single Track & Field Secretary.
Background to the survey
We are at a turning point in VAC in that in 2019 we lost Mike May, who was the driving force behind the track and field side of the club. He had planned and organised championships and other events for many years, with help from the other members of the Committee. We now need to re-establish VAC's direction with a view to maintaining what works well and thinking of new ideas for what could be even better.

What works well, we believe, are our separate 5000m and 10000m championships and what could be better is our overall T&F championship. In order to make decisions, we are seeking your views on what to do by your answers to the questions in the Track & Field Competitions Survey.

The Committee urgently needs help to plan and organise VAC's T&F activities, either by one person who attends committee meetings or by a group of people who share the responsibilities and do not have to attend the committee meetings or preferably a mixture of the two. The distinction between committee members and other volunteers can also start to blur if we hold meetings via video conference on specific topics. This technology is used within the BMAF and will be the basis for new groups established to listen to members' views on the BMAF. Anyone invited to a virtual meeting can participate via their home PC (if sufficiently modern), laptop or tablet or smartphone. It is even possible to join such conferences by an ordinary phone, although you miss out on seeing the other committee members.

---
24-01-14
A SYNOPSIS OF THE REAL MARATHON MEN (Including Mike Peel!)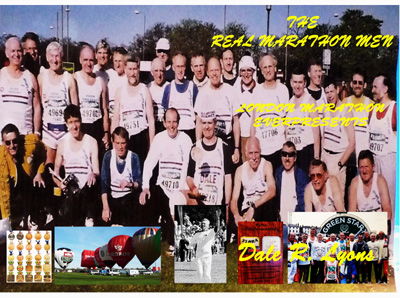 This is the story of 42 marathon runners who were created as the 'Ever-presents' by the London Marathon in 1995 after they had run 15 consecutive Londons.
Their story is a testimony to a 'never say die' spirit that has sustained them during the thousands of marathons they have run all over the world.
Dale Lyons, one of the last 15, has combined a detailed factual record from his research, with many heart warming anecdotes and astonishing hardship stories in tracking the Ever-presents' journey for 33 years since 1981.
Their triumphs and cruel disappointments, the amazing sums they have raised for countless charities, their incredible running records at home and abroad, their entertaining media coverage and their fascinating and colourful lives away from the marathon treadmill provides absorbing and enlightening reading.
This is a book to honour their commitment to the London, one of the great city Marathons and provides a lasting tribute to a rapidly diminishing group, decimated by injury, accident, illness and death.
The book will provide information, inspiration and motivation not only to marathon runners but to those watching the London each year thinking "that could be me!"
Available January 2014 price £6.99 + £2.60 pp.
Paperback version. 230 pages with photos.
For orders contact Dale Lyonse-mail dale@5rhg.co.uk
5 Richmond Hill Gardens, Edgbaston Birmingham B15 3RW
"This remarkable book is a tribute to everyone of the Ever-presents. The London Marathon salutes them all!"
John Bryant. Author of The London Marathon book and Chairman of the London Marathon Charitable Trust.