London Marathon 24 April 2016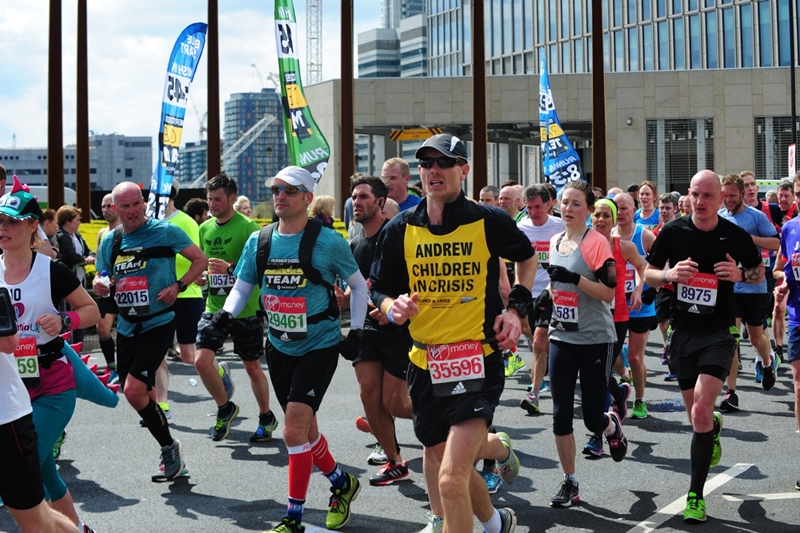 VLM, mass nearing 19 MIles at 12.45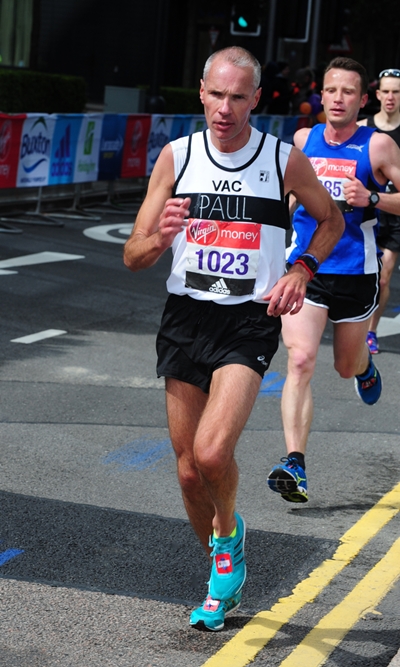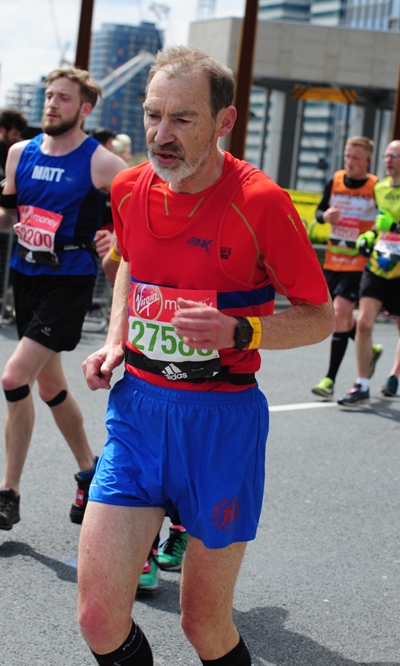 Paul Cheetham Andy Murray has 7 miles to go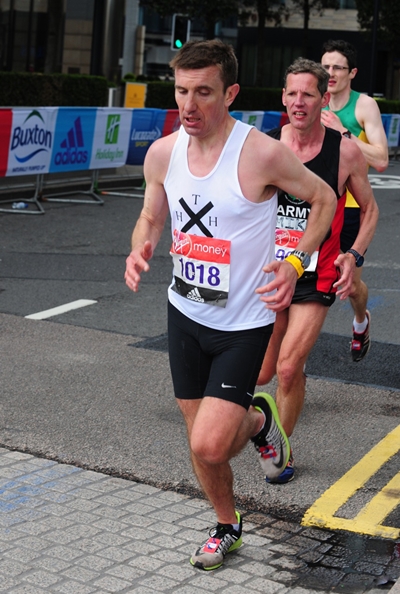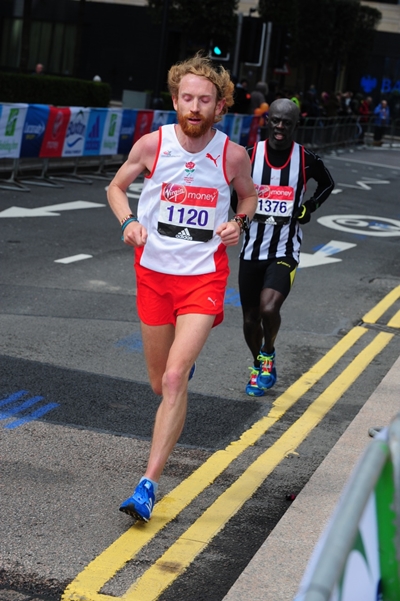 David Symons (THH) was 25th M45 in 2:42:08 Thomas Payn (Run Fast) was 5th M35 in 2:21:20 was fastest VAC no doubt
Photos from Jeremy Hemming
Jeremy has advised us that, following the demise of the imagetogo sites, he is sourcing a new service to be able to continue suppling members with photos. In the meantime you can contact him direct at hemming@dircon.co.uk
VAC Members at the Virgin London Marathon: 24 April 2016
At least 34 VAC members took to the streets of London in the 2016 Virgin London Marathon. Our fastest was Thomas Payn (M35), the recent BMAF 10k champion, who set a magnificent time of 2:21:20. VAC cross country champion, Paul Cheetham, getting faster every year, was next for VAC, setting a PB of 2:34:05, taking a very good 20th position in the M40 age group. David Symons was the third VAC-placer, running 2:42:08 to achieve 25th place in the very competitive M45 age group.
For the women, Clare Elms set a new PB of 2:53:52 to head the W50 age group, and take a remarkable 31st place in the whole women's field. Well done to Victoria Buck (W40), Susanna Harrison (W50), Pippa Major (W50), Lynn Wilson (W55) and Ann Bath (W65) who all achieved top 50 age group placings.
VAC's walkers were ably represented by John Ralph and Dave Hoben.
Special congratulations go to Bill O'Connor who is one of the 12 remaining London Marathon "Ever-Presents". Happily, he kept up his fantastic record and competed for the 36th time, completing the course in 5:18:35.
The VAC members' results, below, have been compiled by scanning the Virgin London Marathon results website. Inevitably, we are bound to have missed some members. Apologies if you are not included. Please let me (entries@vetsac.org.uk) know your placings, and I will amend the list.
VAC Members at the Virgin London Marathon: 24 April 2016
Name
Time
Age Group
Age Grp Pos.
First claim club
Thomas Payn
2:21:20
M18-39
5
Run Fast
Paul Cheetham
2:34:05
M40
20
Stragglers RC
David Symons
2:42:08
M45
25
Thames Hare & Hounds
Steve Davies
2:48:23
M45
54
Dulwich Runners
Clare Elms
2:53:52
W50
1
Dulwich Runners
Ebe Prill
3:00:23
M50
120
Dulwich Runners
Tom Cheetham
3:05:08
M45
334
Hercules Wimbledon
Victoria Buck
3:07:36
W40
31
Kent AC
Susanna Harrison
3:11:25
W50
9
Guildford & Godalming
Steve Smythe
3:11:52
M55
67
Dulwich Runners
Neil Crisp
3:12:12
M50
257
Ilford AC
Gideon Franklin
3:15:21
M50
315
Dulwich Runners
Richard Tweddle
3:19:11
M50
392
VAC
Mark Cawood
3:20:59
M45
716
SLH
Rebecca Coomber
3:21:00
W40
102
Holland Sports AC
Robin Dow
3:22:50
M40
982
SLH
Pippa Major
3:29:22
W50
45
SLH
Maureen Noel
3:38:03
W50
92
Belgrave Harriers
Lynn Wilson
3:42:10
W55
26
Ealing Southall & Midd.
Steve Clancey
3:44:08
M45
1189
SLH
Gerry Smith
3:47:00 est
M65
35 est
Epsom & Ewell
Victoria Carter
3:47:19
W40
438
Thames Valley Harriers
Andy Murray
3:51:49
M60
130
Dulwich Runners
Heather Martingell
4:00:03
W50
286
Ranelagh Harriers
Barry Attwell
4:03:56
M60
181
SLH
Ellie Brown
4:04:59
W45
451
Kent AC
Julia Galea
4:18:30
W60
60
Ilford AC
Martin Garrett
4:20:25
M60
229
Sudbury Court RC
Ann Bath
4:23:30
W65
20
26.2 Road Runners
Nicola Chester
4:48:50
W18-39
4721
Ilford AC
John Ralph (walker)
4:57:14
M55
798
Enfield
Dennis Williams
5:04:01
M70+
75
Hercules Wimbledon
Bill O'Connor
5:18:35
M70+
87
Queens Park Harriers
Dave Hoben (walker)
6:01:47
M60
476
VAC
---
London Marathon 26 April 2015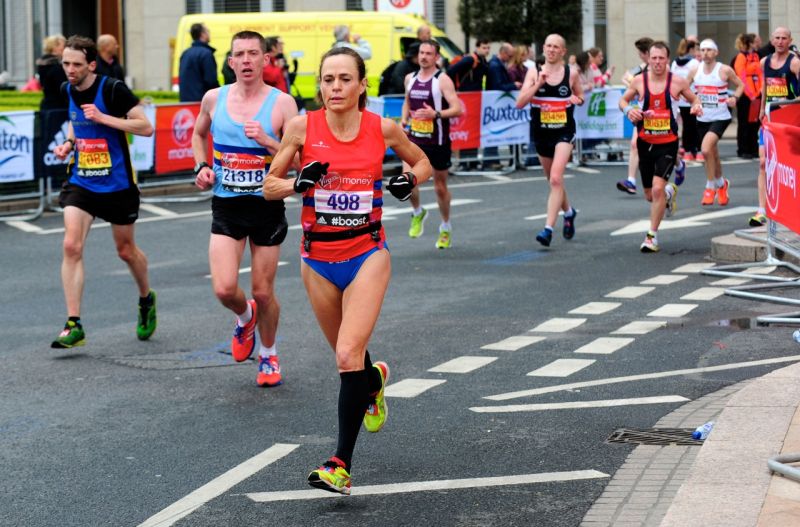 Clare Elms (498) at Docklands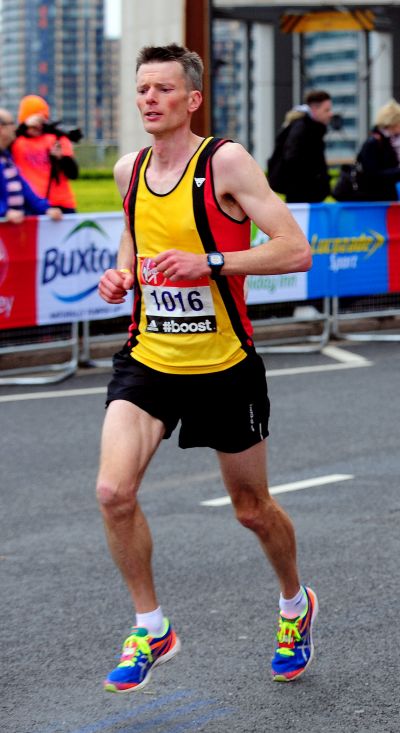 Alexander Hamilton M40
Above photos by Jeremy Hemming
M40 22 Paul Cheetham (Barnes Runners) 2:36:33
35 Alex Hamilton(BMH) 2:38:11
M50 63 Leonard Reilly(Kent) 2:56.45
168 Richard Tweddle (VAC) 3:08:41
M55 70 Stephen Smythe(Dul) 3:14:37
87 Keith Brown(Sutton) 3:17:04
M60 1 Paul Sanderson(G&G) 2:54:41
72 Andy Murray(Dul) 3:34:47
484 David Hoben (SWC) (walker) 5:52:43
M65 42 Maurice Sharp(HW) 3:48:11
169 Dennis Williams(HW) 4:53:50
228 William O'Connor(QPR) 5:43:26
W40 49 Victoria Carter(TVH) 3:13:23
W50 1 Clare Elms(Dul R) 2:55.26
5 Susannah Harrison(G&G) 3:08:23
54 Pippa Major(SLH) 3:32:38

---
London Marathon 13 April 2014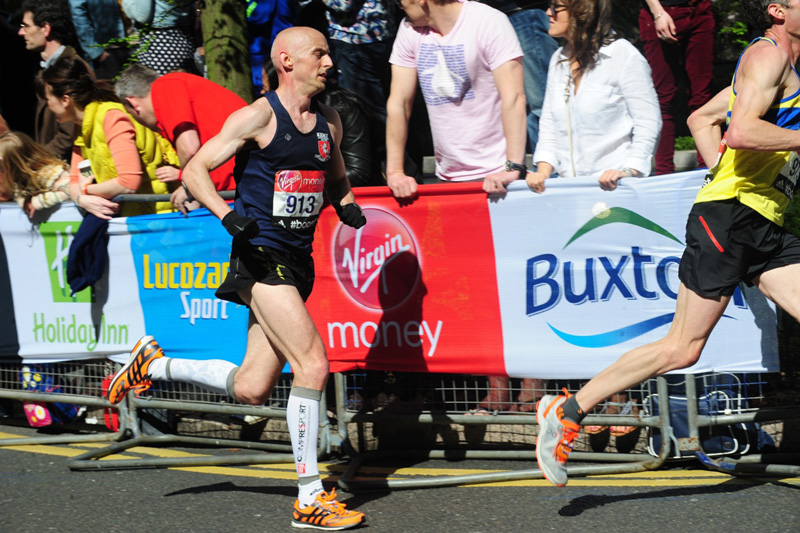 Chris Greenwood (913) in Docklands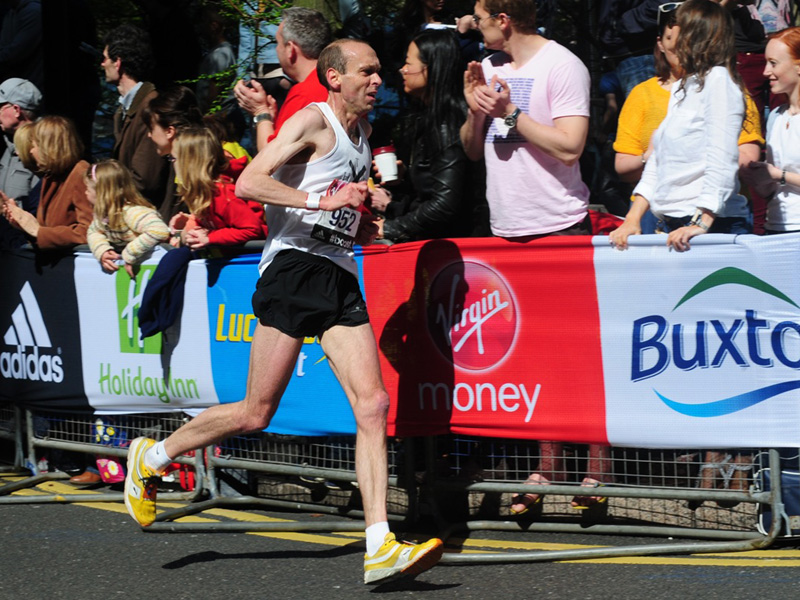 Ben Reynolds at Docklands
Above photos by Jeremy Hemming
London Marathon, Vac Placings as at 20 April
M40 1 Chris Greenwood(Kent AC) 2:27:59
M50 1 Ben Reynolds(THH) 2:33:53
M45 12 David Symons (THH) 2:41:14
M55 8 John Foss(SLH) 2:56:57
M65 2 Graham Ball(Windmilers) 3:14:07
M55 62 Steve Smyth(Dul R) 3:16:38
M55 89 Keith Brown(Sutton) 3:21:55
M60 28 Andy Murray(Dul R) 3:27:53
M60 71 Gerry Smith(E&E) 3:29:21
M50 637 Paul Browning (VAC) 3:48:23
M55 695 Steve Allen(Ilford) 5:12:04
W55 21 Andrea Sanders-Reece 3:42:38
W60 3 Jane Georghiou 3:49:10

---
London Marathon 21 April 2013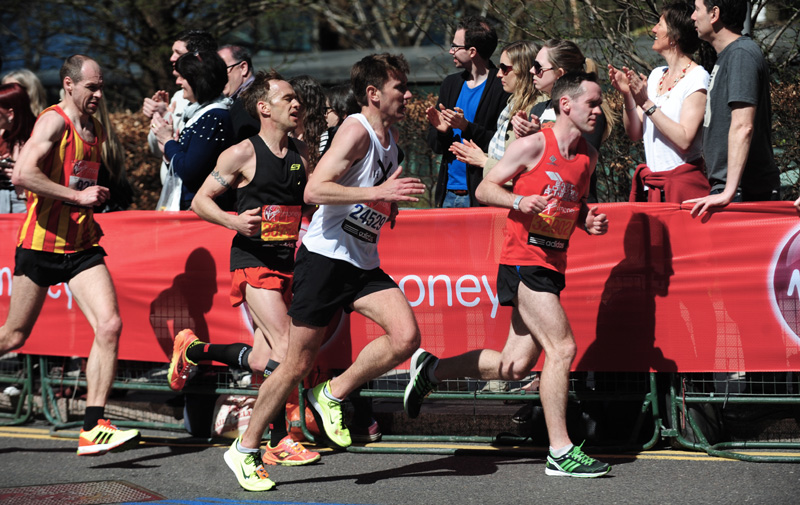 At Canary Wharf: David Symons(24529)
Above photo by Jeremy Hemming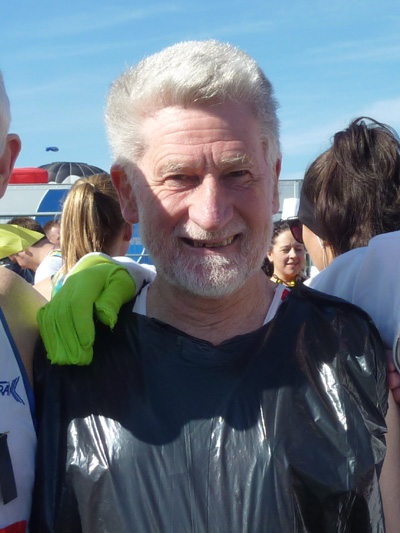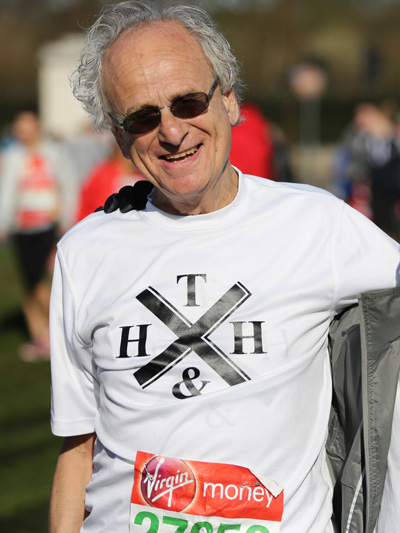 Bill O'connor Jeffrey Gordon
Above photos from Mike Peel
London Marathon, VAC Member's times 2013
Buzz Shephard(Dul R) 35 2:37:38
David Symons(THH) 40 2:41.14
Peter Lee(HW) 45 2:53:05
Damian Shirley(Highgate) 40 3:02:57
Susannah Harrison(Wok) W50 3:10:41
Steve Smythe(Dul R) 55 3:12:27
Belinda Tull(Reading RR) W40 3:25:07
Victoria Carter(Serp) W40 3:30:14
Ola Balme(Dul R) W45 3:31:23
Maurice Sharp(HW) 65 3:36:25
Paul Wignall(HW) 55 3:54:31
Steve Allen(Ilf) 55 5:13:15
Dennis Williams(VAC) 65 5:19:43
Bill O¹Connor(QPR) 65 5:32:48
Keith Seldon(Hill) 55 5:33:57
David EarL(VAC) 70 5:41:05
Richard Pitcairn-Knowles(S¹oaks) 70 6:31:39
Jeffrey Gordon(THH) 75 6:53:02
Mike Morfey(VAC) 65 7:12:55
Further claims to be added will be welcome; send to hemming@dircon.co.uk
Dated 22 April 2013



---
London Marathon 22 April 2012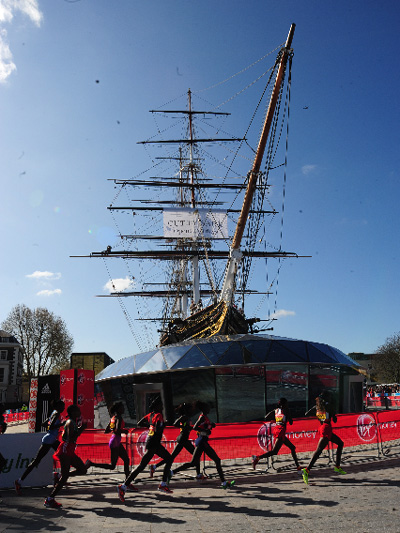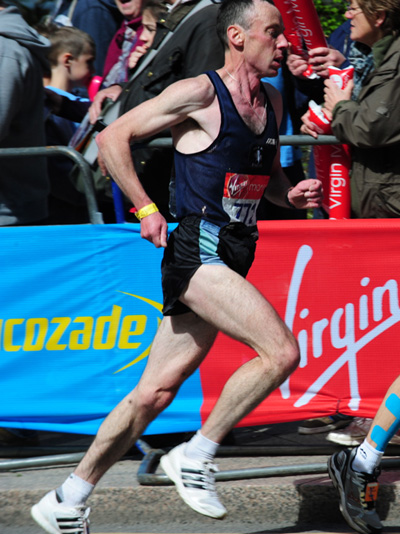 The leaders charge past the Cutty Sark Len Reilly at Canary Wharf
Above photos by Jeremy Hemming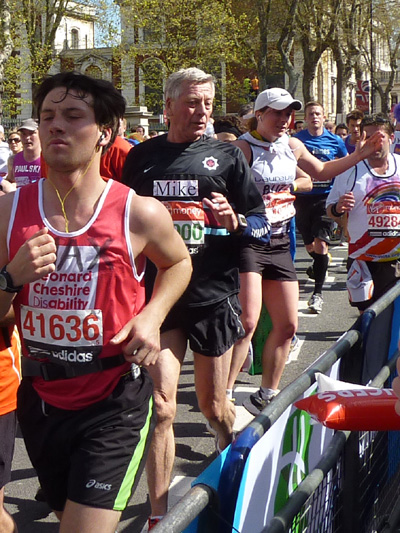 Mike Peel at 6ish miles
London Marathon, VAC Member's times 2012
Andy Weir M40 2:31:51
Peter Lee M45 2:52:11
Len Reilly M50 2:42:56
Steve Smythe M54 2:59:13
David Smyth M55 3:12:30
Graham Ball M60 3:07:00
Mick Barlow 3:12:01
Marie Synnott-Wells W45 3:12:39
Andrew Murray 3:16:45
Pam Iannella W50 3:31:11
Pippa Major 3:27:24
Ola Balme 3:28:44
Belinda Tull 3:31:35
Liam O'Hare M60 3:36:08
Maureen Noel 3:38:01
Maurice Sharp 3:40:20
Andrea Sanders-Reece W55 3:39:45
Susan Lambert W70 4:05:18
Angela Bent 4:12:20
Jacqui Reid 4:14:15
Ian Richards 4:23:10
Peter Freeman 4:28:56
Martin Miller 4:35:30
Mike Peel M70 4:36:00
Francis Thomason 4:39:42
Steve Allen(Ilf) 5:00:57
Christopher Bent 5:01:50
Bill O'Connor M65 5:04:02
Dennis Williams 5:12:03
Jeffery Gordon M75 6:25:33
Lesley Young 6:29:05

Compiled by Jeremy Hemming, 10.5.12
hemming@dircon.co.uk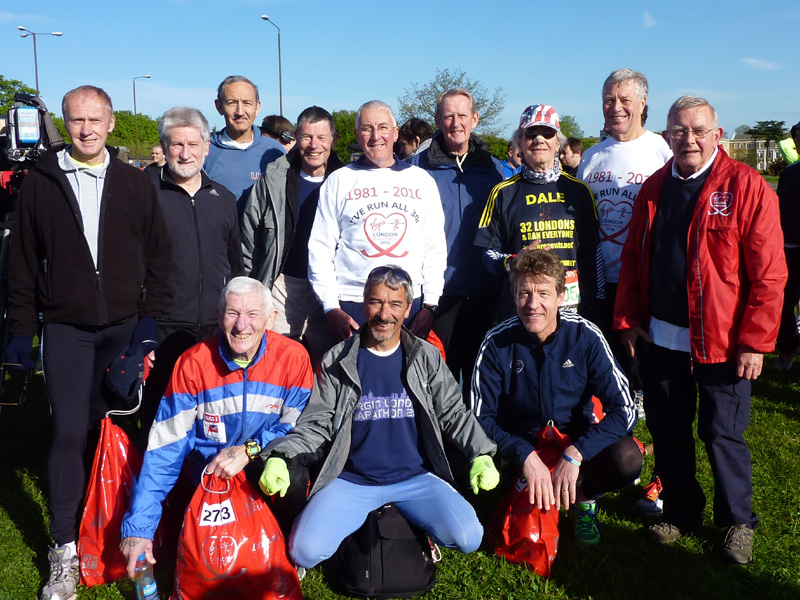 O'Connor (2nd left back row) & Peel (2nd right back row), are VAC members that have completed ALL
32 London Marathons. See www.everpresent.org.uk

---