Results for January to June 2019
---
Veterans AC 5M Road Race and Race Walk Championships, 11 June 2019, Battersea Park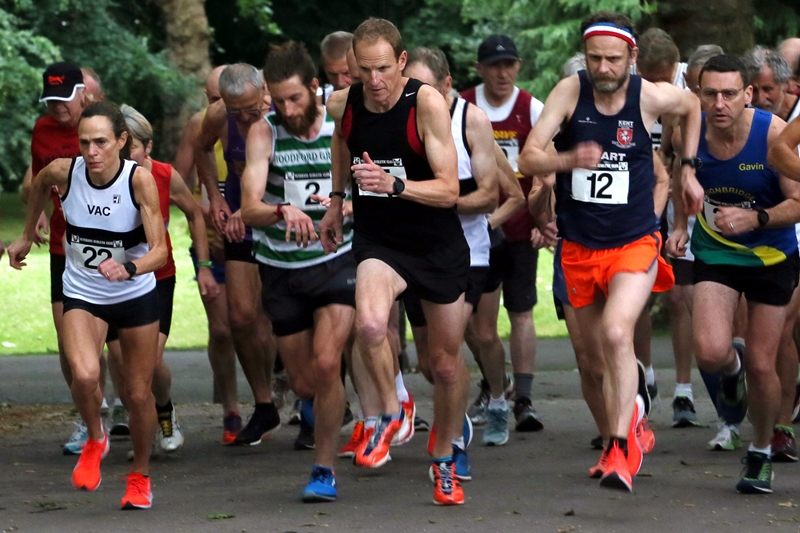 The start: Clare Elms, Richard Tomlinson and Stuart Beaney in the lead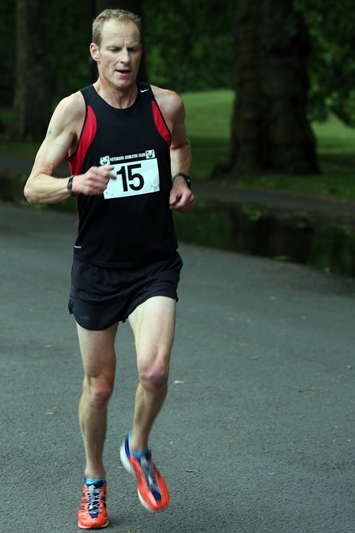 Richard Tomlinson, race winner Clare Elms, British W55 best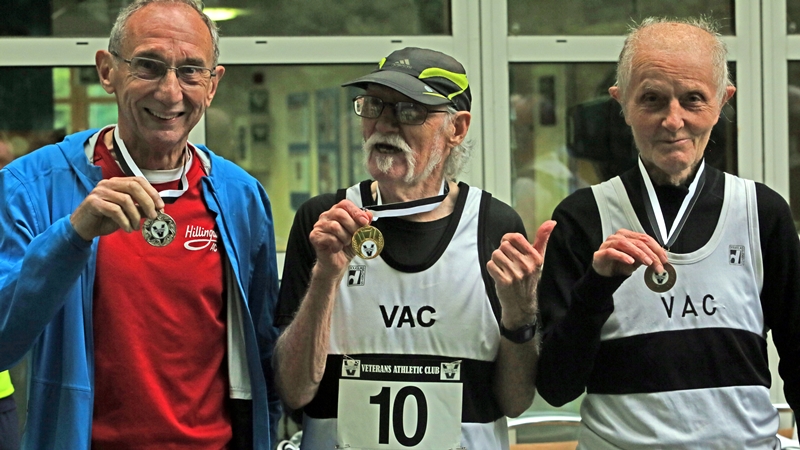 The M80 medallists: Doug Milsom, Cliff Collins, Joe Aspinall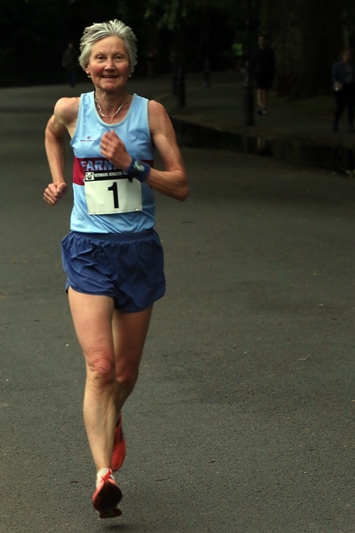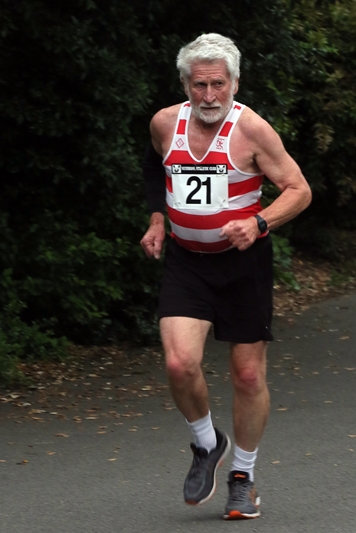 Jane Georghiou, W65 Gold Bill O'Connor, M70 Bronze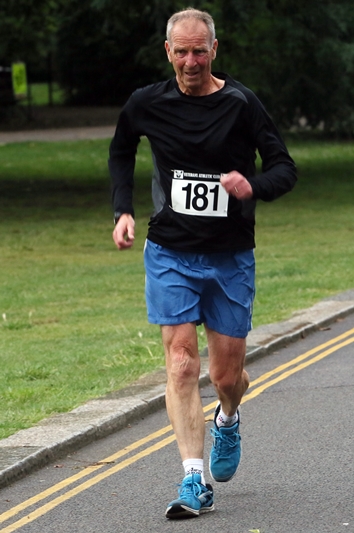 Stefano Zennaro, walk winner Dan Maskell, VAC walk champion
Above photos from Cliff Hide. Cliff has more photos and is happy to supply J-Peg copies to competitors.
Email him at cliffhide10@aol.com
5 Mile Road Race

Race Position
Time
Name
Age Group
Age Gp Position
VAC Medal
BMAF/Guest Medal
First Claim Club
1
27:29
Richard Tomlinson
M50
1
Gold
Medway and Maidstone AC
2
27:48
Stuart Beaney
M45
1
Gold
Kent AC
3
28:09
Ian Johnston
M50
2
Silver
Veterans AC
4
28:21
Jonathan Ratcliffe
M50
3
Bronze
Herne Hill Harriers
5
29:05
Clare Elms
W55
1
Gold
Dulwich Runners AC
6
29:48
David Ogden
M60
1
Gold
South London Harriers
7
30:06
Graeme Drysdale
M50
4
Bronze
Striders of Croydon
8
30:14
Robbie Cox
M35
1
Gold
Woodford Green With EL
9
31:11
Malcolm Davies
M50
5
The Stragglers Running Club
10
31:58
Martin Daoud
M55
1
Gold
Ealing Southall & Midd AC
11
32:16
Dennis Gorman
M40
1
Gold
London Frontrunners
12
32:57
Tom Cheetham
M50
6
Hercules Wimbledon
13
33:15
Terry O'Neill
M65
1
Gold
Belgrave
14
33:23
Enda Kiernan
M45
2
Silver
St Finbarrs, Ireland
15
33:32
Peter Hall
M60
2
Silver
West 4 Harriers
16
34:16
Ange Norris
W55
2
Silver
Dulwich Runners AC
17
34:19
Peter Giles
M70
1
Gold
Hercules Wimbledon
18
34:22
Richard Piotrowski
M70
2
Silver
South West Veterans AC
19
34:48
Robert Nagorski
M55
2
Silver
Herne Hill Harriers
20
36:45
Tom Morris
M60
3
Bronze
Hercules Wimbledon
21
37:03
Lynn Wilson
W60
1
Gold
Ealing Southall & Midd AC
22
37:22
Andrew Gardiner
M60
4
Kent AC
23
39:09
Mike Mann
M70
3
Silver
Dulwich Runners AC
24
39:18
Jane Georghiou
W65
1
Gold
Farnham Runners
25
39:21
David Hallson
M65
2
Silver
Road Runners Club
26
40:38
Sarah Allen
W55
3
Bronze
Herne Hill Harriers
27
40:42
Michael Johnson
M75
1
Gold
Thames Hare and Hounds
28
41:32
Penny Elliott
W75
1
Gold
Waverley Harriers
29
41:40
Liz Ainsworth
W40
1
Gold
Ealing Eagles
30
41:57
Colin Harris
M60
5
Wimbledon Windmilers
31
44:37
Cliff Collins
M80
1
Gold
Veterans AC
32
45:22
Doug Milsom
M80
2
Silver
Hillingdon AC
33
45:22
John Grigg
M65
3
Silver
Fulham Running Club
34
45:49
Karen Gedge
W50
1
Gold
Bungay Black Dog RC
35
47:26
Bill O'Connor
M70
4
Bronze
Queens Park Harriers
36
48:45
Joe Aspinall
M80
3
Bronze
Veterans AC
37
54:32
Edwin Bartlett
M70
5
Veterans AC
38
57:25
Richard Pitcairn-Knowles
M85
1
Gold
Sevenoaks AC
Veterans AC 5m Race Walk Championships,11 June 2019, Battersea Park, London
Category B
Race Permit No: RWA9041-2
The second fixture of the season had a lower than expected attendance due to proximity of other events, on a cloudy evening where rain had been forecast but scarcely appeared, giving an ideal temperature for racing.
VAC were pleased to report a new men's winner, Belgrave's Stefano Zennaro and also a new VAC championship winner, Dan Maskell from Surrey Walking Club.
In addition, Stefano chopped over two minutes off his PB.
Maureen Noel also from Belgrave and Mark Culshaw did their usual respectable times.
Officials:
Clerk of Course: Dennis Williams
Starter: Dennis Williams
Timekeepers: David Harris, Cate Berry
Recorders: Carl Lawton, Tom Richards, Ian Isherwood, Nolan Simmons
Walk Judges: John Hall, Shaun Lightman
Entries: David Hoben, Maggie Statham, Anna Garnier
Marshals: Martin Berry, Andy Murray
Drinks station: Anna Garnier, Mike Mann
Results: David Hoben, Maggie Statham, Cate Berry
Photography: Cliff Hide
First Aid: Alison Jones
1 Stefano Zennaro (G)
M45
Belgrave
46:12
2 Dan Maskell [1]
M70
Surrey WC
52:41
3 Mark Culshaw (G)
M50
EMAC
52:41
4 Maureen Noel [1]
W55
Belgrave
53:17
5 David Hoben [1]
M65
Surrey WC
59:29
6 Paul King [2]
M65
Belgrave
59:48
DNS Peter Hannell
M75
Surrey WC
Square brackets denote championship placing

---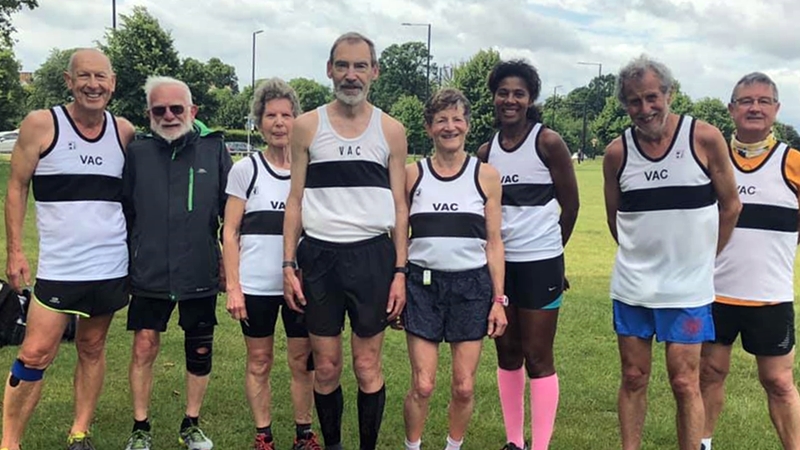 l-r John Grigg, Alan Davidson, Lesley Bowcott, Andy Murray, Ros Tabor, Patricia Thomas, Mike mann, William Fordham
Eight VAC members went to the lesser-run of the Richmond Parkruns, at the riverside Old Deer Park, for our quarterly mob meet-up. The course is just over 3 flat laps on short grass, open enough for the whole lap to be visible at all points but also exposed to strong winds when we visited. We were welcomed at the start and set off into the wind at first, recovering on the way back in a long straight section by a hedge. By the third lap we had adjusted to the conditions but were grateful to reach the finish funnel. We were interviewed and photographed for their parkrun Facebook post.
23.02 22/3w/1w50 Patricia Thomas (Ealing Southall Middlesex) age grade 76.56%
25.12 42/1m70 Mike Mann (Dulwich Runners) 69.97%
25.21 44/7w/1w65 Ros Tabor (Dulwich Runners) 86.39%
25.24 45/1m65 Andy Murray (Dulwich Runners) 66.67%
25.52 51/2m65 William Fordham (Waverly) 66.04%
27.53 76/3m65 John Grigg (Fulham) 60.13%
28.21 85/8w/1w70 Lesley Bowcott (Wimbledon Windmilers) 84.01%
34.58 123/3m70 Alan Davidson 51.72%
128 ran.

---
VAC 10 MILE CHAMPIONSHIPS, DORKING, SUNDAY 2 JUNE 2019
The Dorking 10 mile race was chosen for the VAC championships again this year. This time the event also incorporated the BMAF and SCVAC championships, so the number of masters athletes was probably larger than normal. It was also the Surrey 10 mile championships. The race is made up of 2 different sized loops of undulating country roads in the well-named Surrey Hills. The race headquarters is Dorking Rugby club, with their grass used as the finish area. The race is well organised by Dorking Mole Valley AC with a lead car, accurate mile markers and enough drinks stations. It was a very hot and humid morning, and conditions were tough even though the race started at 9.00.
VAC had at least 22 members running, which is an increase on last year. Several VAC members also won BMAF medals. Matthew Jones (M35), Paul Cheetham (M45), Alice Riddell-Webster (W50), and Jane Georghiou (W65) were BMAF gold medallists.
VAC awards the Ron White Shield to the member who gains the highest age graded score in the race. This year the winner was Alice Riddell-Webster whose age graded score was 88.4%.
VAC results are shown below. Masters results will be on the BMAF website:www.bmaf.org.uk. Full race results are on power of 10: www.thepowerof10.info
Age Category Winners - MEN

Age Gp Rank
Bib
Race Pos
Name
Club
Gun Time
Chip Time
Age Grade
M35-1
675
13
Sam Rahman
Ilford AC
1:02:07
1:02:07
71.5%
M35-2
623
15
Chris de Mauny
Walton AC
1:03:18
1:03:17
70.5%
M35-3
671
22
Sebastian Parris
Ilford AC
1:05:34
1:05:30
67.8%
M40-1
649
3
Matthew Jones
Thames Hare & Hounds
0:59:08
0:59:08
77.3%
M40-2
647
11
Robert Ingoldby
Guildford & Godalming AC
1:01:17
1:01:16
74.6%
M40-3
654
16
Edward Lambert
South London Harriers
1:04:02
1:04:01
72.0%
M45-1
616
2
Paul Cheetham
Thames Hare & Hounds
0:57:24
0:57:23
83.0%
M45-2
M45-3
M50-1
643
9
Paul Holloway
Ilford AC
1:00:24
1:00:24
82.2%
M50-2
628
28
Graeme Drysdale
Striders Of Croydon
1:07:08
1:07:02
74.1%
M50-3
680
41
Andrew Simms
Herne Hill Harriers
1:12:35
1:12:26
70.4%
M55-1
621
34
Martin Daoud
Ealing Southall & Middlesex AC
1:09:40
1:09:31
74.7%
M55-2
667
55
Robert Nagorski
Herne Hill Harriers
1:22:05
1:21:48
63.5%
M55-3
M60-1
632
37
John Foss
South London Harriers
1:10:14
1:10:11
76.8%
M60-2
614
67
Keith Brown
Croydon Harriers
1:36:16
1:35:53
57.8%
M60-3
M65-1
674
48
Richard Pitt
Thames Hare & Hounds
1:14:38
1:14:25
75.9%
M65-2
613
52
Jim Brown
Woking AC
1:18:46
1:18:35
74.9%
M65-3
M70-1
M70-2
M70-3
M75-1
M75-2
M75-3
M80-1
M80-2
M80-3
M85-1
M85-2
M85-3

Age Category Winners - WOMEN

Age Gp Rank
Bib
Race Pos
Name
Club
Gun Time
Chip Time
Age Grade
W35-1
617
38
Anri Cohen
Thames Hare & Hounds
1:10:26
1:10:11
71.0%
W35-2
W35-3
W40-1
W40-2
W40-3
W45-1
695
42
Sarah Williams
Veterans AC
1:12:39
1:12:29
76.5%
W45-2
W45-3
W50-1
677
21
Alice Riddell-Webster
Fulham Running Club
1:05:10
1:05:02
88.4%
W50-2
683
57
Patricia Thomas
Ealing Southall & Middlesex AC
1:24:06
1:23:56
70.2%
W50-3
W55-1
685
50
Catherine Ulliott
Brighton & Hove AC
1:16:01
1:15:50
78.7%
W55-2
W55-3
W60-1
W60-2
W60-3
W65-1
635
58
Jane Georghiou
Farnham Runners
1:26:23
1:26:06
80.6%
W65-2
W65-3
W70-1
W70-2
W70-3

---
Vitality Westminster Mile, BMAF I MILE Championships, 26 MAY 2019 27-05-19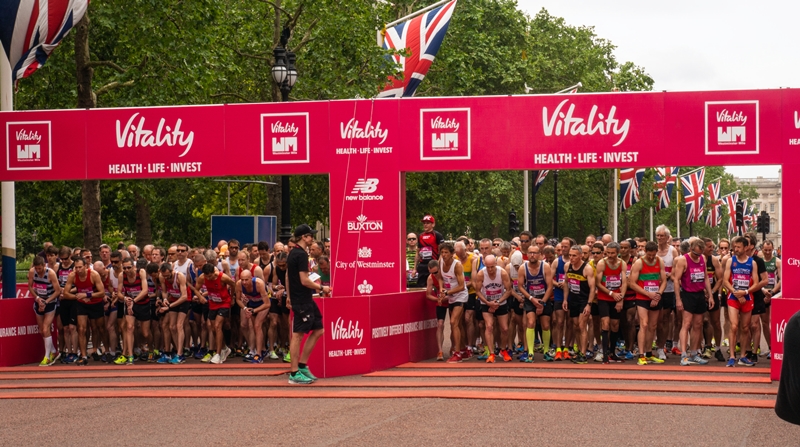 For the second year VAC used the Vitality Westminster Mile as the 1 mile championships for the club.
The course is pretty flat, with a slight downhill start around 3 sides of St. James Park, finishing in front of Buckingham Palace. The day is a London Olympic Heritage event: a day of mile running in different waves. These include club runners, families, parkrun, football mascots, and ex-Olympians. This year there was also a huge wave of people running and walking for a cancer charity in memory of Rose Strauss (wife of Andrew Strauss) .
These waves were followed by serious championships: BMAF and then national seniors and age groups.
This year masters men and women ran in separate races, started by Donna Fraser, ex Olympian and UKA vice president. There were 153 finishers in the men's race and 45in the women's, including at least 60 VAC members in the two races combined.
VAC medallists are listed below. Several of them also won BMAF medals. In addition to age group medals there were salvers awarded to the first 3 men and women on age grading. The women's silver and bronze salvers were awarded to VAC members – Clare Elms (103.3 %) and Ros Tabor (94.8%). Clare Elms also broke the W55 world and British best for a road mile with her time of 5:09.
Full results will be available on the BMAF website www.bmaf.org.uk and power of 10 www.thepowerof10.info
Age Category Winners - MEN

Age Gp Rank
Bib
Race Pos
Name
Club
Gun Time
Chip Time
M35-1
16254
29
Sam Rahman
Ilford AC
4:59
4:55
M35-2
M35-3
M40-1
16062
32
Jamie Mcloughlin
Walton AC
4:59
4:57
M40-2
16051
35
Rich Berry
Veterans AC
4:59
4:57
M40-3
M45-1
16108
13
Jeff Pyrah
Hastings AC
4:46
4:45
M45-2
16061
42
Dave Cobb
West 4 Harriers
5:08
5:05
M45-3
16059
73
Gavin Mackay
Veterans AC
5:29
5:26
M50-1
16181
26
Steve Atkinson
Brighton Phoenix
4:55
4:54
M50-2
16156
64
Malcolm Davies
The Stragglers Running Club
5:22
5:19
M50-3
16160
79
Andrew Simms
Herne Hill Harriers
5:31
5:29
M55-1
16109
37
Tony Tuohy
Dulwich Runners AC
5:00
4:58
M55-2
16120
62
Victor Maughn
Herne Hill Harriers
5:21
5:19
M55-3
16143
81
Tom Conlon
Herne Hill Harriers
5:33
5:31
M60-1
16057
108
Stephen Smythe
Dulwich Runners AC
6:03
5:59
M60-2
16206
111
John Barron
Kent AC
6:05
6:01
M60-3
16182
112
Cliff Cole
Veterans AC
6:07
6:02
M65-1
16191
126
Ronald Vialls
Veterans AC
6:41
6:36
M65-2
16079
131
Martin Garrett
Sudbury Court Running Club
6:57
6:51
M65-3
16095
139
Andrew Murray
Dulwich Runners AC
7:45
7:41
M70-1
16249
127
Richard Bloom
Herts Phoenix AC
6:44
6:39
M70-2
16164
144
William O'Connor
Queen's Park Harriers
8:19
8:15
M70-3
16231
145
Alan Davidson
Liss Runners
8:20
8:15
M75-1
M75-2
M75-3
M80-1
16201
140
Douglas Milsom
Hillingdon AC
7:58
7:55
M80-2
16173
142
Cliff Collins
Veterans AC
8:13
8:09
M80-3
M85-1
16148
148
Richard Pitcairn-Knowles
Sevenoaks AC
10:58
10:51
M85-2
M85-3

Age Category Winners - WOMEN

Age Gp Rank
Bib
Race Pos
Name
Club
Gun Time
Chip Time
W35-1
W35-2
W35-3
W40-1
W40-2
W40-3
W45-1
16386
5
Nkki Sturzaker
Herne Hill Harriers
5:37
5:36
W45-2
16303
8
Rachel Badham
Veterans AC
5:40
5:38
W45-3
16337
19
Helen Davies
The Stragglers Running Club
6:07
6:05
W50-1
16339
7
Lisa Thomas
Hercules Wimbledon AC
5:40
5:38
W50-2
16333
15
Lisa Webb
Shaftesbury Barnet Harriers
6:00
5:58
W50-3
16357
32
Patricia Thomas
Ealing Southall & Middlesex AC
6:39
6:37
W55-1
16321
2
Clare Elms
Dulwich Runners AC
5:10
5:09
W55-2
W55-3
W60-1
16334
27
Anna Garnier
Hercules Wimbledon AC
6:29
6:27
W60-2
16347
42
Anne Lippitt
Trent Park Running Club
9:11
9:07
W60-3
W65-1
16361
36
Ros Tabor
Dulwich Runners AC
6:59
6:56
W65-2
16359
37
Avril Riddell
Serpentine RC
7:00
6:57
W65-3
16315
38
Jane Georghiou
Farnham Runners
7:17
7:14
W70-1
W70-2
W70-3

---
Veterans AC 5M Road Race and Race Walk, 16 April 2019, Battersea Park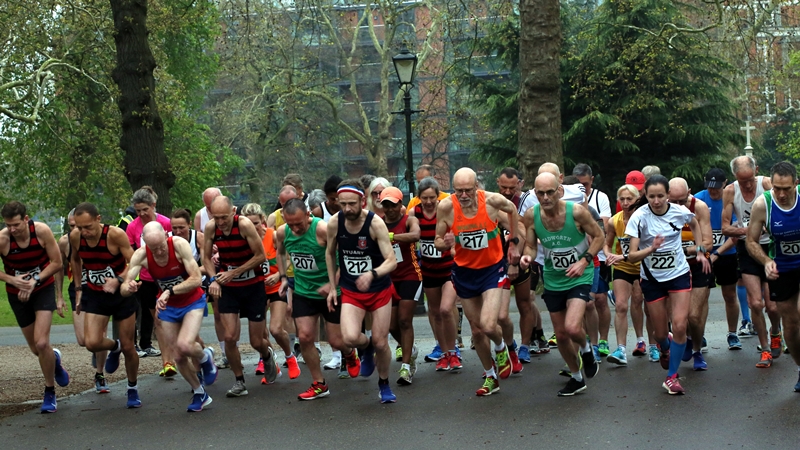 The start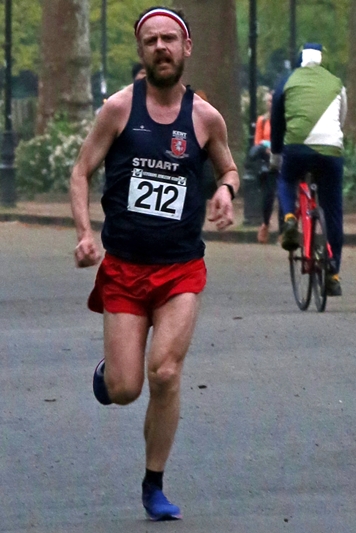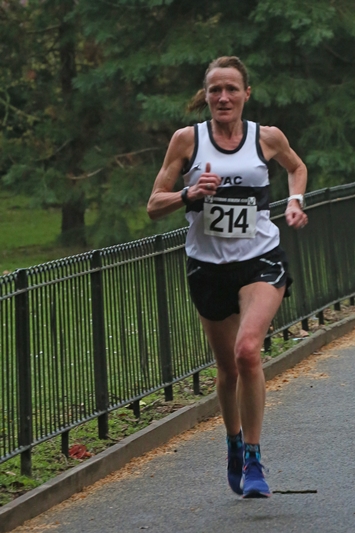 Stuart Beaney, 1st man Sue McDonald, 1st woman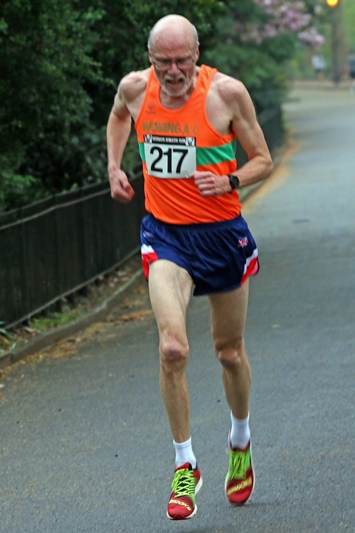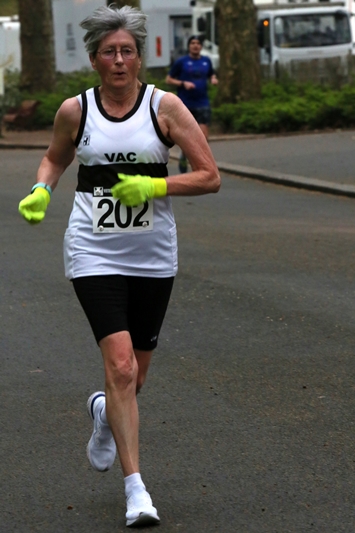 Bob Bradbury, top ranked M65 Penny Elliott, top ranked W75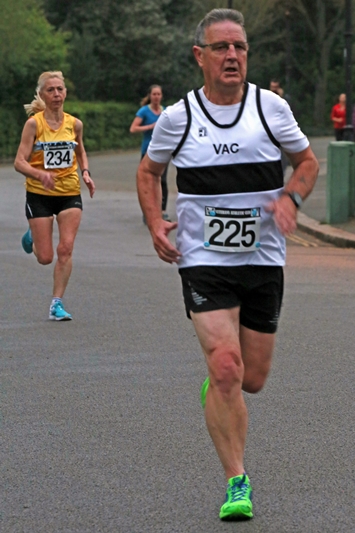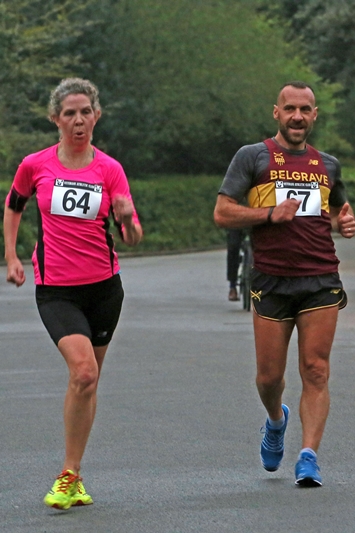 William Fordham Melanie Peddle, Stefano Zennaro
Above photos from Cliff Hide. Cliff has more photos and is happy to supply J-Peg copies to competitors. Email him at cliffhide10@aol.com
5M Road race
The new 3.5 lap course on Wandsworth Council's "approved route", coupled with favourable, cool, weather conditions, inspired fine performances in the first race of the 2019 series. Stuart Beaney (M45) won in a fast time of 27:10, relentlessly pursued by Robin Jones, 18 seconds behind. Sue McDonald was the first woman, following up her recent medal winning performances in the World Masters Indoor Championships in Poland, by shattering the W50 Battersea Park 5M record of 32:49 set by Carol Bowker in 2011. Sue's time of 30:45 was only eight seconds short of the all-time fastest 5M women's time set at Battersea by Marilyn Clarke as a W40 in 1997.
Bob Bradbury of SCVAC was also in record-breaking form. His time of 29:31 set an M65 Battersea Park 5M all-comers record, ahead of the 29:58 mark set by Ron Higgs way back in 1998. Bob's remarkable time also places him at the top of runbritain's list of All Time M65 5M performances.
Other notable performances were from Tony Tuohy (M55) and Penny Elliott (W75) whose times were not far off matching the 5M records set by Gary Ironmonger in 2018 and Pam Jones in 2012.
This was the first qualifying race for the Battersea Park Grand Prix for VAC members. To be eligible, members must register times in at least three of the five road races. The person with the highest average of his or her three best age-graded performances will be awarded the Snow Cup. Top of the table is Tony Tuohy (M55) whose time equated to a 90.25% age grading. Sue McDonald (W50, 89.70%) is in second place, followed by Penny Elliott (W75, 89.51%) in third.
Here are the Age-Graded results.
5M Road Race
Race Position
Time
Name
Age Group
Age Gp Pos
VAC, BMAF or Guest
First Claim Club
1
27:10
Stuart Beaney
M45
1
VAC
Kent AC
2
27:28
Robin Jones
M45
2
VAC
Herne Hill Harriers
3
27:59
Simon Thompson
M35
1
VAC
Herne Hill Harriers
4
28:02
Tony Tuohy
M55
1
VAC
Dulwich Runners AC
5
28:31
Jonathon Ratcliffe
M50
1
SCVAC
Herne Hill Harriers
6
28:42
Terry Booth
M50
2
VAC
Guildford & Godalming AC
7
28:56
David Williamson
M50
3
Guest
Tadworth AC
8
29:31
Bob Bradbury
M65
1
SCVAC
Woking AC
9
30:42
Mark Jefford
M50
4
VAC
London Heathside
10
30:45
Sue McDonald
W50
1
VAC
South London Harriers
11
31:55
Melissah Gibson
W35
1
Guest
Ealing Eagles
12
32:40
Simon Reid
M40
1
OPEN
City of Sheffield & Dearne AC
13
32:45
Kay Trinder
W50
2
WMA
Woking AC
14
32:53
Terry O'Neill
M65
2
VAC
Belgrave Harriers
15
33:53
Tom Cheetham
M50
5
VAC
Hercules Wimbledon
16
34:45
Richard Pitt
M65
3
VAC
Thames Hare & Hounds
17
35:15
Dennis Gorman
M40
2
NIMAA
London Frontrunners
18
37:02
Liam O'Hare
M70
1
VAC
Barnet & District AC
19
37:27
Patricia Thomas
W50
3
VAC
Ealing Southall & Middlesex
20
37:35
Soraya Bux
W40
1
VAC
Handy Cross Runners
21
40:26
David Hallson
M65
4
Guest
Road Runners Club
22
40:29
William Fordham
M65
5
VAC
Veterans AC
23
40:32
Marion Rayner
W65
1
VAC
West 4 Harriers
24
40:33
Sarah Allen
W55
1
VAC
Herne Hill Harriers
25
41:02
Piers Keenleyside
M60
1
Guest
Ealing Eagles
26
42:13
Wayne Gibson
M55
2
Guest
Unattached
27
43:22
Dan Maskell
M70
2
VAC
Veterans AC
28
43:24
Doug Milsom
M75
1
VAC
Hillingdon AC
29
43:31
Penny Elliott
W75
1
VAC
Waverley Harriers
30
45:53
John Grigg
M65
6
VAC
Fulham Running Club
31
46:24
Maurice Marchant
M70
3
VAC
Tonbridge AC
32
47:50
Alan Davidson
M70
4
VAC
Liss Runners
33
49:55
Joe Aspinall
M80
1
VAC
Veterans AC
34
52:53
Jennifer Gibson
W55
2
Guest
Unattached
35
55:11
Ed Bartlett
M70
5
VAC
Veterans AC
36
56:05
Richard Pitcairn-Knowles
M85
1
VAC
Sevenoaks AC
37
59:54
Brennie Gabbidon
W40
2
VAC
Ilford AC
Race Walk
Category B
Race Permit No: RWA9041-1
1 David Annetts M50 (N Herts RR) 38:47
2 Melanie Peddle W50 (G) (EMAC/Loughton) 48:33
3 Stefano Zennaro M45 (G) (Belgrave) 48:34
4 Maureen Noel W55 (Belgrave) 51:50
5 Tom Casserley M80 (Enfield) 55:47
6 Shaun Lightman M75 (Surrey WC) 56:47
7 Paul King M65 (Belgrave) 57:44
8 Mick Harran M80 (Surrey WC) 58:20
9 David Hoben M65 (Surrey WC) 58:23
DNS Peter Hannell M75 (Surrey WC)
The first fixture of the season had a reasonable start in higher temperatures than of late on a slightly humid overcast evening.
Dave Annetts from N Herts RR achieved another good win with a new pb in the times we have come to expect from him, and Melanie Peddle, Loughton AC continued her good form to win for the ladies in only a second outside her pb.
Belgrave's Stefano Zennaro who was the newest walker on the start line also achieved a new pb with plenty to look forward to in the future.
The remainder of the field achieved reasonable times on the new course of three and a half laps of the Carriage Drives, which appeared to have been well accepted.
Officials:
Clerk of Course: Dennis Williams
Starter: Dennis Williams
Timekeepers: David Harris, Cate Berry
Recorders: Carl Lawton, Tom Richards, Ian Isherwood
Walk Judge: John Hall
Entries: David Hoben, Maggie Statham, Cate Berry
Marshals: Martin Berry, Mike Mann
Drinks station: Maggie Statham
Results: David Hoben, Maggie Statham, Cate Berry
Photography: Cliff Hide
First Aid: Alison Jones

---
Veterans AC, Surrey, Herts and Middlesex 10k Track Championships, Battersea Park, London SW11 10 April 2019

RWA Permit No RWA9042-1 Category A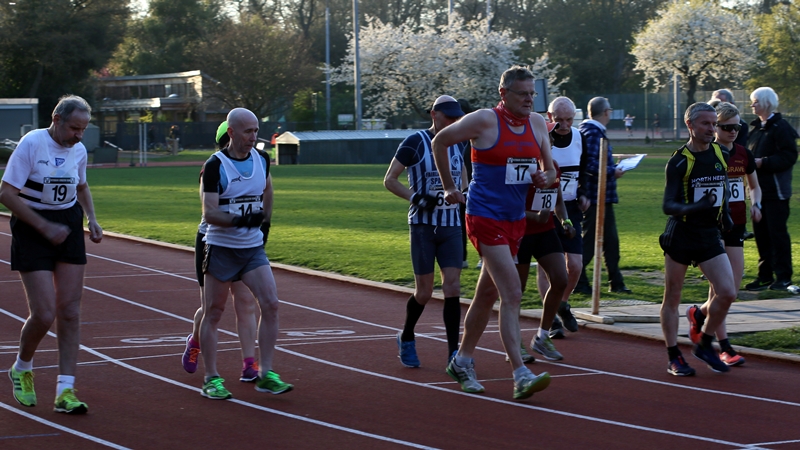 The start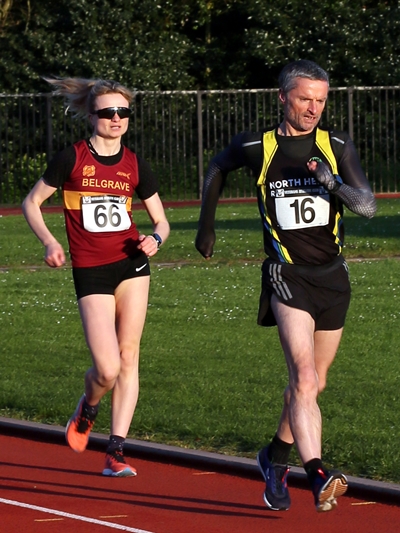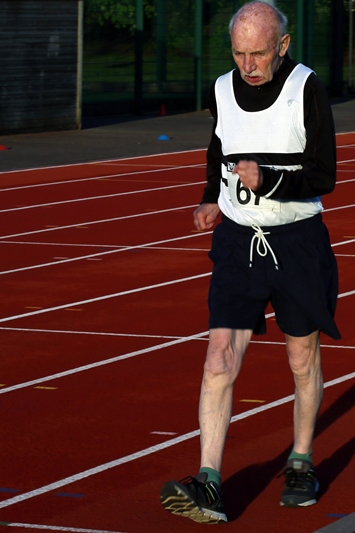 Maddy Shott and David Annetts Mick Harran
Above photos from Cliff Hide. Cliff has more photos and is happy to supply J-Peg copies to competitors. Email him at cliffhide10@aol.com .
The annual VAC and Counties championships took place in good racing conditions on a cold and breezy bright evening.
Dave Annetts from N Herts RR had an excellent win and also won the Herts champs for the second time.
Belgrave's Maddy Shott had another convincing ladies' win to add to her growing list; also going under the hour was Steve Allen of Barnet now resident in Spain, and Malcolm Martin from SWC who was new to this meeting.

Results
1 David Annetts (N Herts RR) M50 [1] 48:54.7 Herts
2 Maddy Shott (Belgrave) (G) SW 49:53.9 Surrey
3 Steve Allen (Barnet/EMAC) (G) M60 59:15.2 Herts
4 Malcolm Martin (Surrey WC/SCVAC) G M60 59:27.6 N/A
5 Maureen Noel (Belgrave) W55 [1] 1:05:40.0 Middx
6 David Bowker (Fairlands Valley/EMAC) G M60 1:12:55.6 Herts +60secs
7 Mick Harran (SWC) M80 [1] 1:13:43.1 Surrey
8 Angela Martin (Surrey WC) (G) W50 1:19:13.8 N/A
DNF Peter Hannell (Surrey WC) M75

Championship results in square brackets
County championships:

Herts:
Men:
D Annetts, S Allen, D Bowker

Middlesex
Women:
M Noel

Surrey
Women:
M Shott

Men:
M Harran

Acknowledgements:
Starter: Maurice Joyce
Judges: Andrew Clough (Chief), John Hall
Timekeepers: David Harris, Don Turner
Recorders: Ros Tabor, Carl Lawton, Michael Johnson, Cliff Hide, Tom Richards, Dave Hoben, Dennis Williams, Ian Isherwood, Anne Lippitt, Martin Lippitt

---
World Masters Athletics Championships Indoors, Torun, Poland, 24-30 March 2019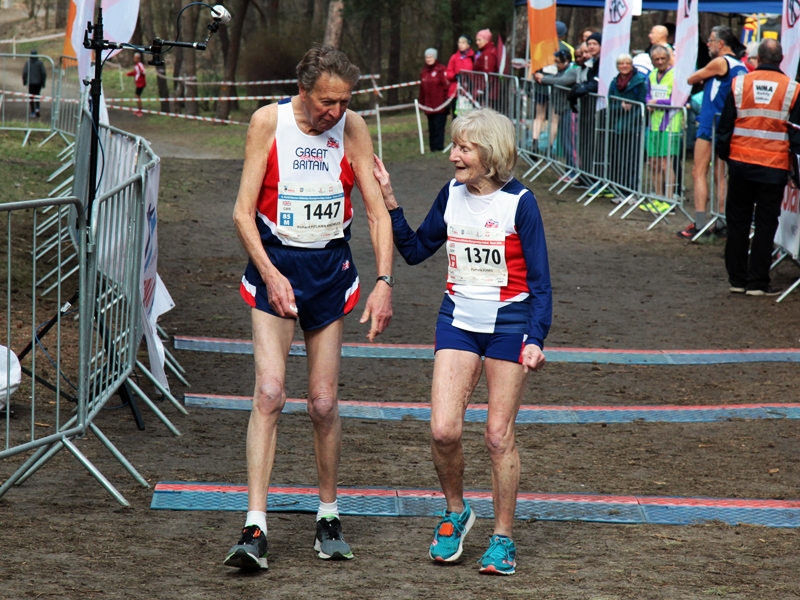 Richard Pitcairn-Knowles (1 m85) and Pam Jones (2 w80) finish at cross country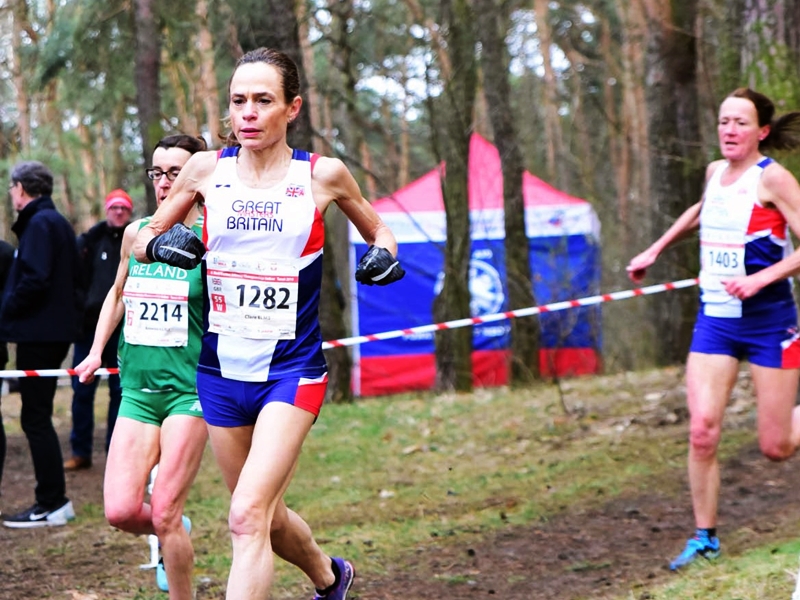 Clare Elms (1 w55, first of 4 golds and a silver), Sue McDonald (2 w50) at cross country)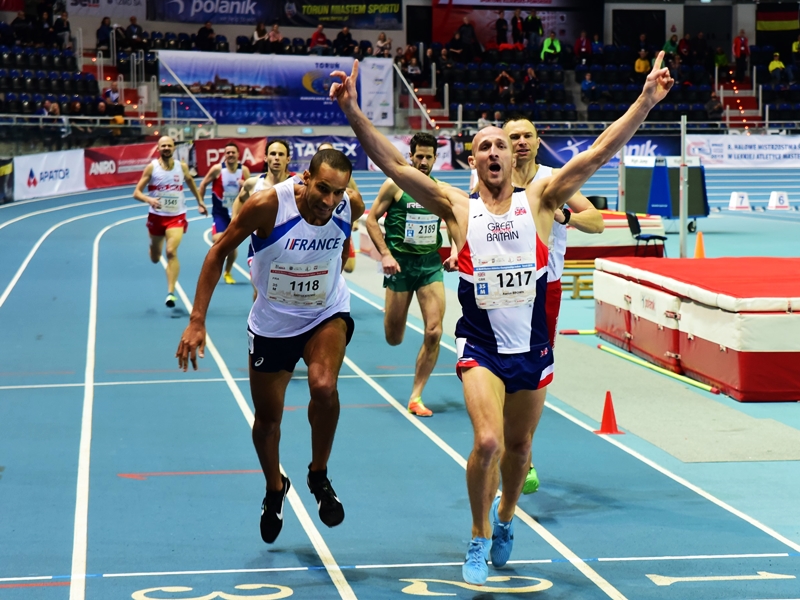 Aaron Brown wins at m35 800m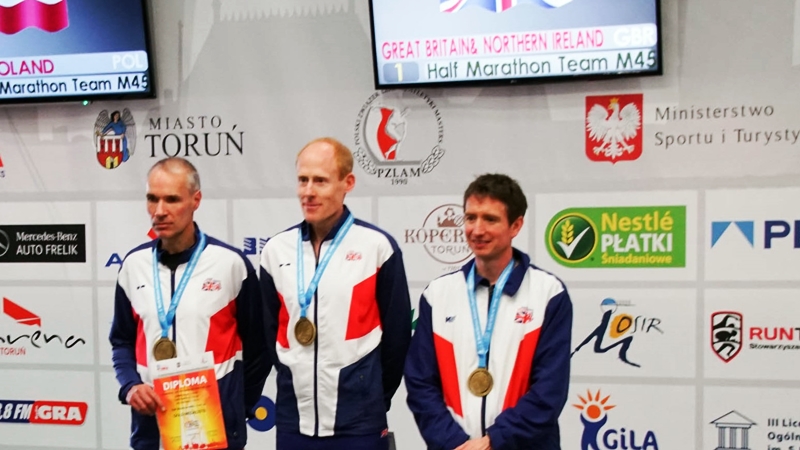 On left Paul Cheetham and Simon Baines, part of winning m45 half marathon team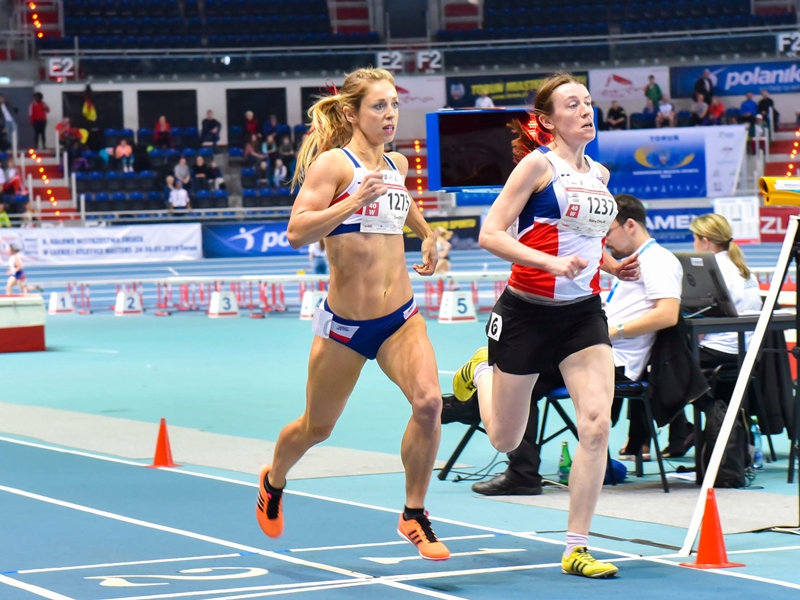 Zoe Doyle wins at w40 1500m, her second gold
Nearly 60 VAC members entered the championships held in Torun as part of the Great Britain and Northern Ireland team. Track races were held at the very well-appointed arena, used for an indoor grand prix meet each year and about 2k from the Unesco world heritage-recognised walled old town centre. Races were able to be well supported by spectating athletes and were very entertaining, featuring world-class performances and a few tumbles and disqualifications. Jumps were mainly in the arena, with field events held at an adjacent outdoor track and throwing hall. A few VAC members ran Torun Parkrun on the first or 2nd Saturday, on a forest trail in the eastern outskirts.
Day 1 (sun 24) saw the 3,000m finals, where VAC members Ros Tabor (w65), Clare Elms (w55) and Zoe Doyle (w40) won golds.
Day 2 featured cross country over a tricky 2k circuit (3 laps for over 70's, 4 for the rest) with several short hills and turns in a sandy pine wood next to the track. An early winner was Richard Pitcairn-Knowles (m85), and later races featured wins by Ben Reynolds (m55) and Clare Elms. Michael Johnson (m75), Sue McDonald (w50), Lucy Woolhouse and Clare Elms (w55) were in winning GB age-group teams. Meanwhile, Ian Richards was winning the M70 3k indoor track walk with a world record.
Day 3 featured 400m finals, day 4 the 60m's, where Allan Long won the m75's race, and a road 10k. Aaron Brown won at m35 800m on day 5. Finals for 60m hurdles and 200m plus 10k road walks were on day 6.
Day 7 started with a half marathon, out and back initially on a dual carriageway but later featuring a road and cycle path through woods; Simon Baines and Paul Cheetham were in the winning GB team in the m45 age group. Indoors, GB won 9 of the 1500m races, including Clare Elms' 4th w45 gold of the championships and Zoe Doyle's second w45 win. Sue Yeomans won the w65 pole vault. 4x 200m relays and a handover to Edmonton, Canada for the worlds in 2021 completed the championships.
As well as the above gold medal performances, there were many good efforts by VAC members, often winning silver and bronze medals, including 3 individual silvers featuring two pb's by Sue McDonald in outdoor distance events. The full championship results, including medal table with GB fourth, are available at https://wmaci2019.domtel-sport.pl
Future European and World masters championship latest details are on the BMAF website. VAC members have BMAF affiliation and are generally able to enter these championships.

---
BMAF Indoor Track & Field Championships, Lee Valley 9 & 10 March 2019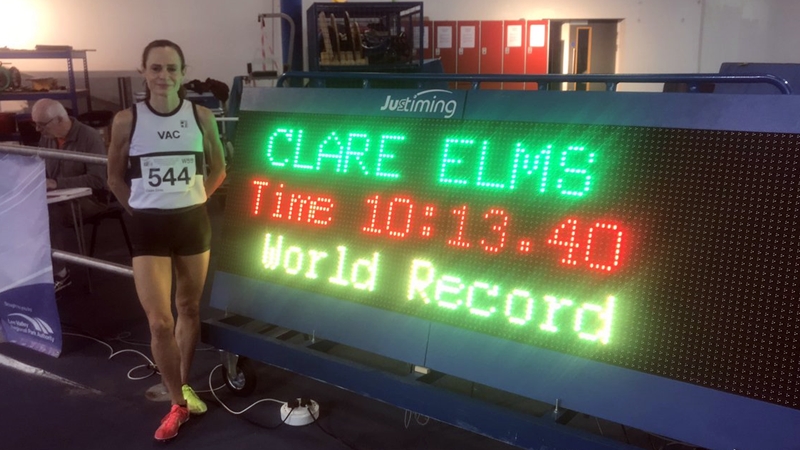 A large number of VAC members competed at these championships and we had many medallists, including lots of golds.
Particular highlights were Clare Elms W55 World Record in the 3000m (10:13.40), a race which also saw a M85 British Record (18:55.69) for Richard Pitcairn-Knowles. John Kirkham threw a British Record distance (5.24) in the M90 shotput.
Full results can be found on Power of 10 www.thepowerof10.info/results

---
Cecil Gittins Memorial Walks, Cyclopark, Gravesend, 9 March 2019
Veterans AC 2.5k/5k/10k/15k road race incorporating Enfield League
Permit No: RWA9024-1 Category B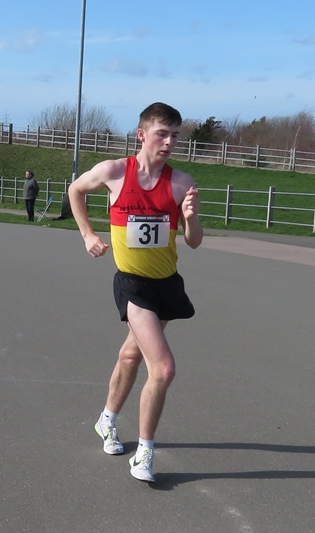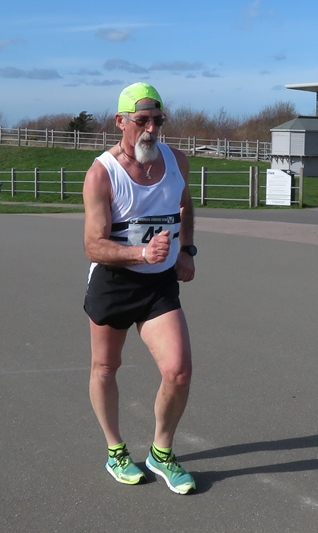 George Wilkinson, 10k Winner Francisco Reis, 15k winner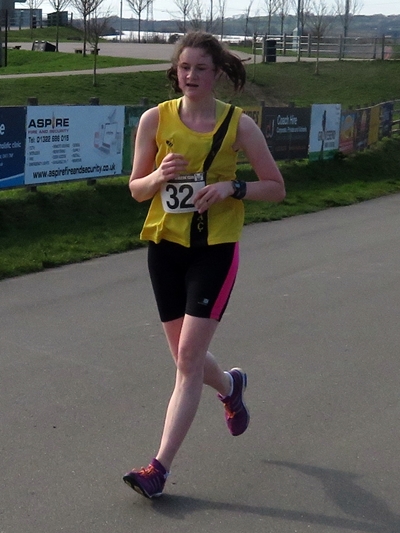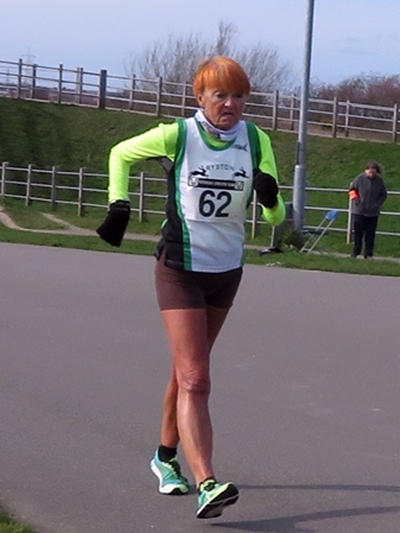 Jacqueline Benson, Women's 10k winner Cath Duhig, Women's 15k winner
Veterans AC were pleased to host the fourth running of this event on a dedicated cycle circuit with many loops and gradients.
In all there were 34 paid entries with 28 on the line, a little down on 2018, with ages ranging from 13 to 80.
The conditions although bright, sunny and not too cold were hampered by unrelenting high winds on this very exposed course which was testing for athletes, officials and judges. Given the conditions the biggest success of the day was the ever-improving Jacqueline Benson (Ashford AC) who chopped 5 minutes off her 2018 time to win the ladies' 10k in 1:00:07; it was also her first win.
George Wilkinson (EHAC) convincingly won the men's 10k race in 50:58, with a margin of nearly 9 minutes ahead of the next walker, and added the win to his growing list of achievements.
The men's 15k was won in 1:24:31 by SWC's Francisco Reis with a commanding lead of nearly 13 minutes over the second finisher, Stuart Bennett.
For the ladies' 15k only entry VAC were pleased to welcome Cath Duhig (Ryston Runners) who is normally resident in Spain and was in the UK on a flying visit, finishing in 1:45:00.
Centurions Stuart Bennett and Cath Duhig also competed at the busy veterans 3k indoor race at Lee Valley the next day.
The supporting races included the only other athlete to improve their 2018 time, Charlotte Wallis (AFD) in the 2.5k, where Jonny Ellerton (Blackheath) completed his furthest distance. Meanwhile in the ladies' 5k race, won by Isabelle Bridge (Blackheath), it was also her club colleague Abi Smith's first attempt at that distance.
Other first timers were Belgrave's Stefano Zennaro with his first 10k in 1:03:23; going under the hour is now a very real prospect, while Centurion aspirant Don Arthurs (Ashford) finished in his first road race in the sport over any distance with a baptism of fire in the 15k.
VAC are grateful to Ron Wallwork for allowing this race to be incorporated in the Enfield League series.
Thank you all for supporting the event whether as competitor, official or judge.
RESULTS
DNS
Lois Carty
U15W
AFD
Chris Edwards
M70
Surrey WC
Peter Hannell
M75
Surrey WC
Helen Middleton
W55
Ashford
Kathy Crilley
W70
Surrey WC
Arthur Thomson
M80
Enfield & Haringey
2.5k
F
1
Charlotte Wallis
U15G
AFD
14:58
M
1
Jonathan Ellerton
U15B
Blackheath & Bromley H
18:40
5km
F
1
Isabelle Bridge
U20W
Blackheath & Bromley H
29:04
2
Grace Whittingham
U20W
Ashford
29:09
3
Abigail Smith
U15G
Blackheath & Bromley H
30:14
M
1
Ron Penfold
M75
Steyning
34:12
2
Tony Wilkinson
M55
Unattached
35:13
3
Gary Smith
M60
Enfield & Haringey
38:52
John Hall
M70
Belgrave H
DNF
10km
F
1
Jacqueline Benson
U20W
Ashford
1:00:07
2
Maureen Noel
W55
Belgrave H
1:06:43
3
Lesley Hall
W60
Ashford
1:08:24
4
Anne Jones
W60
Steyning
1:11:04
M
1
George Wilkinson
U20M
Enfield & Haringey
50:58
2
Trevor Jones
M60
Steyning
59:51
3
Stefano Zennaro
M45
Belgrave H
1:00:48
4
Steve Kemp
M55
EMAC
1:03:03
5
Chris Hobbs
M60
Ashford
1:06:19
6
Tom Casserley
M80
Enfield & Haringey
1:11:39
7
Malcolm Blackwood
M65
Trent Park
1:12:26
8
Mick Harran
M80
Surrey WC
1:15:24
9
David Hoben
M65
Surrey WC
1:15:37
Andy Cox
M65
Hillingdon
DNF
15km
F
1
Cath Duhig
W60
Ryston Runners
1:45:00
M
1
Francisco Reis
M55
Surrey WC
1:24:31
2
Stuart Bennett
M60
Ilford
1:37:33
3
Chris Flint
M70
Surrey WC
1:48:24
4
Don Arthurs
M55
Ashford
1:55:08
Mick Harran
M80
Surrey WC
DNF
Acknowledgements
Judges: Pauline Wilson (chief), Peter Cassidy, Shaun Lightman, Steve Cartwright
Starter: Dave Stevens
Time keeping: Peter Hannell/Maggie Statham
Lap recording: Pam Ficken/Carl Lawton
Hospitality: Cyclopark, Gravesend
First Aid: Medical Despatch

---
East Surrey League Cross Country, Lloyd Park, 2 March 2019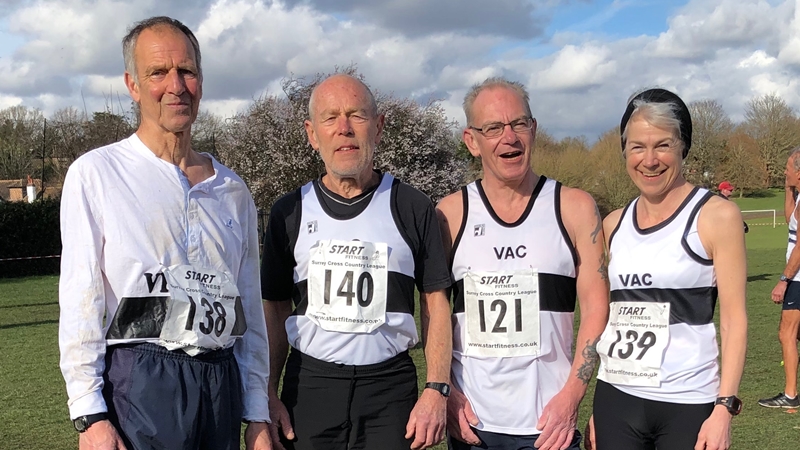 Dan Maskell, Paddy Clark, Ian Strong, Lucy Woolhouse
Four VAC members formed a team for the second match of the East Surrey League on a firm 5 mile course in Lloyd Park. Lucy Woolhouse led the team home in an excellent time of 35:16. She was the first, and only, woman in the race. The other eligible women had run for their clubs in the earlier Surrey League races at the same venue. The results and team scores are here.

---
VAC Indoor Track and Field Championships.
Lee Valley,
17 February 2019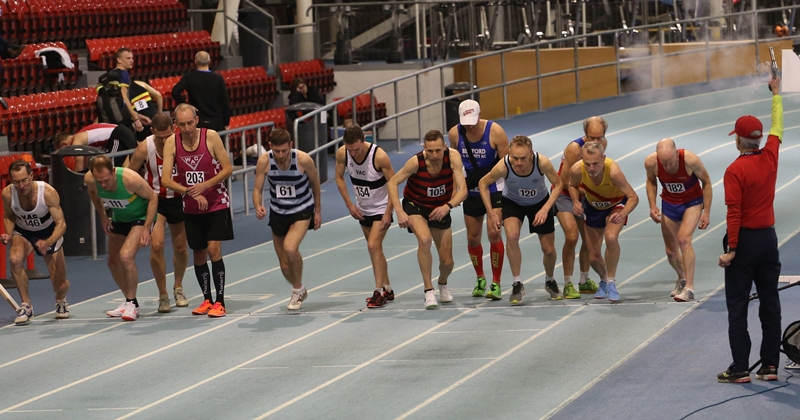 Start of the 3,000m, VAC runners Ian Johnston (146), Bryan Camfield (134), Matthew Preston (120), Tony Tuohy (182)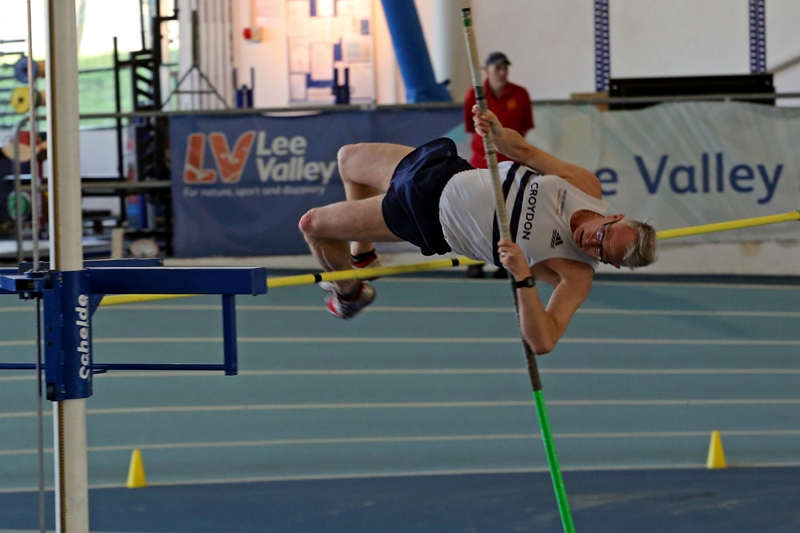 Andy Del Nevo, M50 Pole Vault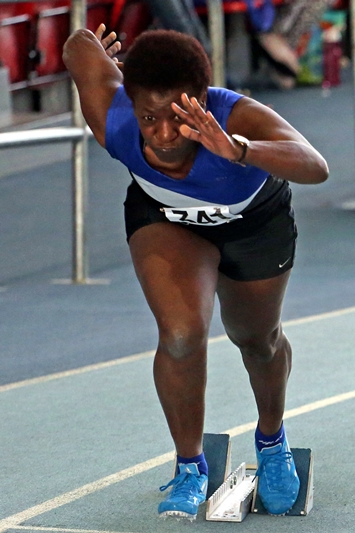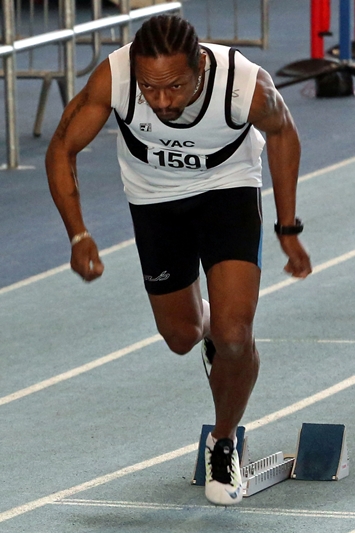 Joan Trimble, W60 200m Richard Weekes, M50 200m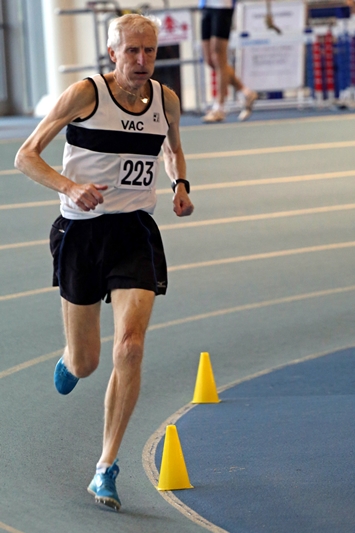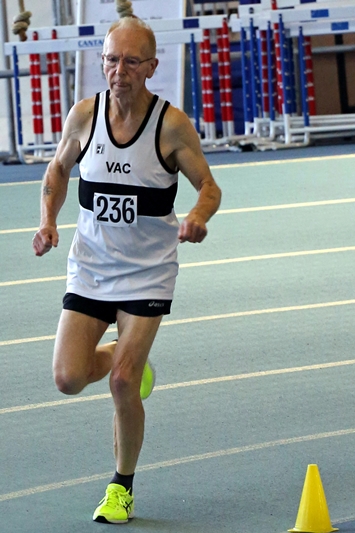 Ed Connolly, M65 800m Trevor Solomon, M65 800m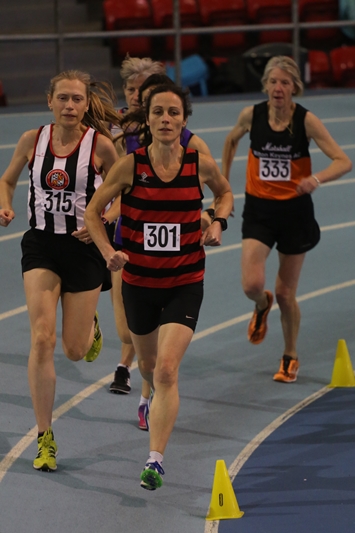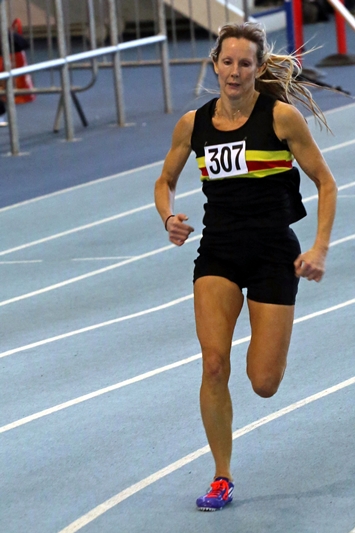 Nikki Sturzaker (301), Lisa Webb (315), 1500m Jo Flowers, W50 400m
Above photos from Cliff Hide. Cliff has more photos and is happy to supply J-Peg copies to competitors. Email him at cliffhide10@aol.com .
VAC held its indoor track and field championships in conjunction with EMAC. This meant a better number of entries, but still most events, apart from sprints, were made up of athletes from more than 1 age group. Runners do not have any age-identification so it can be hard to know who is in which age group. Some events also mixed male and female athletes. This meant there was usually good competition. About 60 VAC members took part in the championships, many of whom took part in more than 1 event.
Full results are available here and also on: www.thepowerof10.info/results and www.bmaf.org.uk

---
Hackney Marshes parkrun, 16 February 2019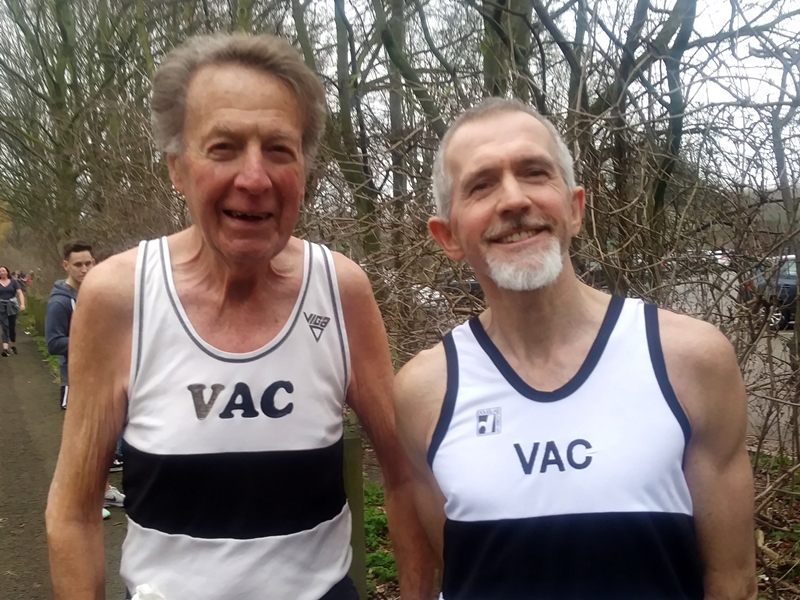 Caption: Richard Pitcairn-Knowles and Mark Jefford
Hackney Marshes was the venue for the VAC parkrun get-together but fixture clashes meant that the regular VAC parkrun tourists could not attend. Mark Jefford and Richard Pitcairn-Knowles competed for VAC, supported by Road Running Secretary, Dennis Williams. The course is noted for quick times and both runners posted their fastest parkrun times of the year.
Results:
35th Mark Jefford, 19:19, 1st M50, 78.26%.
322nd Richard Pitcairn-Knowles, 32:16, 1st M85, 78.05%
359 Finishers

---
Southern Counties Veterans AC Indoor Championships (incorporating VAC Championships 3k walk), Lee Valley 10 February 2019
3k indoor track
Women
1 [1] Penelope Cummings Herne Hill W40 17:05.08
Men
1 [1] Arthur Thomson Enfield and Haringey AC M80 21:01.45
DNF John Hall Belgrave M70
DNS Glen Keegan Herne Hill M55
Square brackets denote position in combined race
Both Penelope Cummings and Arthur Thomson achieved championship best performance.

---
Men's Surrey League Cross Country, Lloyd Park, 9 February 2019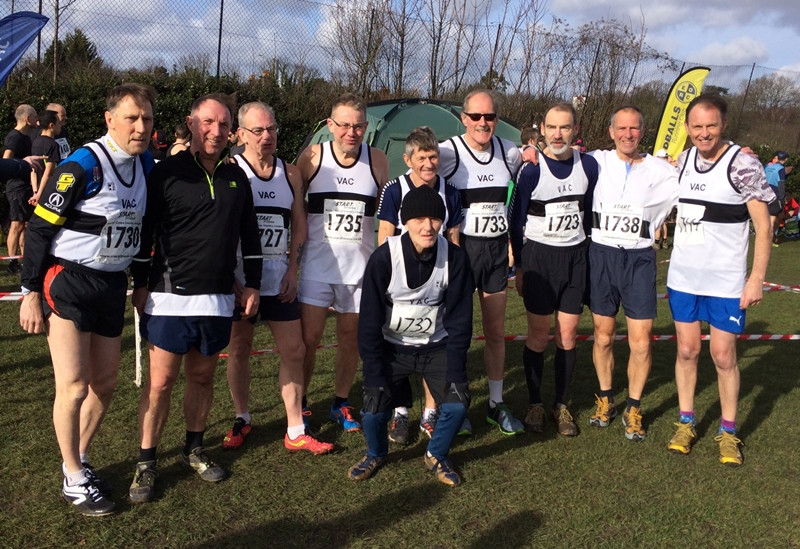 Most of the VAC team. Barry Attwell , Gary Budinger, Ian Strong, Lloyd Bevan, Ian Kitching, Joe Aspinall (1732), Martin Garrett, Andy Murray, Dan Maskell, Tony Harran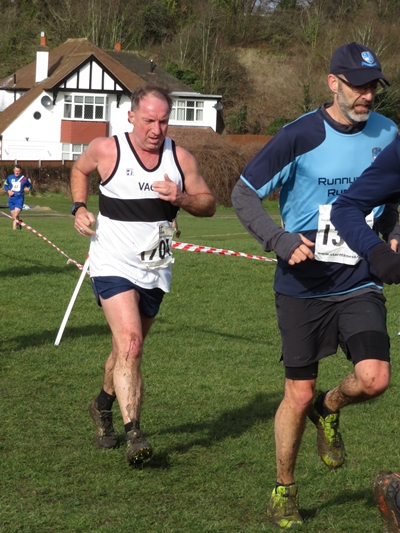 Carey Gray, ran every match since 2011 Gary Budinger, ran in all four matches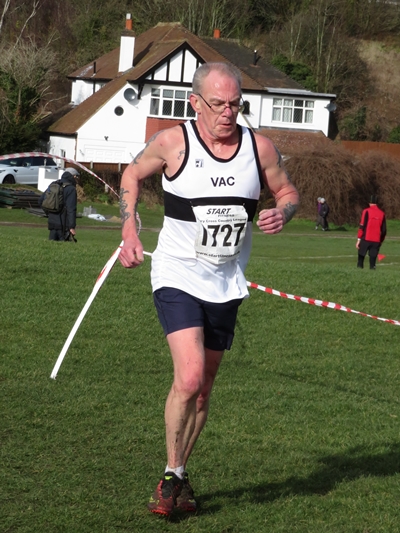 Ian Kitching, top ranked M60 Ian Strong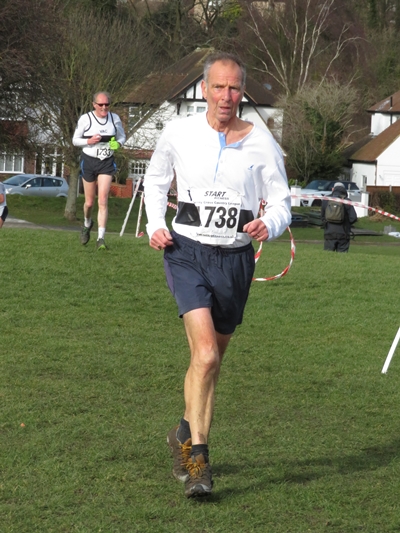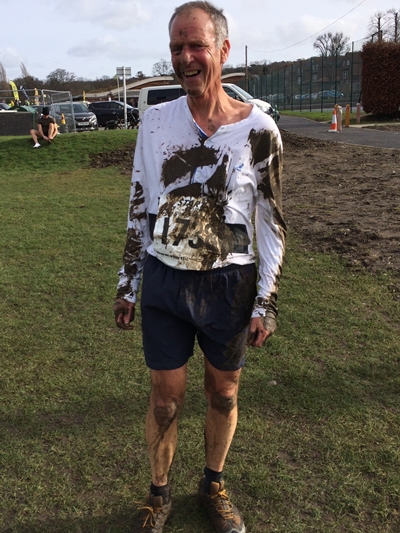 Dan Maskell, followed by Martin Garrett Dan Maskell, fell in the mud
Above photos from Cate Berry
Eleven VAC men lined up at Lloyd Park for the final match of the series. The rain held off but the course was tough, featuring the usual long muddy stretches and slippery hills. Barry Attwell led the team home and was the first M60 in the combined Division 3/4 race. He was followed by Ian Kitching, the first M65 and winner of the overall M60 trophy. Next was Carey Gray who extended his attendance to seven complete seasons without missing a match. His times have been remarkably consistent too. Gary Budinger also competed in every match this season. The remaining VAC runners dug deep and held their places. Unluckily, Dan Maskell tripped and fell full-length on the second lap but finished strongly and undeterred, covered in mud.
Despite having a full team, VAC finished 11th out of the 12 teams in the Division. This position was also our overall standing after the four matches.
Thanks go to Paddy Clark, the VAC team manager, for his organisation and encouragement as well as being a reliable marshal at each race.
VAC Placings, Division Four, Lloyd Park
Pos.
Time
Name
Age Group
54
36:31
Barry Attwell
M60
66
37:20
Ian Kitching
M65
69
37:36
Carey Gray
M55
85
39:07
Tony Harran
M55
104
40:47
Lloyd Bevan
M55
109
41:18
Gary Budinger
M55
129
45:11
Andy Murray
M65
134
46:48
Dan Maskell
M70
137
48:19
Martin Garrett
M65
139
50:59
Ian Strong
M55
141
64:42
Joe Aspinall
M80
142 finishers (285 in combined race)
Division Four Team Results at Lloyd Park
Overall Pos.
4 matches
1
Sutton Runners
311
1
2
Tri Surrey
339
5
3
Elmbridge
340
3
4
Tadworth AC
367
2
5
Lingfield Runners
370
4
6
Windrush
512
6
7
Horley Harriers
726
7
8
British Airways
742
9
9
Holland Sports AC
754.5
8
10
Barnes Runners
850.5
10
11
VAC
859
11
12
Epsom Oddballs
1089
12
Full results of the Division 3/4 match and team placings are here.

---
VAC Cross Country Championships and Masters Open race, Wimbledon Common 19 January 2019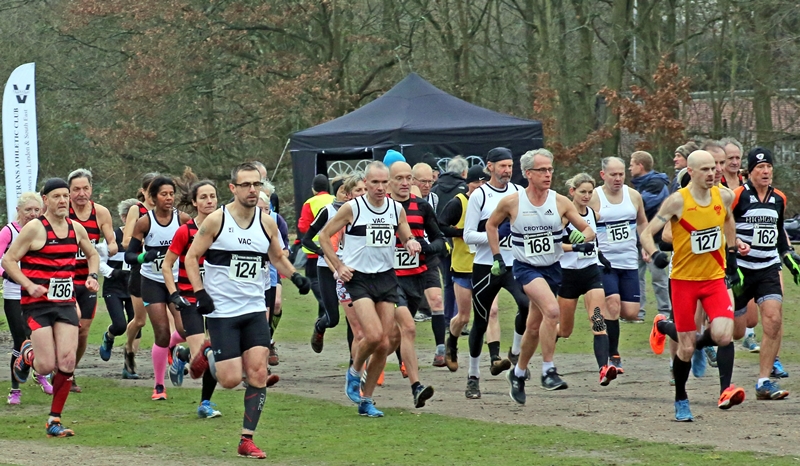 The start. Winner, Richard McDowell (127) and 2nd placed, Paul Cheetham (149), to the fore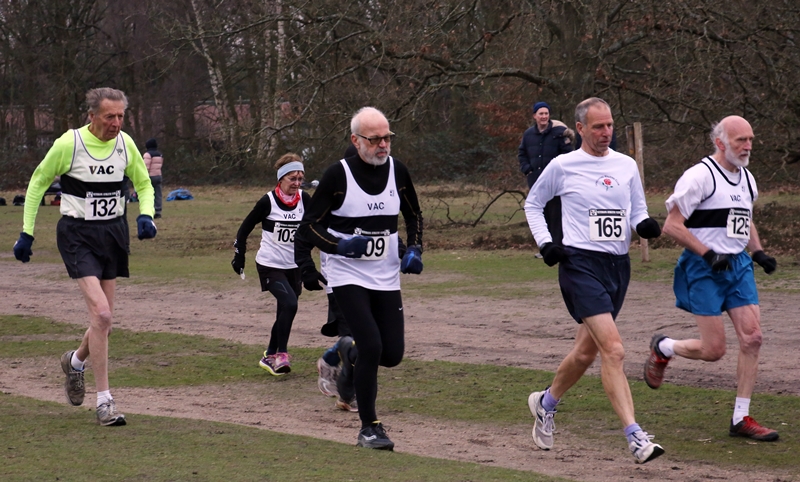 Richard Pitcairn-Knowles, Ann Bath, John Carter, Dan Maskell and Maurice Marchant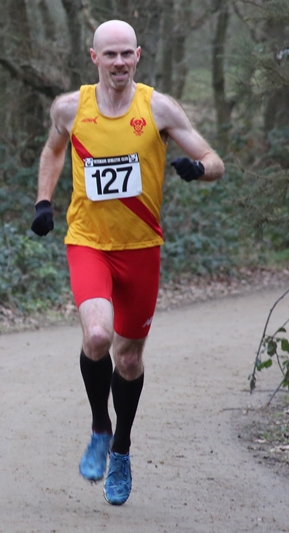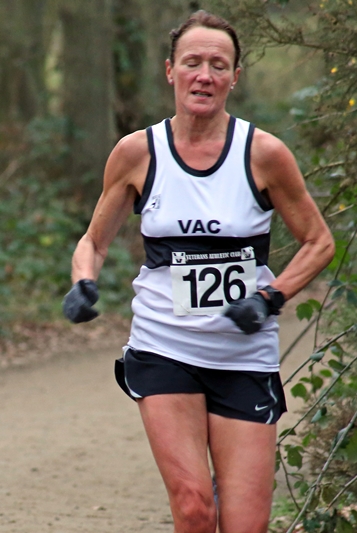 Richard McDowell, men's Champion Sue McDonald, women's Champion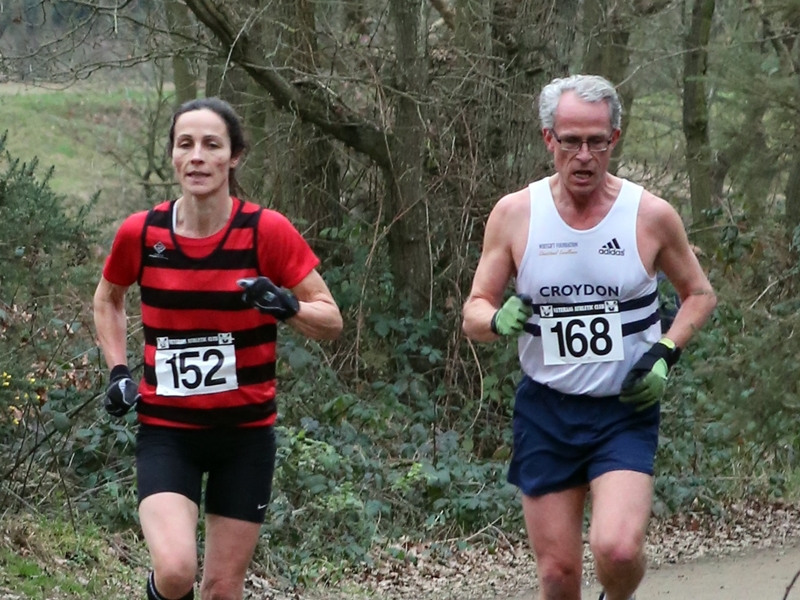 Nikki Sturzaker, 2nd woman, and Andy Del Nevo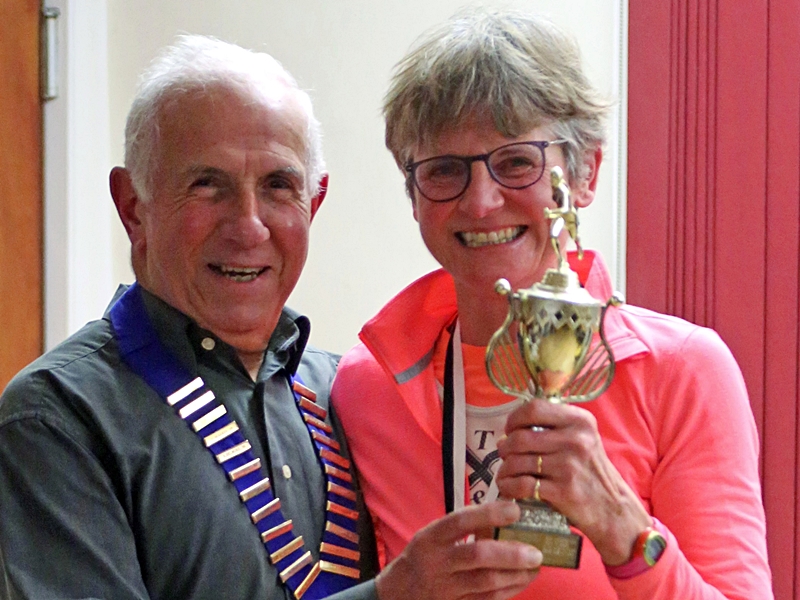 VAC President, Peter Torre, and Anna Garnier, W60 Champion
Above photos from Cliff Hide. Cliff has more photos and is happy to supply J-Peg copies to runners. Email him at cliffhide10@aol.com.
Fifty nine VAC members and guests competed on Wimbledon Common on a cold, overcast, afternoon. Earlier in the day, marking the course had been thwarted by tree felling alongside the Beverley Brook forcing the closure of the track and a rerouting of the course into the playing fields on the other side of the brook. The new route probably added a couple of hundred metres to the 7.5km (around 4.5 miles) course, but some said that the grassland was preferable to the alternative tree roots and mud.
Richard McDowell (M35) held off the persistent challenge of Paul Cheetham (M45) to become the Men's Champion by a margin of 13 seconds. Robin Jones (M45) was less than 30 seconds behind in third, followed by the M55 Guest Gold medallist, Robert McHarg from SCVAC. Other Gold medallists were Dan Hallam (M40), Terry Booth (M50), Mark Tennyson (VAC M55), Steve Smythe (M60), Gerry Smith (M65), Peter Giles (M70), Doug Milsom (M75), Joe Aspinall (M80) and Richard Pitcairn-Knowles (M85).
Sue McDonald was the Women's Champion and W50 Gold medallist in a very fast time of 30:14. Nikki Sturzaker (W45 Gold) was thirty seconds behind, followed by Lucy Woolhouse (W55 Gold). Other Gold medallists were Sue Belcher (W40), Anna Garnier (W60), Margaret Moody (W65) and Lesley Bowcott (W70).
Times were not counted for course records because of the course diversion, which is disappointing for Joe Aspinall and Sue McDonald whose times would have set new VAC M80 and W50 course records.
Race results are here.
Race results, age category positions and medallists are here.

---
Men's Surrey League Cross Country, Oxshott Woods, 12 January 2019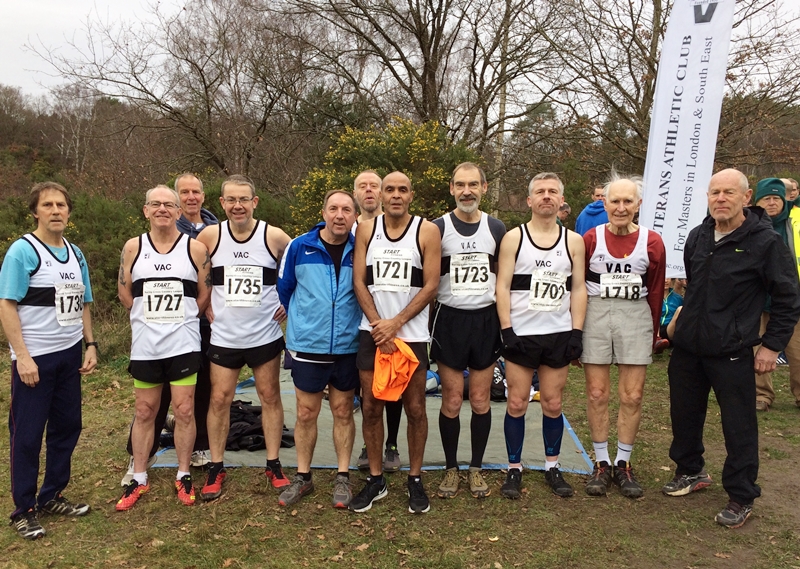 Most of the VAC team. Barry Attwell , Ian Strong, Dan Maskell, Lloyd Bevan, Gary Budinger, Carey Gray, Vic Maughn, Andy Murray, Richard Batchelor, Alan Lane, Paddy Clark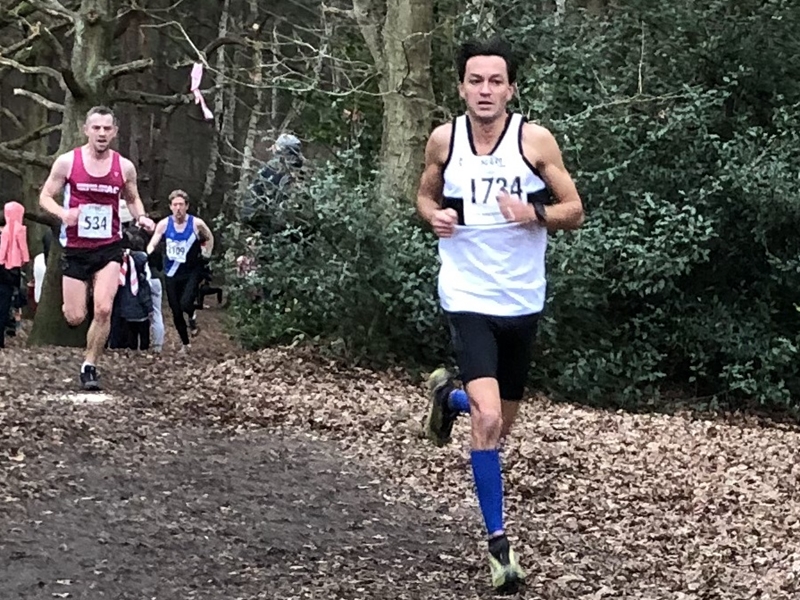 Edward Lambert, first VAC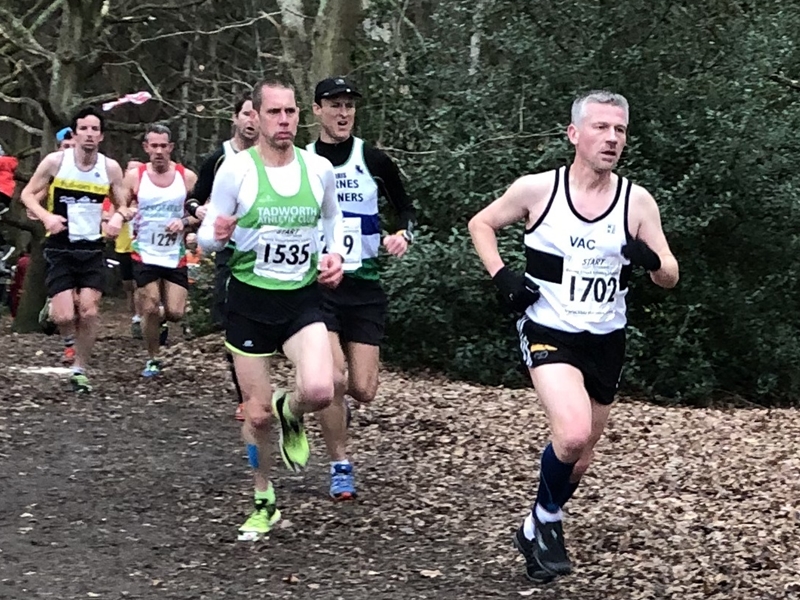 Richard Batchelor (1702)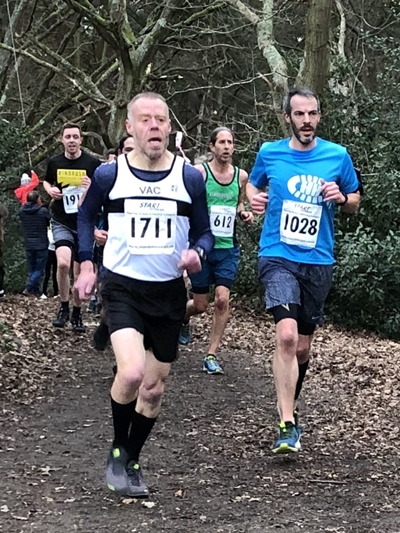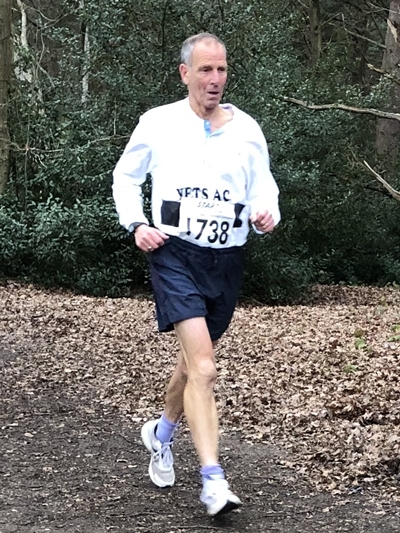 Carey Gray Dan Maskell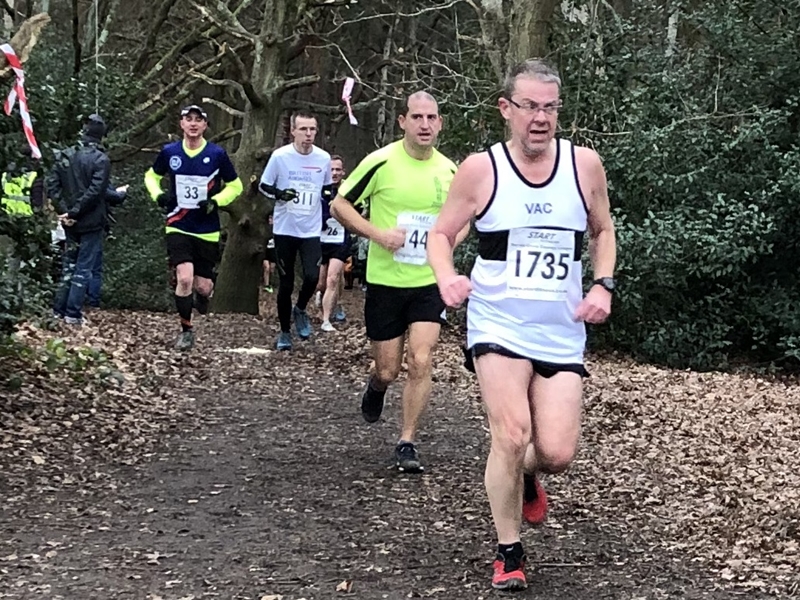 Lloyd Bevan
Above photos from Martin Berry
The third match of the Men's Surrey League took place on a tough course in Oxshott Woods with three repetitions of a steep hill which was long enough to hurt each time. Some regular runners were absent but newcomers scored well to give VAC a respectable presence. Twelve men started but bad luck and wise decisions made a final tally of eight finishers. First home for VAC was newcomer, Edward Lambert, followed by Richard Batchelor, both well up in the field. Regulars, Carey Gray and Gary Budinger were next, closely followed by Lloyd Bevan, making his VAC Surrey League debut. Dan Maskell, usually seen race-walking, made a welcome return to the team. Ian Strong brought VAC home with his usual determination and great enthusiasm.

VAC's team were 11th out of the 12 clubs in Division 4. Overall, after three matches, we are also in 11th position. To move up the table, we need a good turnout at Lloyd Park, Croydon, on 9 February.
VAC Placings, Division Four, Oxshott Woods

Pos.
Time
Name
Age Group
23
34:00
Edward Lambert
M40
35
35:45
Richard Batchelor
M40
92
40:28
Carey Gray
M55
135
44:13
Gary Budinger
M55
137
44:17
Lloyd Bevan
M55
154
47:20
Andy Murray
M65
160
49:08
Dan Maskell
M70
163
52:24
Ian Strong
M55
DNF
Vic Maughn
M55
DNF
Barry Attwell
M60
DNF
Peter Giles
M70
DNF
Alan lane
M80
164 finishers (328 in combined race)
Division Four Team Results at Oxshott Woods
Overall Pos.
3 matches
1
Sutton Runners
302
1
2
Elmbridge
356
3
3
Windrush
377
7
4
Lingfield Runners
452
4
5
Tadworth AC
479
2
6
Horley Harriers
594
6
7
Tri Surrey
614
5
8
Barnes Runners
658
9
9
Holland Sports AC
688
8
10
British Airways
749
10
11
VAC
902
11
12
Epsom Oddballs
1089
12
Full results of the Division 3/4 match and team placings are here.