Results for January to June 2019
---
VAC Indoor Track and Field Championships. Lee Valley, 17 February 2019
VAC held its indoor track and field championships in conjunction with EMAC. This meant a better number of entries, but still most events, apart from sprints, were made up of athletes from more than 1 age group. Runners do not have any age-identification so it can be hard to know who is in which age group. Some events also mixed male and female athletes. This meant there was usually good competition. About 60 VAC members took part in the championships, many of whom took part in more than 1 event.
Full results are available on: www.thepowerof10.info/results or www.bmaf.org.uk

---
Men's Surrey League Cross Country, Lloyd Park, 9 February 2019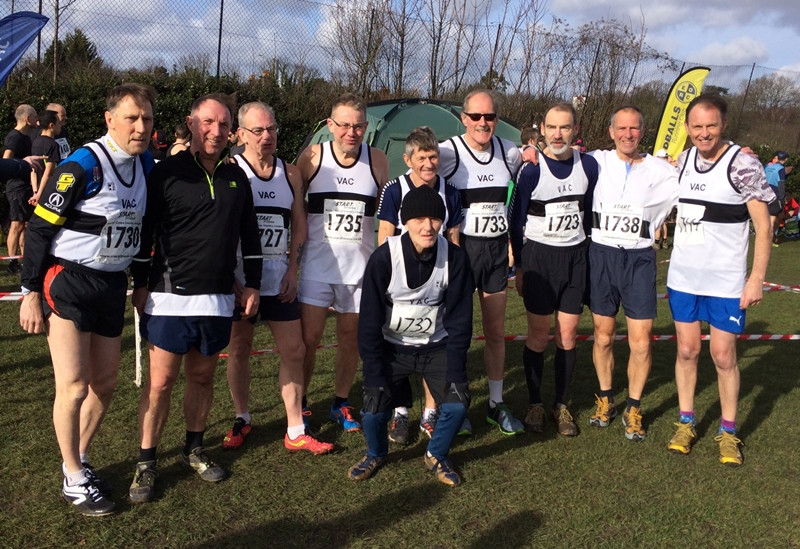 Most of the VAC team. Barry Attwell , Gary Budinger, Ian Strong, Lloyd Bevan, Ian Kitching, Joe Aspinall (1732), Martin Garrett, Andy Murray, Dan Maskell, Tony Harran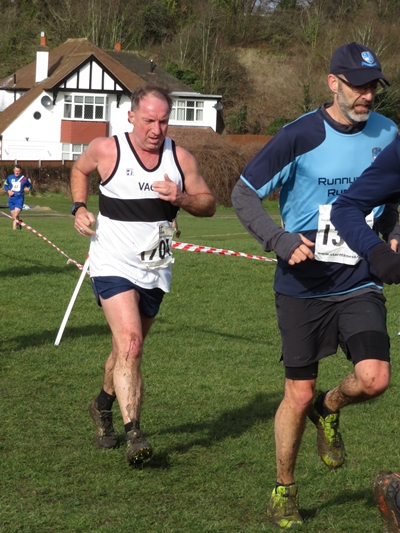 Carey Gray, ran every match since 2011 Gary Budinger, ran in all four matches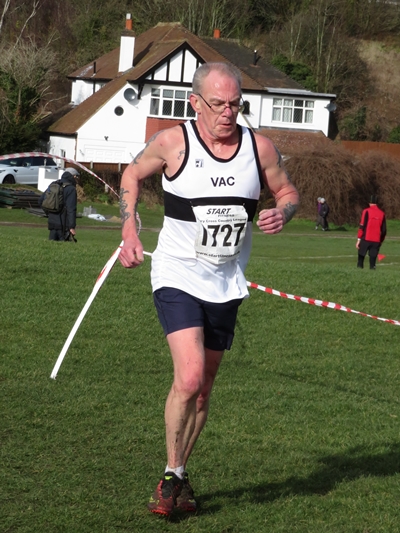 Ian Kitching, top ranked M60 Ian Strong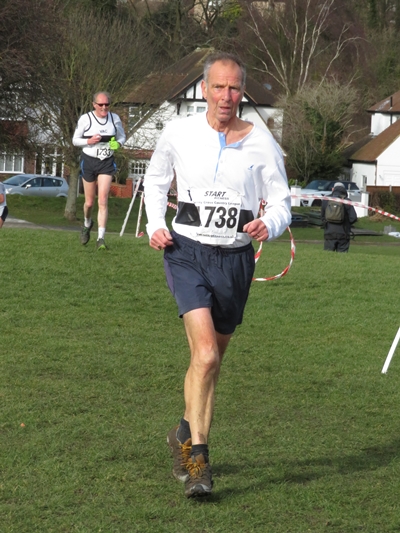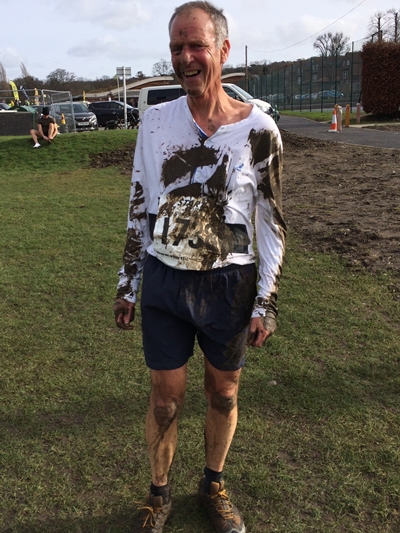 Dan Maskell, followed by Martin Garrett Dan Maskell, fell in the mud
Above photos from Cate Berry
Eleven VAC men lined up at Lloyd Park for the final match of the series. The rain held off but the course was tough, featuring the usual long muddy stretches and slippery hills. Barry Attwell led the team home and was the first M60 in the combined Division 3/4 race. He was followed by Ian Kitching, the first M65 and winner of the overall M60 trophy. Next was Carey Gray who extended his attendance to seven complete seasons without missing a match. His times have been remarkably consistent too. Gary Budinger also competed in every match this season. The remaining VAC runners dug deep and held their places. Unluckily, Dan Maskell tripped and fell full-length on the second lap but finished strongly and undeterred, covered in mud.
Despite having a full team, VAC finished 11th out of the 12 teams in the Division. This position was also our overall standing after the four matches.
Thanks go to Paddy Clark, the VAC team manager, for his organisation and encouragement as well as being a reliable marshal at each race.
VAC Placings, Division Four, Lloyd Park
Pos.
Time
Name
Age Group
54
36:31
Barry Attwell
M60
66
37:20
Ian Kitching
M65
69
37:36
Carey Gray
M55
85
39:07
Tony Harran
M55
104
40:47
Lloyd Bevan
M55
109
41:18
Gary Budinger
M55
129
45:11
Andy Murray
M65
134
46:48
Dan Maskell
M70
137
48:19
Martin Garrett
M65
139
50:59
Ian Strong
M55
141
64:42
Joe Aspinall
M80
142 finishers (285 in combined race)
Division Four Team Results at Lloyd Park
Overall Pos.
4 matches
1
Sutton Runners
311
1
2
Tri Surrey
339
5
3
Elmbridge
340
3
4
Tadworth AC
367
2
5
Lingfield Runners
370
4
6
Windrush
512
6
7
Horley Harriers
726
7
8
British Airways
742
9
9
Holland Sports AC
754.5
8
10
Barnes Runners
850.5
10
11
VAC
859
11
12
Epsom Oddballs
1089
12
Full results of the Division 3/4 match and team placings are here.

---
VAC Cross Country Championships and Masters Open race, Wimbledon Common 19 January 2019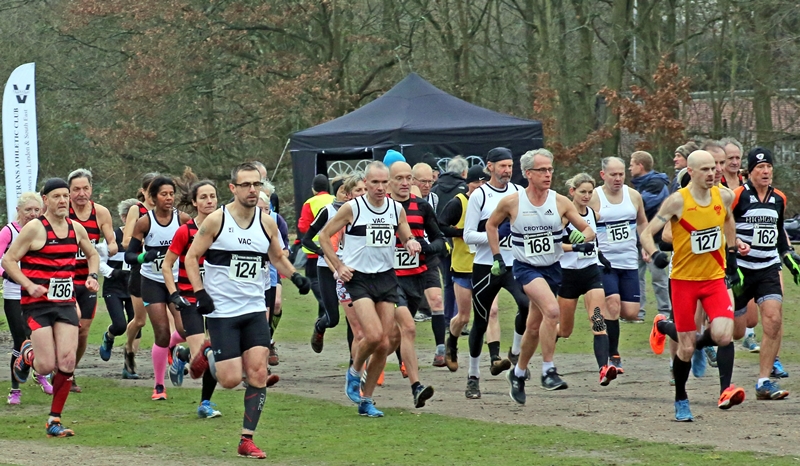 The start. Winner, Richard McDowell (127) and 2nd placed, Paul Cheetham (149), to the fore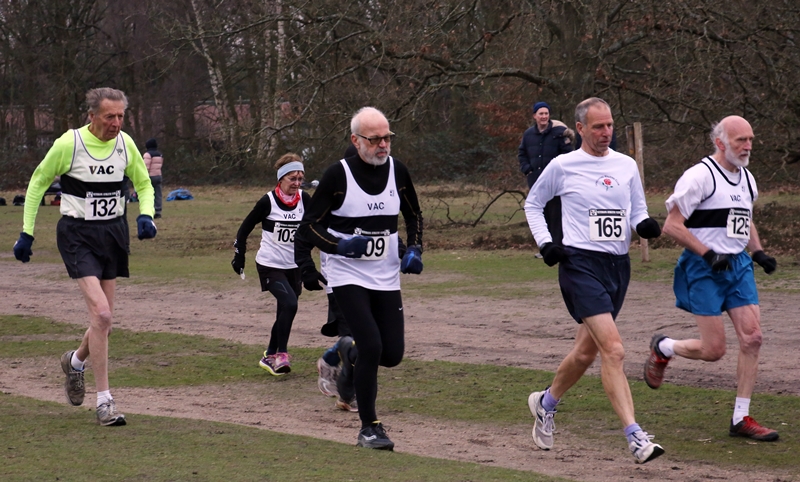 Richard Pitcairn-Knowles, Ann Bath, John Carter, Dan Maskell and Maurice Marchant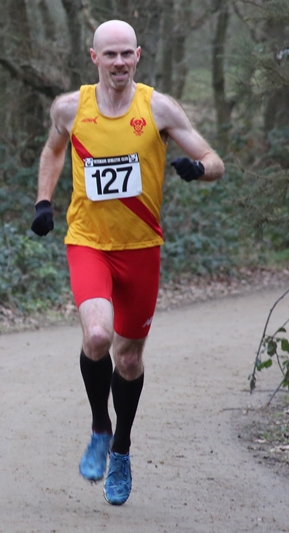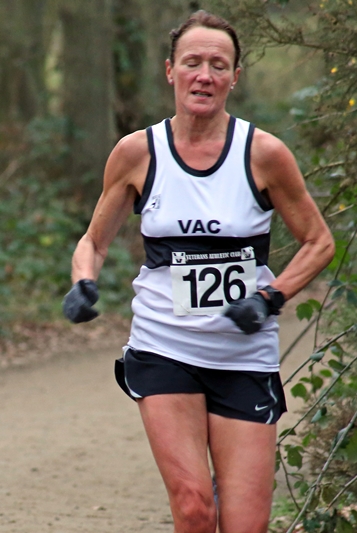 Richard McDowell, men's Champion Sue McDonald, women's Champion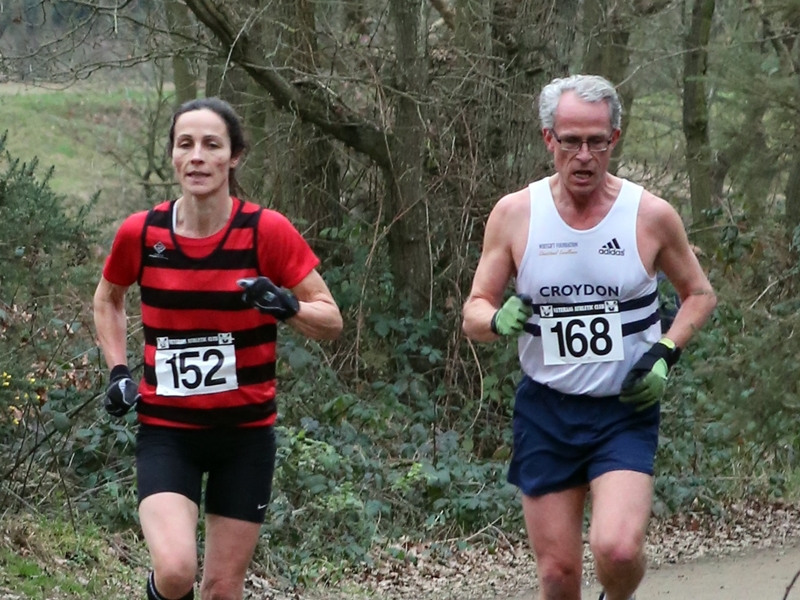 Nikki Sturzaker, 2nd woman, and Andy Del Nevo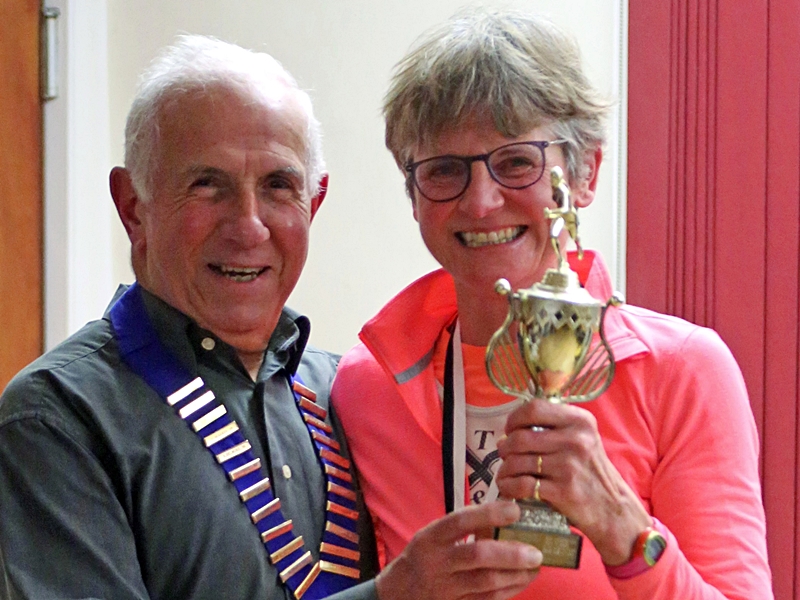 VAC President, Peter Torre, and Anna Garnier, W60 Champion
Above photos from Cliff Hide. Cliff has more photos and is happy to supply J-Peg copies to runners. Email him at cliffhide10@aol.com.
Fifty nine VAC members and guests competed on Wimbledon Common on a cold, overcast, afternoon. Earlier in the day, marking the course had been thwarted by tree felling alongside the Beverley Brook forcing the closure of the track and a rerouting of the course into the playing fields on the other side of the brook. The new route probably added a couple of hundred metres to the 7.5km (around 4.5 miles) course, but some said that the grassland was preferable to the alternative tree roots and mud.
Richard McDowell (M35) held off the persistent challenge of Paul Cheetham (M45) to become the Men's Champion by a margin of 13 seconds. Robin Jones (M45) was less than 30 seconds behind in third, followed by the M55 Guest Gold medallist, Robert McHarg from SCVAC. Other Gold medallists were Dan Hallam (M40), Terry Booth (M50), Mark Tennyson (VAC M55), Steve Smythe (M60), Gerry Smith (M65), Peter Giles (M70), Doug Milsom (M75), Joe Aspinall (M80) and Richard Pitcairn-Knowles (M85).
Sue McDonald was the Women's Champion and W50 Gold medallist in a very fast time of 30:14. Nikki Sturzaker (W45 Gold) was thirty seconds behind, followed by Lucy Woolhouse (W55 Gold). Other Gold medallists were Sue Belcher (W40), Anna Garnier (W60), Margaret Moody (W65) and Lesley Bowcott (W70).
Times were not counted for course records because of the course diversion, which is disappointing for Joe Aspinall and Sue McDonald whose times would have set new VAC M80 and W50 course records.
Race results are here.
Race results, age category positions and medallists are here.

---
Men's Surrey League Cross Country, Oxshott Woods, 12 January 2019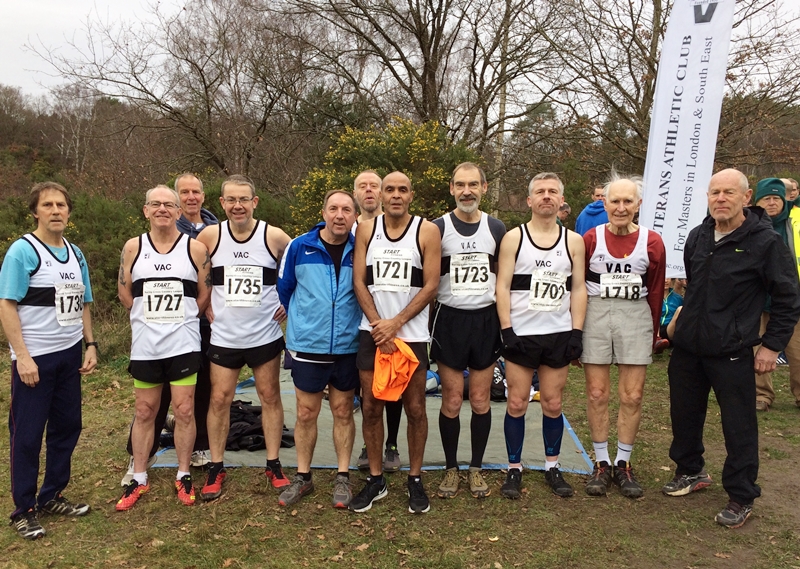 Most of the VAC team. Barry Attwell , Ian Strong, Dan Maskell, Lloyd Bevan, Gary Budinger, Carey Gray, Vic Maughn, Andy Murray, Richard Batchelor, Alan Lane, Paddy Clark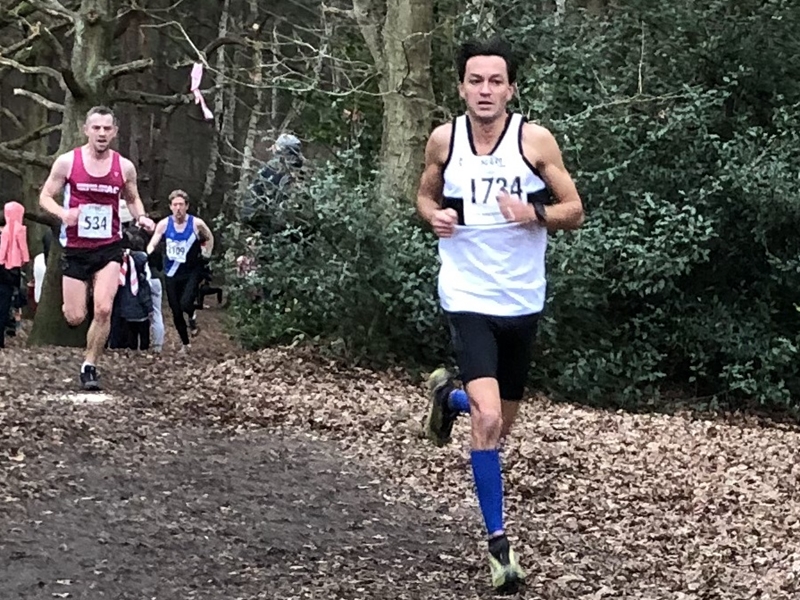 Edward Lambert, first VAC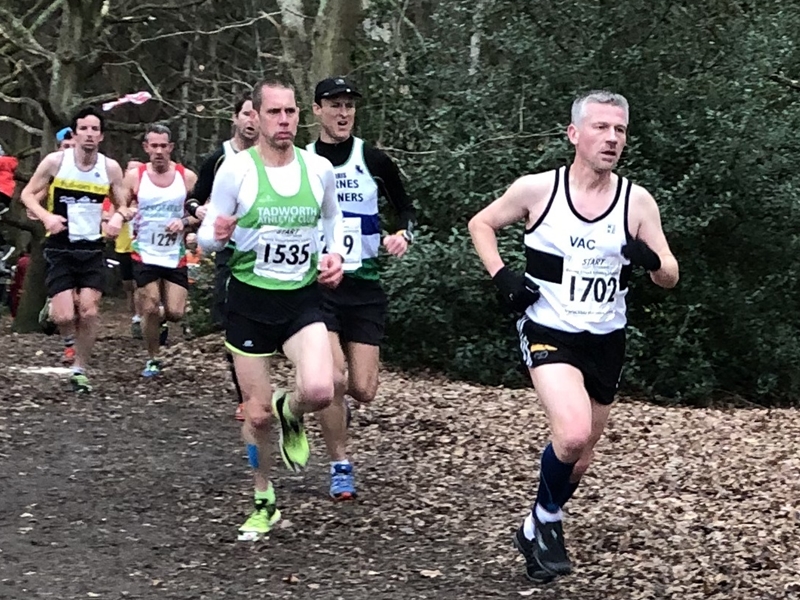 Richard Batchelor (1702)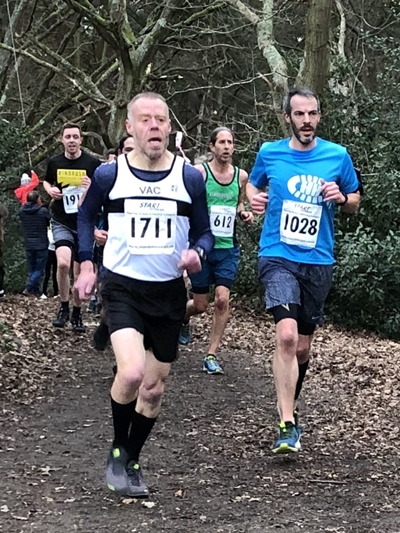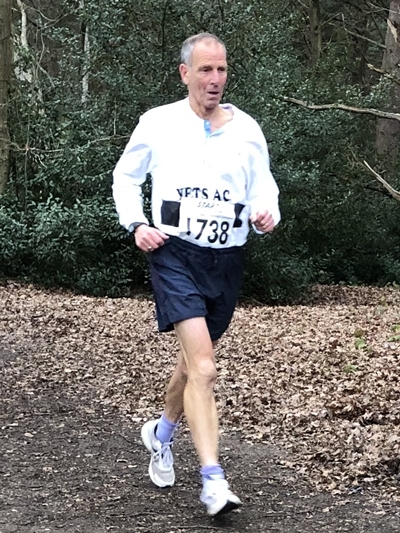 Carey Gray Dan Maskell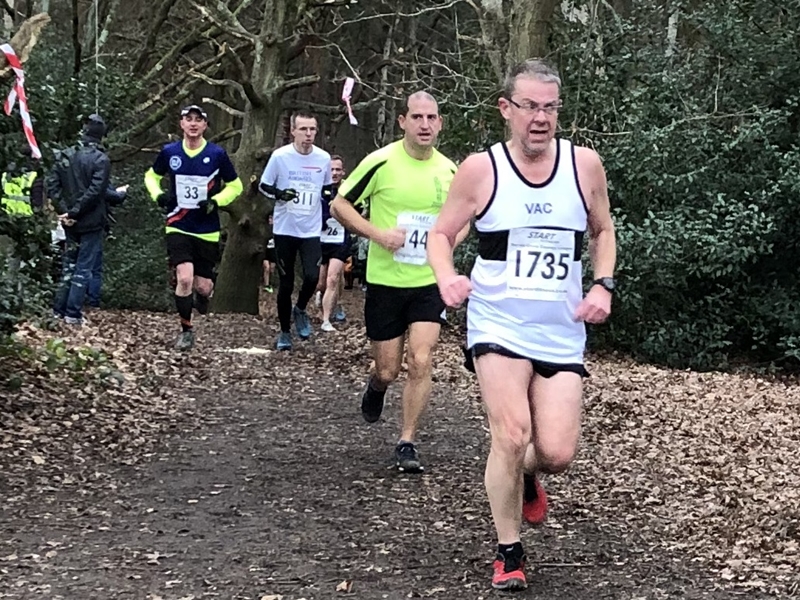 Lloyd Bevan
Above photos from Martin Berry
The third match of the Men's Surrey League took place on a tough course in Oxshott Woods with three repetitions of a steep hill which was long enough to hurt each time. Some regular runners were absent but newcomers scored well to give VAC a respectable presence. Twelve men started but bad luck and wise decisions made a final tally of eight finishers. First home for VAC was newcomer, Edward Lambert, followed by Richard Batchelor, both well up in the field. Regulars, Carey Gray and Gary Budinger were next, closely followed by Lloyd Bevan, making his VAC Surrey League debut. Dan Maskell, usually seen race-walking, made a welcome return to the team. Ian Strong brought VAC home with his usual determination and great enthusiasm.

VAC's team were 11th out of the 12 clubs in Division 4. Overall, after three matches, we are also in 11th position. To move up the table, we need a good turnout at Lloyd Park, Croydon, on 9 February.
VAC Placings, Division Four, Oxshott Woods

Pos.
Time
Name
Age Group
23
34:00
Edward Lambert
M40
35
35:45
Richard Batchelor
M40
92
40:28
Carey Gray
M55
135
44:13
Gary Budinger
M55
137
44:17
Lloyd Bevan
M55
154
47:20
Andy Murray
M65
160
49:08
Dan Maskell
M70
163
52:24
Ian Strong
M55
DNF
Vic Maughn
M55
DNF
Barry Attwell
M60
DNF
Peter Giles
M70
DNF
Alan lane
M80
164 finishers (328 in combined race)
Division Four Team Results at Oxshott Woods
Overall Pos.
3 matches
1
Sutton Runners
302
1
2
Elmbridge
356
3
3
Windrush
377
7
4
Lingfield Runners
452
4
5
Tadworth AC
479
2
6
Horley Harriers
594
6
7
Tri Surrey
614
5
8
Barnes Runners
658
9
9
Holland Sports AC
688
8
10
British Airways
749
10
11
VAC
902
11
12
Epsom Oddballs
1089
12
Full results of the Division 3/4 match and team placings are here.