Results for July 2017 on
Results for January to June 2017 here...
---
VAC Battersea Park Road Races Grand Prix 2017
Update after four events
The five road races of VAC's summer series in Battersea Park count towards a Grand Prix for VAC members. To be eligible, members must compete in at least three of the five races. The person with the highest average of his or her three best age-graded performances will be awarded the Snow Cup, a trophy which dates back to 1950.
A summary of everyone's age graded results of the four races so far is here. Sixteen members have posted the required three times. In a very close contest, only separated by decimal points, Penny Elliott (W70) heads the leader board with an age graded average of 84.67%, followed by Carol Jones (W60) with 84.06%. Mike Mann (M65) at present lies third with 83.38%. Next month's race on Tuesday 22 August will be the last chance to post a time and to improve percentages. There are a further sixteen members who only need one more time to become eligible, so all the positions could change. The final event will be the decider.


---
VAC 5km Road Race Championships and 5 Mile Race Walk, 11 July 2017, Battersea Park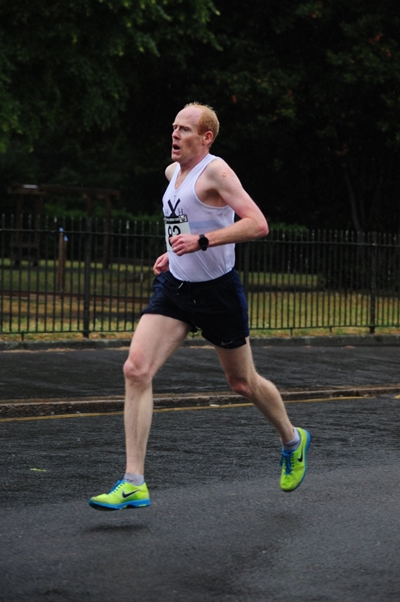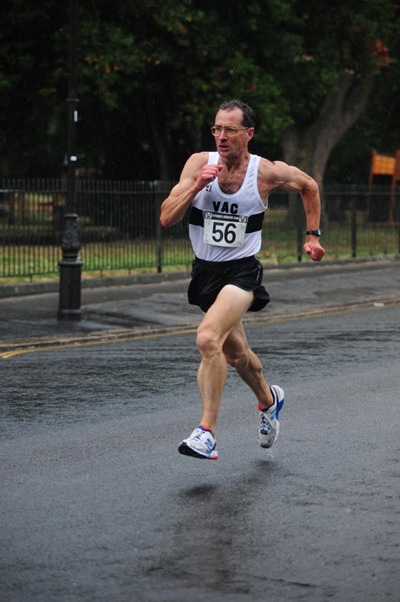 Simon Baines Ian Johnston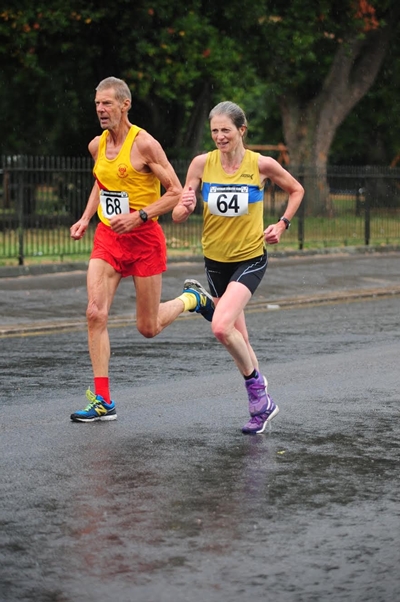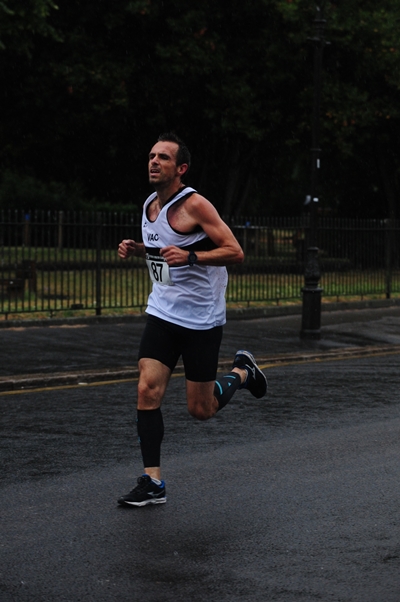 Peter Giles & Anna Critchlow Tony Macdowall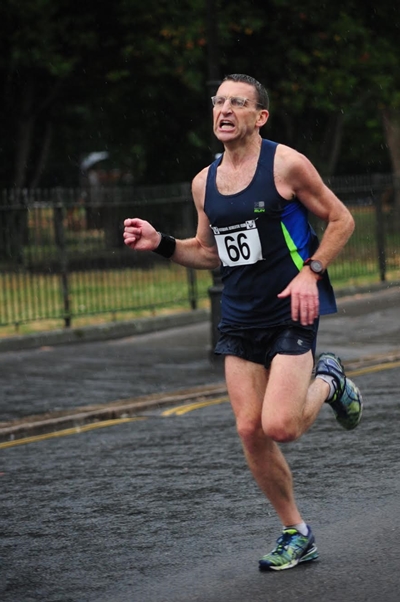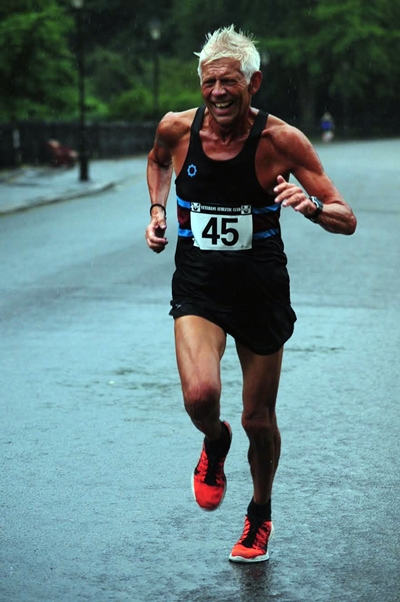 Gavin Mackay Alan Camp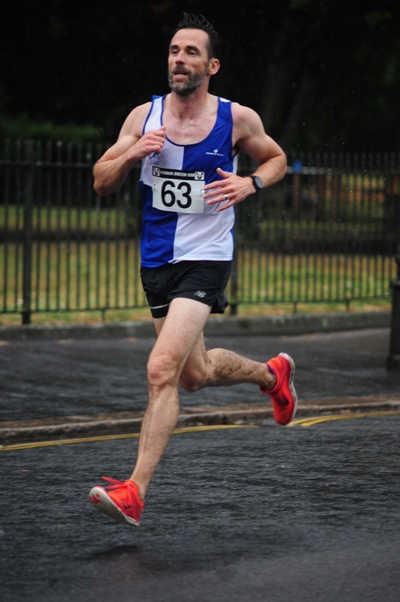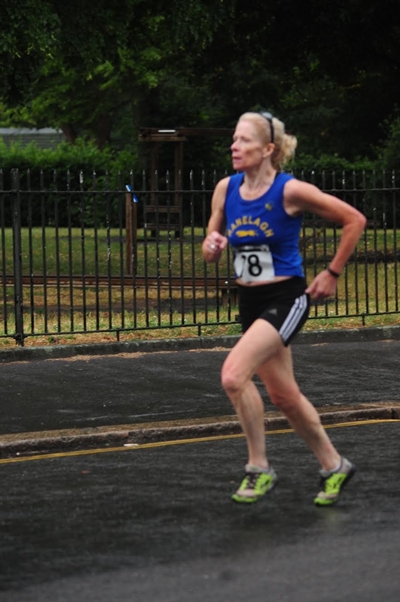 Andrew Keane Marie Synnott-Wells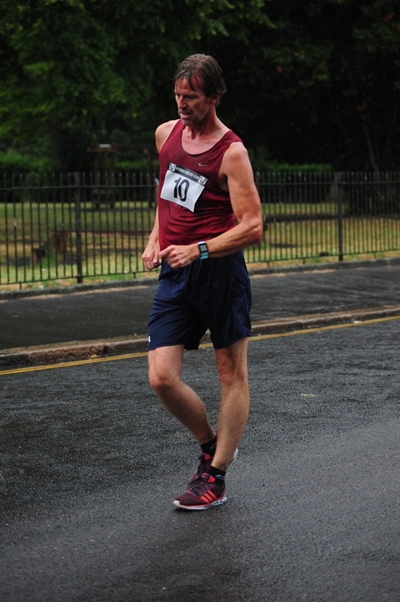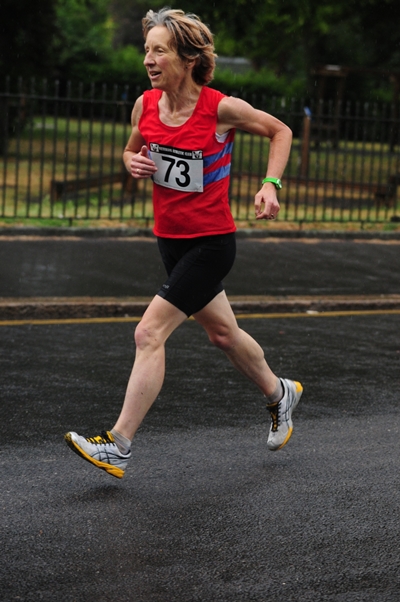 Mark Culshaw, first walker Ange Norris
Photos from Jeremy Hemming
5km Road Race
Pouring rain throughout the race did not deter the 43 finishers in the annual 5km dash round Battersea Park. Three course records were broken, in addition to several near misses. The race winner was Simon Baines, also the M45 Gold medallist, whose time of 16:20 was only three seconds off the 16:17 all-time best for the Battersea course, set by M45 Richard Tomlinson in 2014. Paul Cheetham, winning M40 Gold, was second in 16:49 followed by Tony Macdowall, taking M35 Gold in 17:08. The first record-breaker was Alan Camp whose 17:56 M60 time knocked over 30 seconds off Peter Giles's longstanding M60 course record set in 2006. Alan's time also beat Laurie O'Hara's M60 VAC 5km Championship Best Performance of 18:14 set in 1995 at the Eastway Cycle Circuit. Peter Giles's name stayed on the record book as he convincingly improved his own M70 course record from last year's 20:07 to 19:25, putting him top of the current Runbritain rankings for 2017. He was undoubtedly spurred on by the intense competition from fellow M70, Brian James, who battled hard to finish only eight seconds behind on the line. The other age group Gold medals were won by Peter Wootton (M50), Peter Hall (M55), Valdis Pauzers (M60), Mike Mann (M65), Les Presland (M75) and Cliff Collins (M80).
For the women, Anna Critchlow led the way for W45 Gold in 19:26, 22 seconds off her own W45 course record of 19:04 set last year. The third record breaker was second woman, Ange Norris, whose time of 20:06 knocked ten seconds off Anna Garnier's W55 course record set in 2010. Marie Synnott-Wells was third, and first W50. Other Gold medallists were Jane Rowden (W60), Penny Elliott (W70) and Marion Rayner (W65) whose time of 25:39 was only 20 seconds short of Sue Lambert's longstanding W65 course record of 25:19 set in 2010.
Age graded performances for VAC members for the July race are here. Peter Giles (M70) once again topped the table with a magnificent 93.6% for his time of 19:25. Alan Camp (M60) was second with nearly 90%, closely followed by Brian James (M70), race winner Simon Baines (M45) and W55 record breaker, Ange Norris. Fourteen VAC members achieved top class age gradings of over 80%. Members must register three performances in order to qualify for the Battersea Park Grand Prix. A summary of the age graded results of the four races so far is here. Next month's race on Tuesday 22 August will be the last chance to post a time and to improve percentages.
Race Position
Time
Name
Age Group
VAC Champs Age Gp pos.
First Claim Club
1
16:20
Simon Baines
M45
1
THH
2
16:49
Paul Cheetham
M40
1
Barnes Runners
3
17:08
Tony Macdowall
M35
1
Victoria Park & TH
4
17:11
Ian Johnston
M45
2
VAC
5
17:19
Andrew Keane (guest)
M40
St Mary's Richmond
6
17:51
Gavin Mackay
M45
3
Petts Wood
7
17:56*
Alan Camp*
M60
1
Blackheath & Bromley
8
19:25**
Peter Giles**
M70
1
Hercules Wimbledon
9
19:26
Anna Critchlow
W45
1
West 4 Harriers
10
19:33
Brian James
M70
2
Watford Joggers
11
19:48
Tom Cheetham (guest)
M50
Hercules Wimbledon
12
19:50
Peter Wootton
M50
1
Chiltern
13
20:06***
Ange Norris***
W55
1
Dulwich Runners
14
20:22
Peter Hall
M55
1
West 4 Harriers
15
20:37
Mike Mann
M65
1
Dulwich Runners
16
20:56
Marie Synnott-Wells
W50
1
Ranelagh Harriers
17
21:36
Carlos Cobo (guest)
M35
Surrey Walking Club
18
21:46
Stephen Parker
M60
2
Ilford AC
19
21:55
Valdis Pauzers
M60
3
Herne Hill Harriers
20
21:57
Carol Jones
W55
2

Ealing Southall & Midd

21
22:14
Peter Durrans
M65
2
VAC
22
22:17
Gerry Smith
M65
3
Epsom & Ewell
23
22:28
Tom Morris
M55
2
Hercules Wimbledon
24
23:15
Caroline Helder
W55
3
Wimbledon Windmilers
25
23:25
Jane Rowden
W60
1
West 4 Harriers
26
23:39
Ed Skinner
M60
3
Tiptree
27
23:42
Trevor Solomon
M65
4
VAC
28
23:49
David Gillanders (guest)
M65
Unattached
29
23:59
Jacqui Reid
W50
2
Met Police
30
25:39
Marion Rayner
W65
1
West 4 Harriers
31
25:40
Les Presland
M75
1
AFD
32
26:10
Penny Elliott
W70
1
Waverley Harriers
33
26:37
Cliff Collins
M80
1
VAC
34
28:09
Richard Hammerson
M75
2
Reading Road Runners
35
28:21
Bill O'Connor
M70
3
Queens Park Harriers
36
29:59
Joe Aspinall
M75
3
VAC
37
31:35
Maurice Marchant
M65
5
Tonbridge
38
31:37
Richard Pitcairn-Knowles
M80
2
Sevenoaks AC
39
32:38
Ed Bartlett
M70
4
VAC
40
33:41
Peter Torre
M75
4
Mornington Chasers
41
33:51
Lesley Gower
W65
2
VAC
42
37:15
Ken Tuson
M80
3
VAC
43
39:48
Brian Shave
M80
4
Herne Hill Harriers
* Alan Camp new M60 course record (previous best was Peter Giles, 18:35, set 18 July 2006)
** Peter Giles new M70 course record (previous best was Peter Giles, 20:07, set 12 July 2016)
*** Ange Norris new W55 course record (previous best was Anna Garnier, 20:16, set 10 August 2010)
5 Mile Walk
Category B
Race Permit No: RWA7037- 4
1 Mark Culshaw (Ilford) M50 47:53
2 Steve Bishop (Stock Exchange) (G) M55 48:27
3 John Hall (Belgrave) M65 51:16
4 Maureen Noel (Belgrave) W50 52:31
5 Peter Hannell (Surrey WC) M70 55:38
6 Chris Flint (Surrey WC) M70 56:55
7 Mick Harran (Surrey WC) M75 58:36
8 David Hoben (Surrey WC) M60 59:39

The fourth fixture of the season was held in a considerable amount of rain and was the wettest for some time, the officials at the finish did well to handle the time recording in such conditions.
New signing Mark Culshaw from Ilford had an easy victory, both he and Chris Flint had competed in a 20k road event 2 days earlier which had scarcely affected their times.
VAC were pleased to welcome back Steve Bishop who had appeared earlier in the season and recorded a very respectable time.
John Hall from Belgrave returned to a good time and position in view of his extended absence from regular competitions.

Officials:
Starter: Dennis Williams
Timekeepers/Recorders: David Harris, Carl Lawton, Tom Richards, Ian Isherwood, Nolan Simmons
Walk Judges: Shaun Lightman, Sean Pender, Michael Croft
Entries: David Hoben, Maggie Statham, Anna Garnier
Marshal: Martin Berry
Drinks station: Anna Garnier
Results: David Hoben, Maggie Statham, Dennis Williams
Photography: Jeremy Hemming
First Aid: Alison Jones