Results for January 2017 on
---
Mile End Parkrun 5k 18 February 2017
The quarterly VAC visit to a Parkrun was to the East End this time. Mile End Park was created towards the end of the 20th century by clearing land to the east of the Regents Canal between the Thames and Victoria Park. Whilst the land started off being flat, several small hills were created, including one incorporating a bridge over Mile End Road. The Parkrun starts outside Mile End track, with changing, toilet and locker facilities, and heads north over two small hills, turning at a third to return, initially by the canal, to the start for a second full lap.
Eight VAC runners met at the start on a grey but mildish morning. First VAC runner to finish was Alan Camp, who set a course M60 record. Further back Ros Tabor improved the course's age graded record, set by her there in 2015, to 94.65%.
Next outing is to Osterley Park (National Trust-owned in west London) on Saturday 10 June. All welcome -Parkrun registration/barcode required - see www.parkrun.org.uk/osterley.
11/1m60 Alan Camp (Blackheath & Bromley) 18.12* 88.10% age-graded
54/1m50 Lloyd Bevan (Serpentine) 20.33 73.56%
59/1m65 Mike Mann (Dulwich Runners) 21.27 80.42%
65/2m55 Peter Hall (West 4) 21.36 72.99%
81/2m60 Andy Murray (Dulwich Runners) 22.18 73.84%
85/1w65 Ros Tabor (Dulwich Runners) 22.25 94.65%*
142/4m60 Martin Garrett (Serpentine) 25.25 64.79%
151/1m70 John Carter(Wimbledon Windmilers) 25.50 71.03%
*Course records m60/overall age graded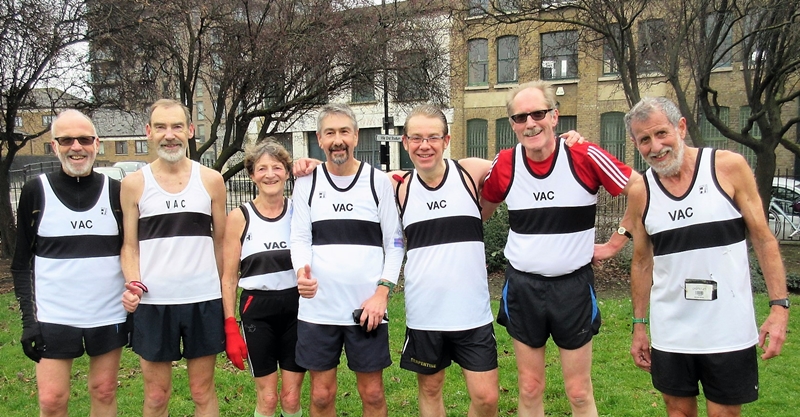 Photo shows from left - John Carter, Andy Murray, Ros Tabor, Peter Hall, Lloyd Bevan, Martin Garrett, Mike Mann

---
Women's Surrey League Cross Country, Coulsdon, 11 February 2017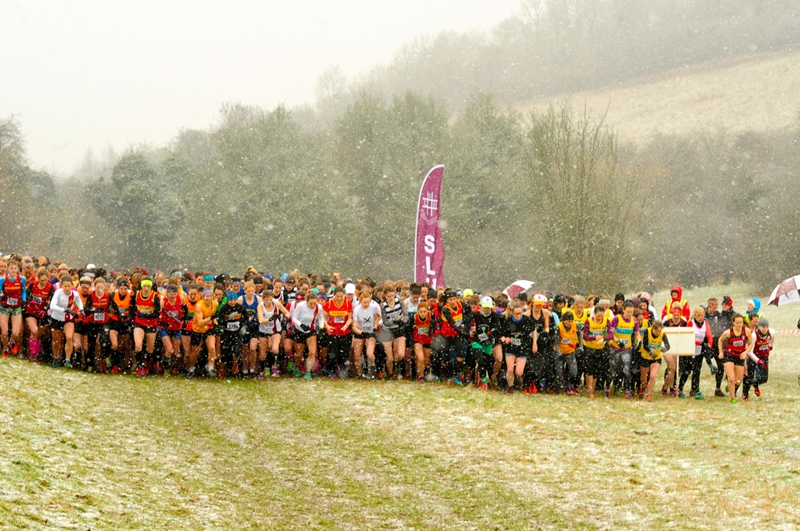 The start...
Around 20 VAC women, running for their first-claim clubs, braved the wintry conditions on a tough five mile course in Coulsdon's Happy Valley. Belgrave's Sophie Carter was the fastest VAC finisher, followed by VAC's Cross Country Championship winner, Liz Stavreski. Ange Norris was the first W55 in the race, beating all the W45 and W50 runners. Rachel Badham was first in the W45 category. Ola Balme and Marie Synott-Wells were 2nd and 3rd in the W50 placings..
1. Isabel Brinsden, Senior, 28:58 (non VAC)
22. Sophie Carter W35, 32:32
35. Liz Stavreski, W40, 33:21
44. Ange Norris, W55, 33:47
52. Selma Benattia, W35, 34:10
58. Victoria Buck, W40, 34:26
62. Rachel Badham, W45, 34:38
71. Ola Balme, W50, 34:56
86. Marie Synott-Wells, W50, 35:48
100. Kate Williams, W50, 36:13
114. Susanna Harrison, W50, 36:38
126. Lisa Thomas, W50, 37:02
134. Pippa Major, W50, 37:27
159. Liz Amos, W35, 38:29
192. Rebecca Barrow, W45, 39:57
241. Nicky Atkins, W50, 42:57
247. Jane Rowden, W60, 43:12
284. Sarah Allen, W50, 46:48
290. Ann Bath, W65, 47:03
294. Fiona Bishop, W55, 47:37
340 finishers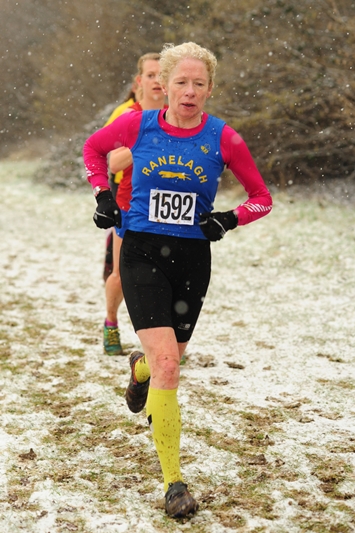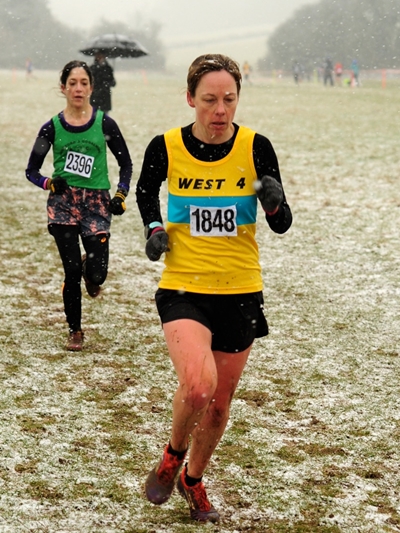 Marie Synott-Wells Rachel Badham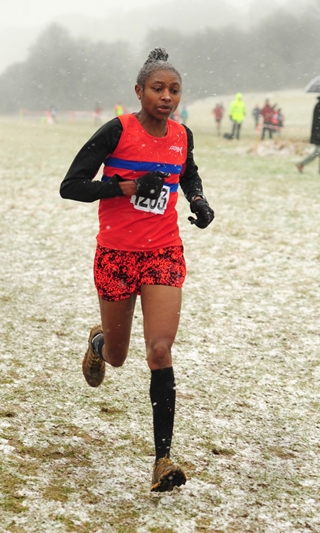 Ola Balme
Photos from Jeremy Hemming
Jeremy has more photos, you can contact him direct at hemming@dircon.co.uk

---
Men's Surrey League Cross Country, Lloyd Park, 11 February 2017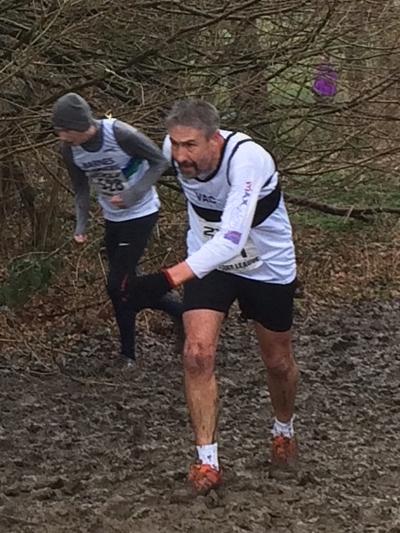 Steve Clancey, ran in all four matches Peter Hall
Eight VAC men made up the VAC team for the final match in the Surrey League series at a cold, grey, Lloyd Park. The two lap course presented the customary greasy mud. Strong legs, good footwear and masterly technique were the order of the day. The team was led home by Mark Cawood, placing 19th in the Division Four race. Next were fellow SLH club mates, Steve Clancey, Jamie Freeland, Glen Morgan and Barry Attwell, all posting sub 40 minute times over the challenging five miles. Peter Hall, Andy Murray and Carey Gray closed the team scorings, making every place count.
Despite being two men short of a full team, VAC finished a worthy 7th on the day. The team's performance enabled VAC to gain a place in the overall standings. We finished a very creditable 6th out of the 10 teams in the division. The Surrey League also makes awards to leading individuals in the M40-49, M50-59 and M60 age groups. VAC's Mark Cawood has won the bronze medal in the M40 category, taking into account his four great performances. In the M60 category, Andy Murray's consistency has been rewarded by the silver medal. Steve Clancey and Carey Gray once again ran in every fixture. Carey hasn't missed a match since 2011!
Thanks go to Paddy Clark, the team manager, who has marshalled the team, provided the essential practical support and kept spirits high.
VAC placings at Lloyd Park: Division Four
19 Mark Cawood M45 32:50
39 Steve Clancey M45 35:14
48 Jamie Freeland M40 36:14
50 Glen Morgan M50 37:01
71 Barry Attwell M60 39:24
76 Peter Hall M55 40:12
79 Andy Murray M60 40:53
91 Carey Gray M55 43:03
113 finishers
Full results of the Division 3/4 match and team placings arehere.
---
VAC Cross Country Champs, Wimbledon Common, 21 January 2017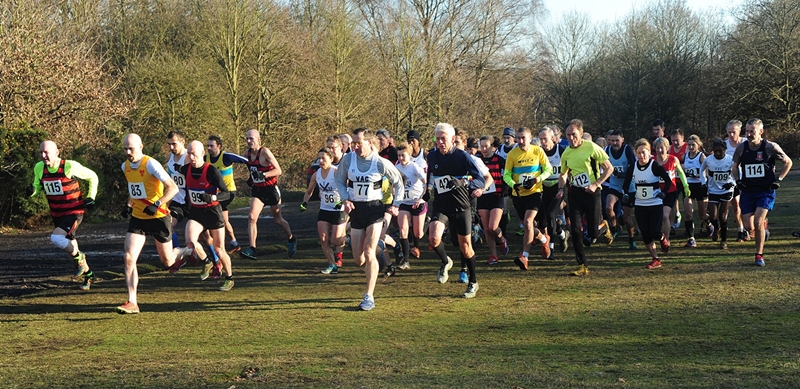 The start
In freezing temperatures, but with bright, calm, conditions, 56 finishers claimed some excellent racing and pleasing performances. For the fourth year we used the two-lap 4.5 mile course on Wimbledon Common, taking in the trail alongside the Beverley Brook and the climb up Robin Hood horse ride. Course records for the Championships are taking shape, augmented by some fine performances at the Inter-Area Masters' Challenge in October 2016 which used the same course.
The race winner, Richard McDowell, led the field by over 30 seconds to set the inaugural M35 course record in an excellent time of 25:07. The top five finishers were each from different age groups (M35, M50, M55, M45 and M60). Second-placed Tony Tuohy had a magnificent run to break the M50 course record by over 20 seconds. Third-placed Gary Ironmonger set a new M55 VAC Championship course record. Next was Ian Johnston, as first M45, followed by Alan Camp, showing great form, holding off two challengers and improving Dave Cox's admirable M60 record by 18 seconds. Mike Mann and Peter Giles retained their M65 and M70 titles in their annual tussle, which this year was narrowly won, by four seconds, by Peter. Doug Milsom, in good form, and not straying off course this year, posted a fine 39:06 to rewrite the VAC Championships M75 course record. However, he did not match his own magnificent overall M75 course record of 37:39 set at the Inter-Area Challenge.
For the women, there was a close contest for the top three placings which were taken by runners in three different age groups (W40, W45 and W55), each setting new VAC Championships course records. First woman, and 8th in the race, was Liz Stavreski whose time of 29:19 improved Victoria Carter's championship course record of 29:43. However, the absolute course record is still held by Clare Elms whose time of 27:44 set at the Inter-Area Challenge looks unbeatable. Rachel Badham followed in 9th place in a time of 29:35, knocking 11 seconds off Anna Critchlow's W45 VAC Championships course record. Rachel was chased all the way by W55 Ange Norris who set a new VAC Championship record of 29:54 but couldn't quite match her own overall course record of 29:40 set at the Inter-Area Challenge. The W50, W60 and W65 gold medals were won convincingly by Patricia Thomas, Jane Georgiou and Margaret Moody.
Thank you to all who competed in the championships. The award for the most conspicuous club goes to Herne Hill Harriers, fielding eight runners and picking up numerous medals. Dulwich Runners came a close second with seven runners, followed by W4H with five.
Thanks also to the officials and helpers without whom the event could not have been held:
Meeting Director: Maggie Statham
Registration: Martin Berry, Maggie Statham
Data and results: Peter Kennedy
Medical support: Alison Jones
Timekeeper: Nigel Bongers
Recorders: Stephanie Burchill, Tom Morris, Maggie Statham
Marshals: Joe Aspinall, Paddy Clark, Maurice Doogan, Mike May, Liam O'Hare, Ros Tabor, Dennis Williams
Course set-up: Mike Mann, Andy Murray, Dennis Williams
Photographer: Jeremy Hemming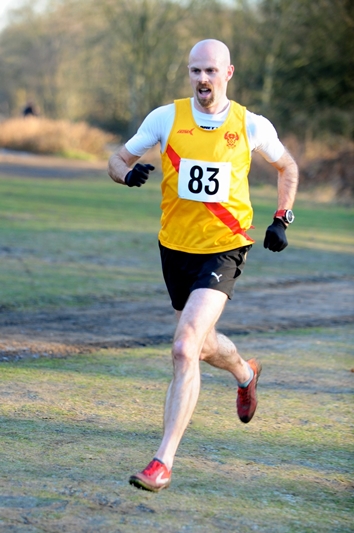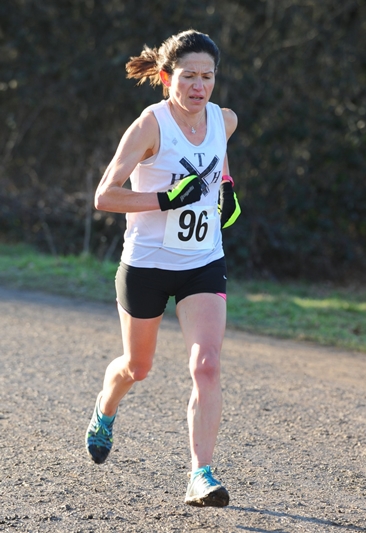 Richard Mcdowell, Race Winner Liz Stavreski, First Woman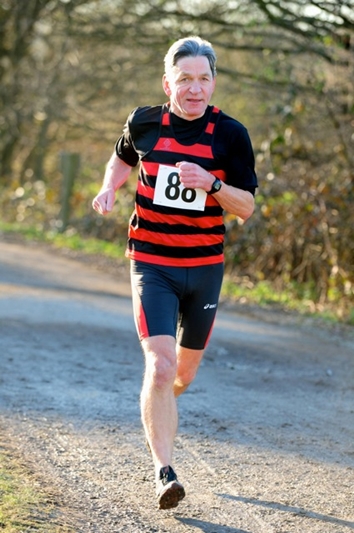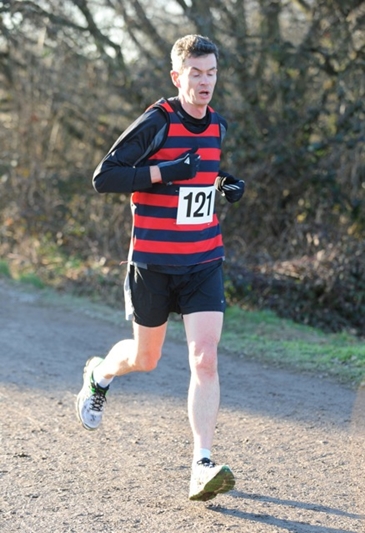 Valdis Pauzers Stuart Morrison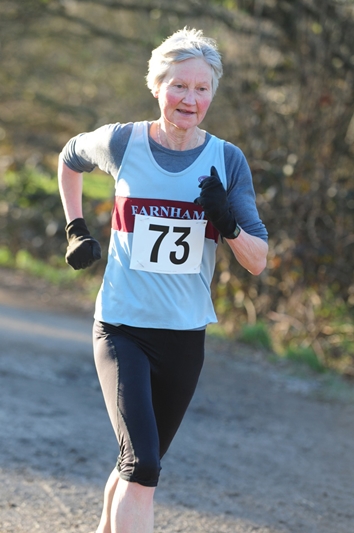 Margaret Moody Jane Georghiou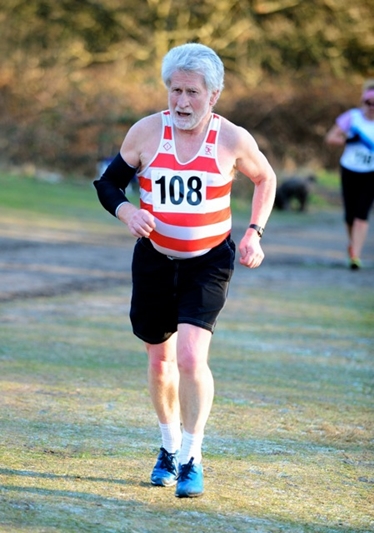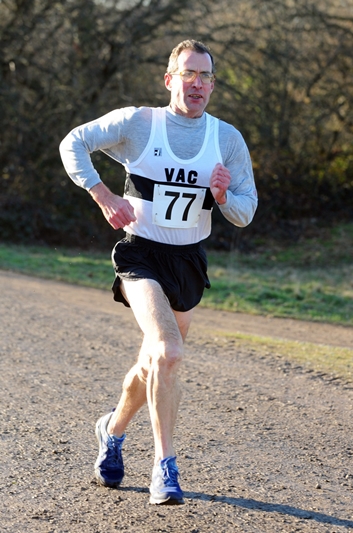 Bill O'Connor Ian Johnston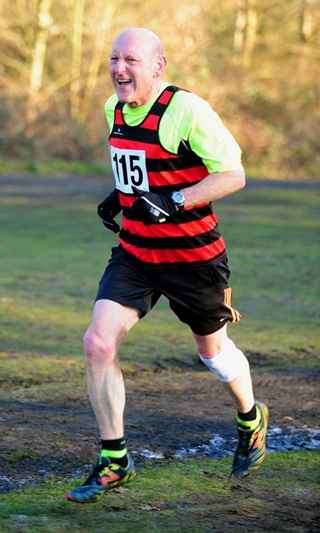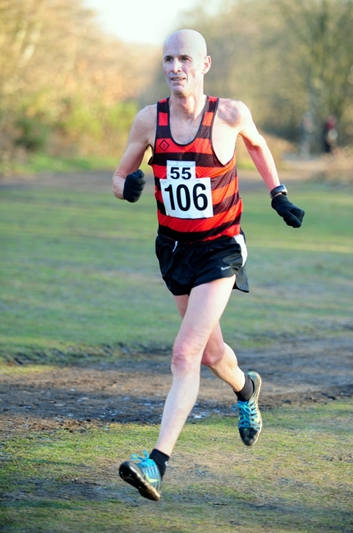 Gary Ironmonger Mike Boyle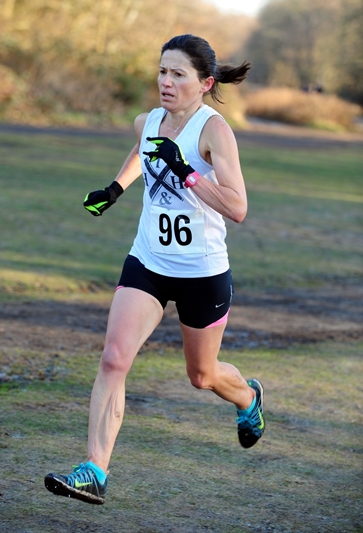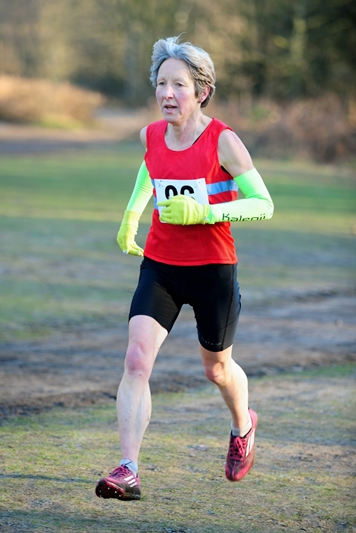 Liz Stavreski Ange Norris, First W55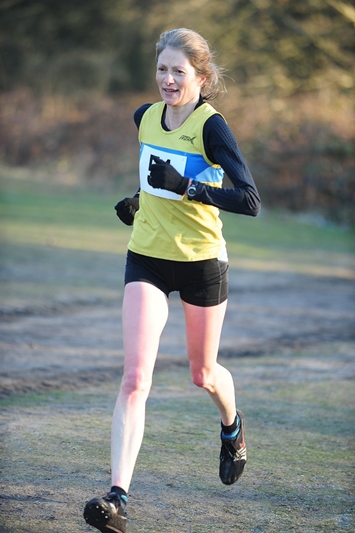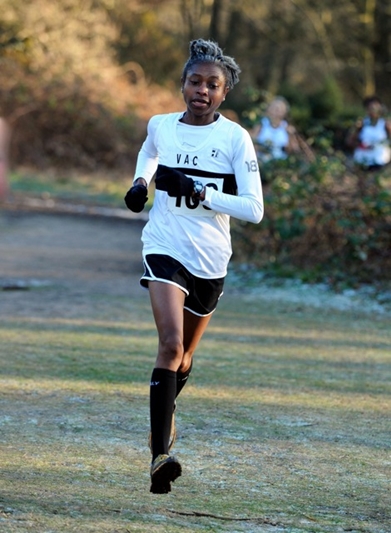 Anna Critchlow Ola Balme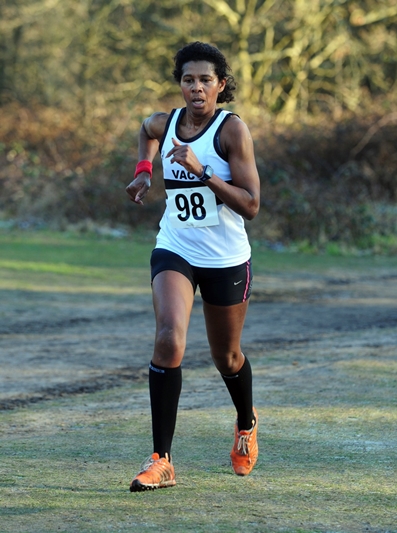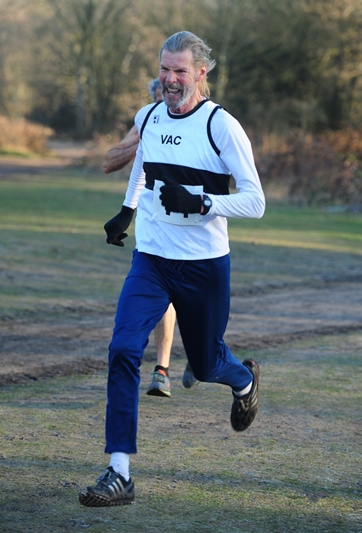 Patricia Thomas, First W50 Peter Giles M70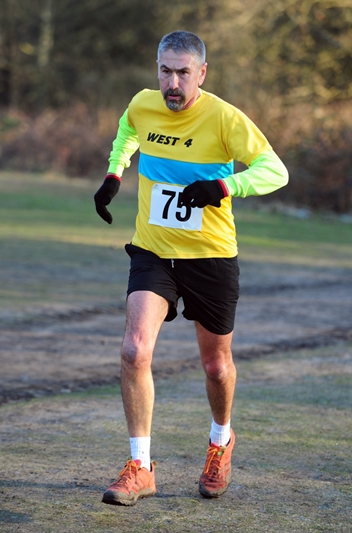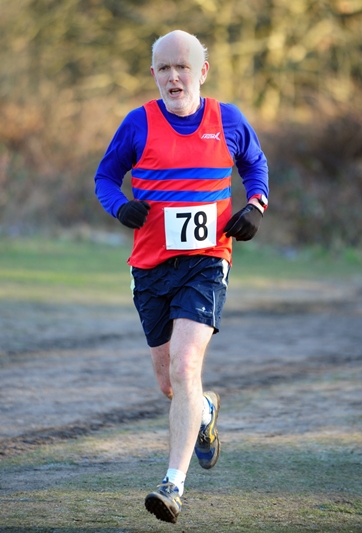 Peter Hall Graham Laylee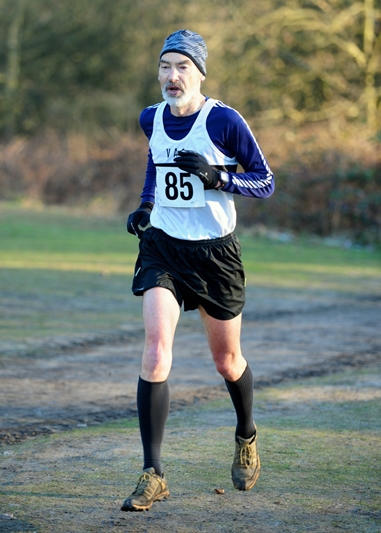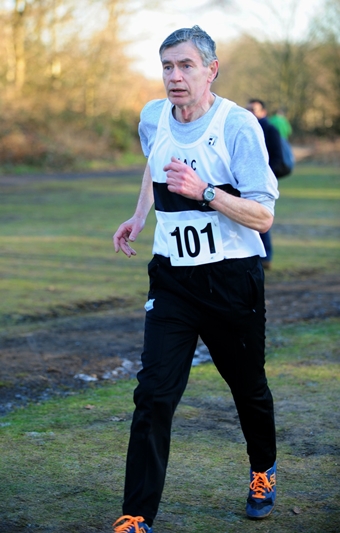 Andy Murray Walter Wessely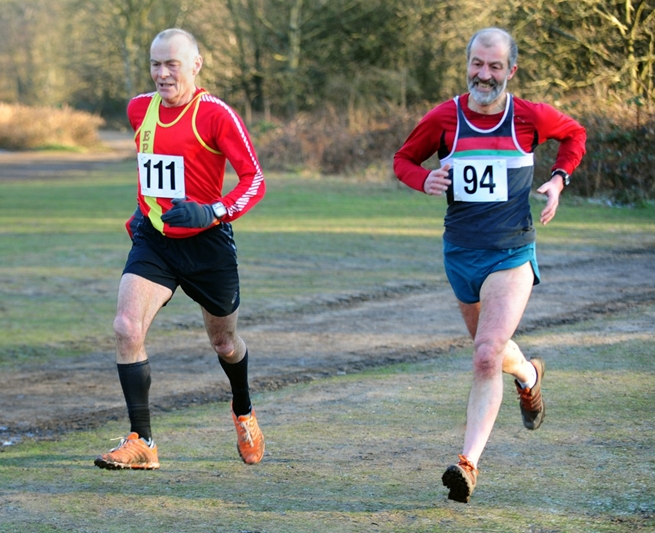 Gerry Smith Martin Spence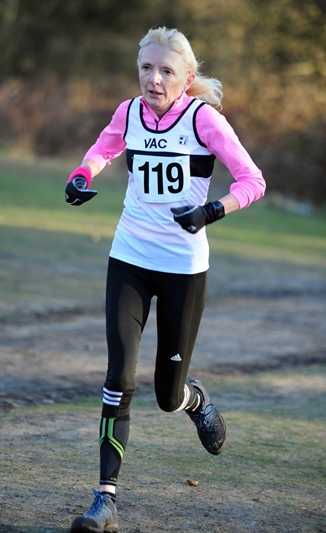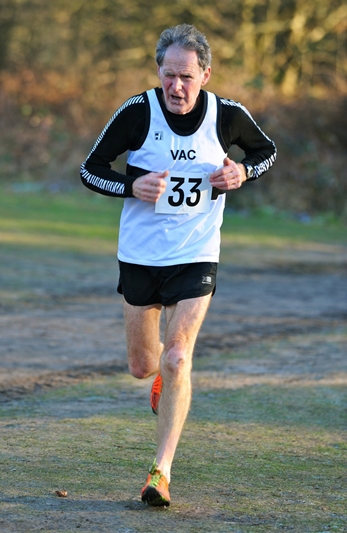 Carol Jones Richard Bloom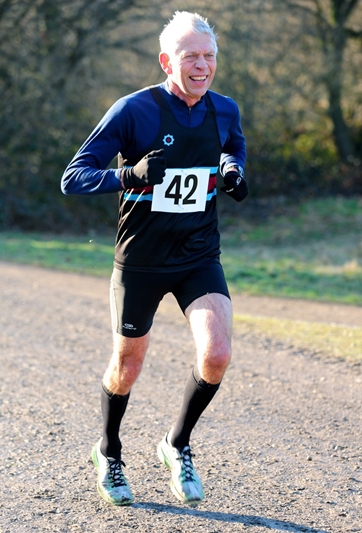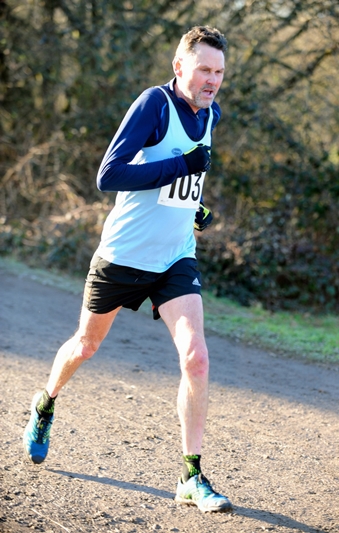 Alan Camp Jeremy Carnell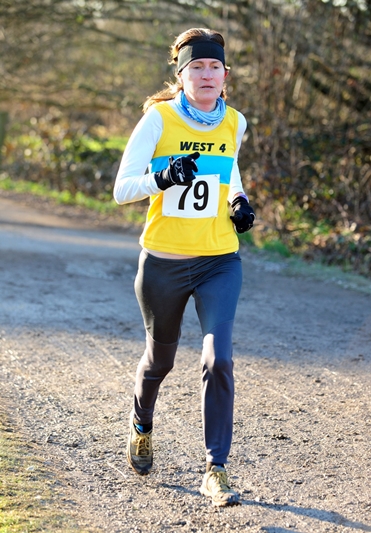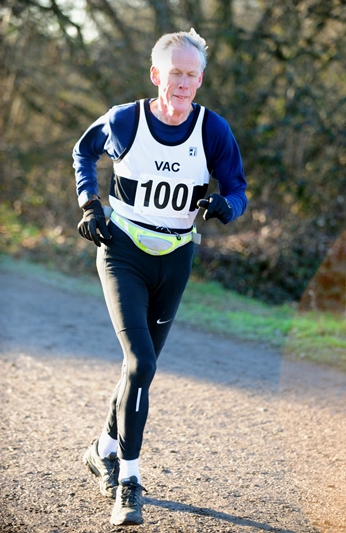 Rosemary Lewis Peter Kennedy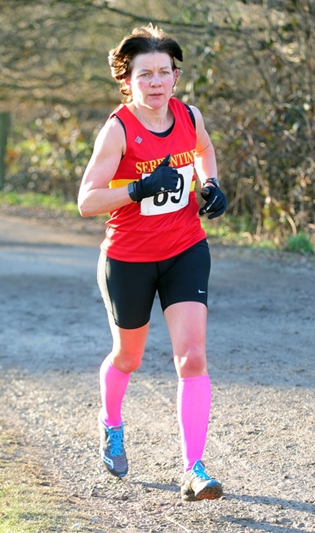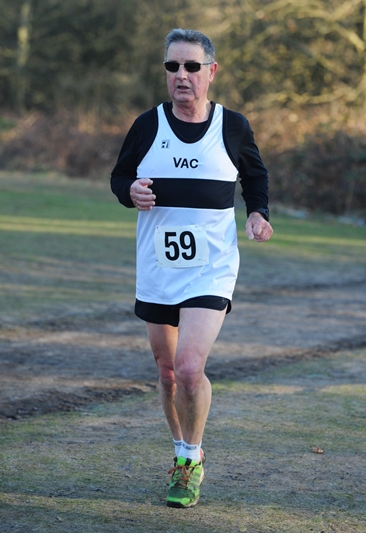 Lisa Pettit William Fordham
Photos from Jeremy Hemming
Jeremy has many more photos, you can contact him direct at hemming@dircon.co.uk

---
Men's Surrey League Cross Country, Cranford 14 January 2017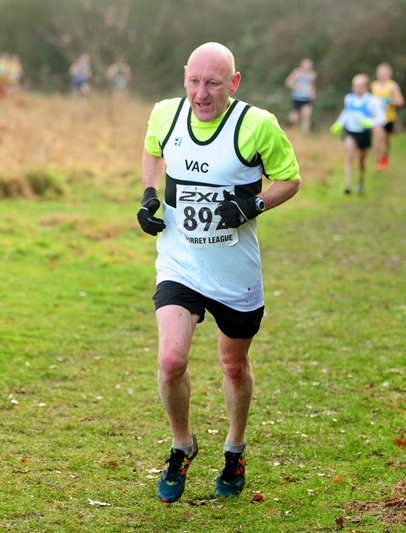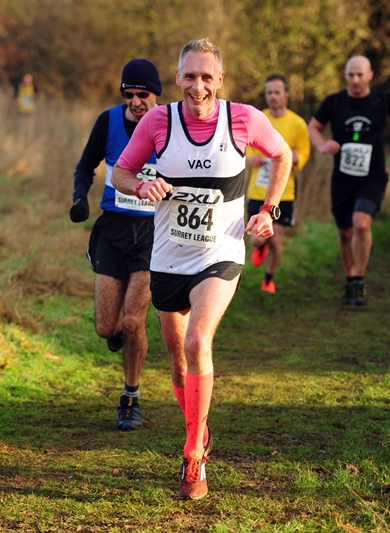 Gary Ironmonger led VAC team Steve Clancey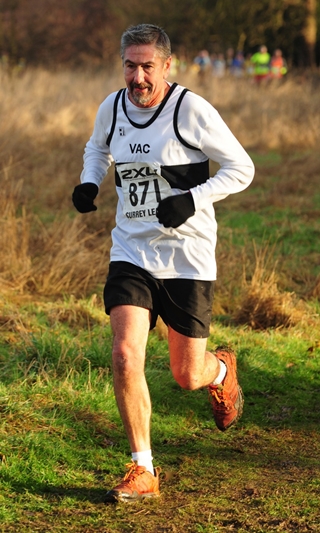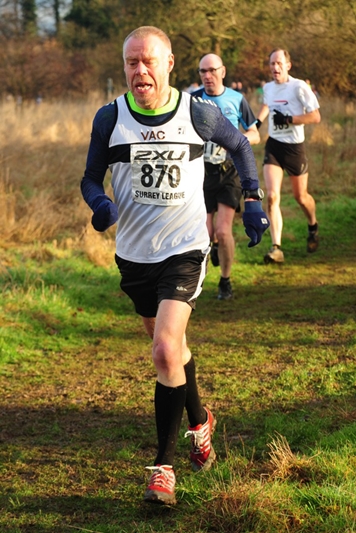 Peter Hall Carey Gray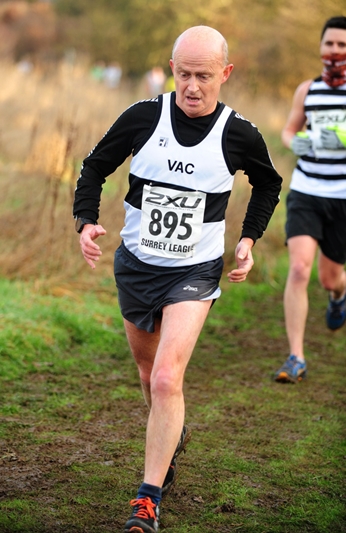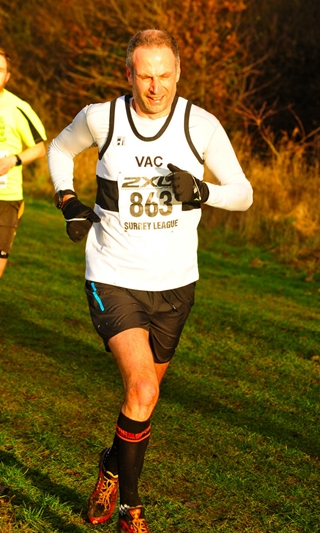 Simon Williamson Mark Cawood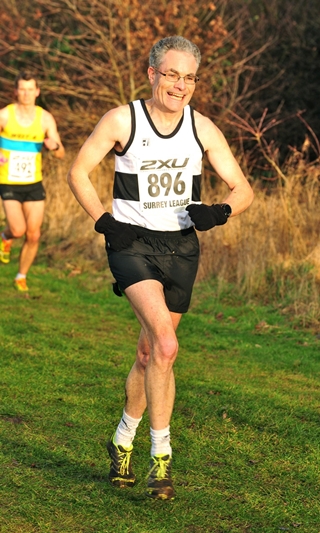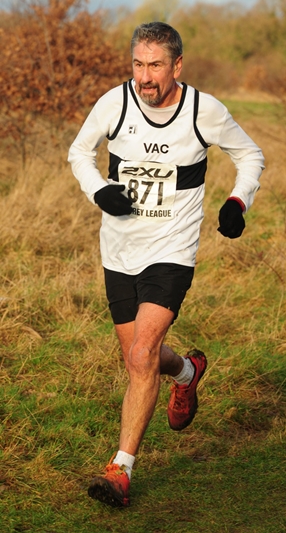 Philip Jones Peter Hall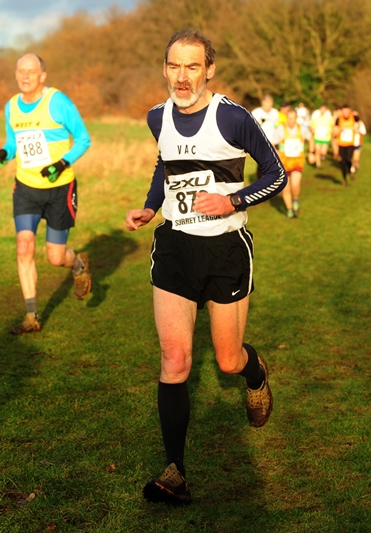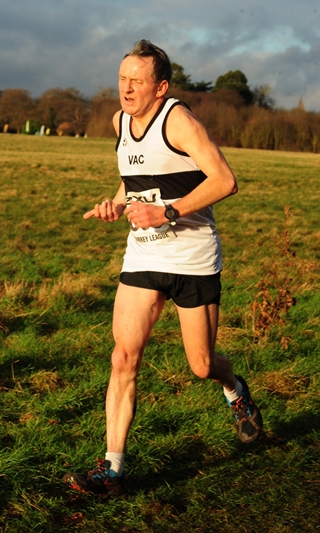 Andy Murray Ian Sesnan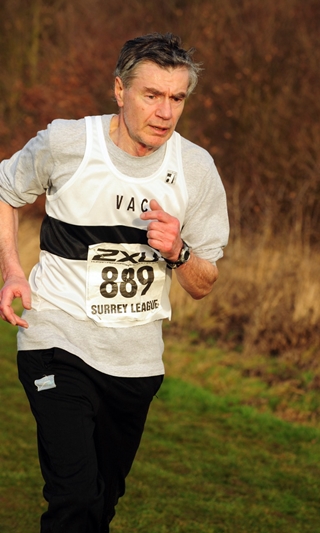 Walter Wessely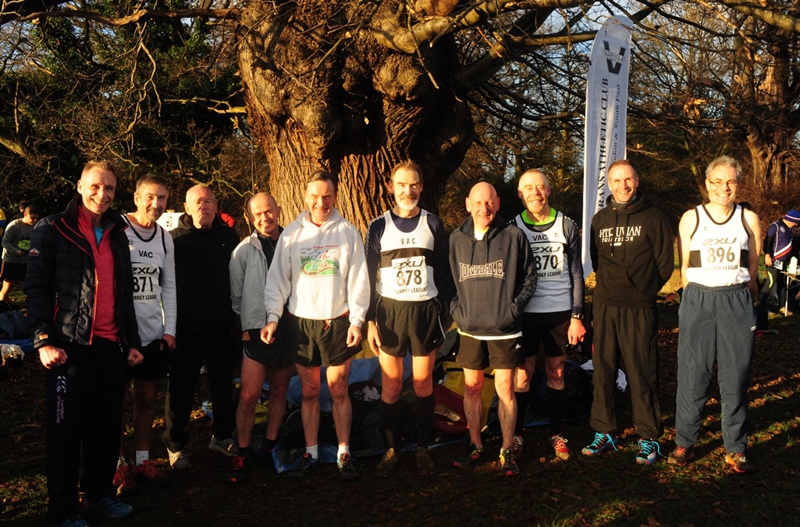 The VAC team at Cranford Park (from left to right): Steve Clancey, Peter Hall, Paddy Clark (team manager), Simon Williamson, Ian Sesnan, Andy Murray, Gary Ironmonger, Carey Gray,Mark Cawood,Philip Jones)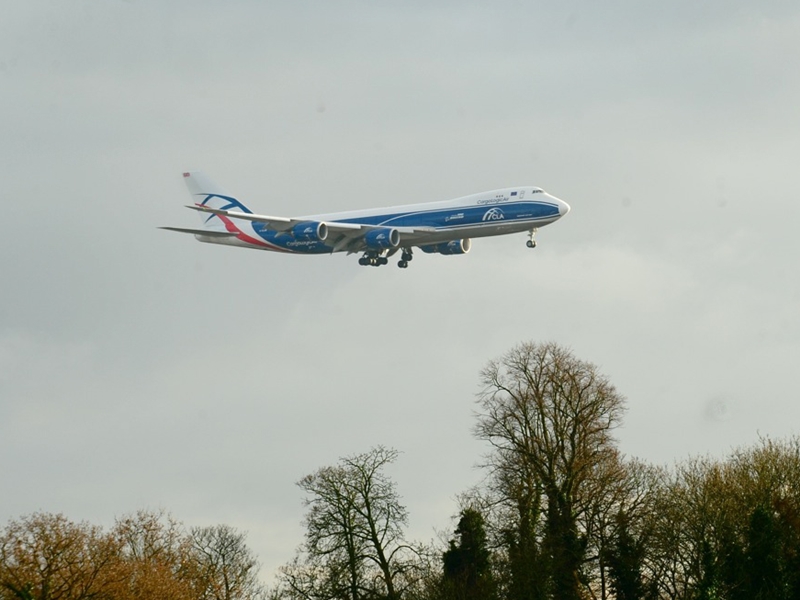 What's different about this plane? No windows – it flies cargo
Photos from Jeremy Hemming
Jeremy has many more photos, you can contact him direct at hemming@dircon.co.uk
Ten VAC men made up a full team for the third match in the Surrey League series at a surprisingly sunny Cranford Park under the shadow of Heathrow Airport's flightpath. The team's lead runner, Gary Ironmonger, came a magnificent fourth in the Division Four listing after a tight contest with the 5th and 6th placed younger runners who were only seconds behind. VAC were well supported in the middle of the pack by great performances from Mark Cawood, Philip Jones, Steve Clancey and Peter Hall, followed by the men who closed the team, Carey Gray, Andy Murray, Simon Williamson, Ian Sesnan and Walter Wessely, who are just as valuable as the faster ones.
Thanks go to Paddy Clark, the team manager, who orchestrated VAC's presence and kept spirits high. The team finished a creditable 6th on the day, a place higher than in the previous match. The team performance helped VAC to jump to 7th overall after the three fixtures, but we need a strong performance in the final match to consolidate. We could even bag another place.
VAC men, please turn out for the final match at Lloyd Park, Croydon, on 11 February.
VAC placings at Cranford Park: Division Four
4 Gary Ironmonger M55 29:11
19 Mark Cawood M45 31:26
29 Philip Jones M50 32:31
40 Steve Clancey M45 33:41
60 Peter Hall M55 35:42
72 Carey Gray M55 36:49
74 Andy Murray M60 37:04
85 Simon Williamson M55 38:19
87 Ian Sesnan M55 38:49
103 Walter Wessely M70 45:44
107 finishers
Full results and team placings arehere.