Results for January 2018 on
---
Southern Counties Veterans AC Indoor Championships (incorporating Veterans AC Championships 3k walk), Lee Valley 18 February 2018
3k indoor track
1 [1] David Annetts North Herts M50 14:44.68
2 [3] John Hall Belgrave M65 16:39.46
3 [6] Peter Hannell SWC M75 22:24.07
Square brackets denote position in combined race
Another day, another win, another PB for Dave Annetts.

---
VAC at South Norwood parkrun, 17 February 2018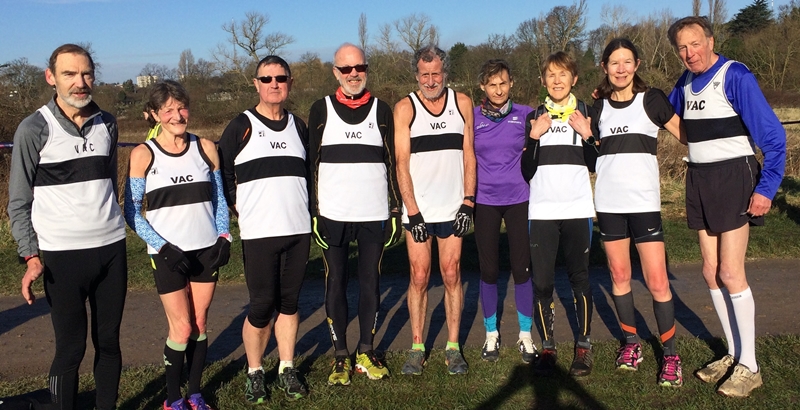 South Norwood parkrun: VAC runners, left to right: Andy Murray, Ros Tabor, William Fordham, John Carter, Mike Mann, Jane Hughes, Jo Quantrill, Maggie Statham, Richard Pitcairn-Knowles
SOUTH NORWOOD PARKRUN
10 VAC members went to this fairly new parkrun in South London for our latest 'mob match' outing.
The course is 2 laps on stony paths round the country park. It is still quite a small event so we were all able to run freely from the start. Conditions were good, with little or no wind. The puddles could be avoided. There is one small hill on each lap.
VAC members set the following age group records:
| | | | | |
| --- | --- | --- | --- | --- |
| Richard Pitcairn-Knowles | M85 | | | |
| Ros Tabor | W65 | | | |
| Maggie Statham | W60 | | | |
| | | | | |
| RESULTS | | | | |
| Mike Mann | 1st | M65 | 22.53 | 76.18% |
| Ros Tabor | 1st | W65 | 23.54 | 90.17% |
| Andy Murray | 2nd | M60 | 23.58 | 69.33% |
| Maggie Statham | 1st | W60 | 24.18 | 83.40% |
| Bill Fordham | 3rd | M65 | 24.47 | 68.33% |
| Jo Quantrill | 2nd | W60 | 24.58 | 78.84% |
| John Carter | 1st | M70 | 26.46 | 69.61% |
| Jane Hughes | 1st | W55 | 27.03 | 68.76% |
| Sarah Allen | 4th | W50 | 28.58 | 60.87% |
| Richard Pitcairn-Knowles | 1st | M85 | 33.49 | 71.86% |
We try and choose parkruns from different localities around London, so as many members as possible have a chance to join in. The next event scheduled is Hampstead Heath parkrun on Saturday 9 June.

---
Men's Surrey League Cross Country, Lloyd Park, 10 February 2018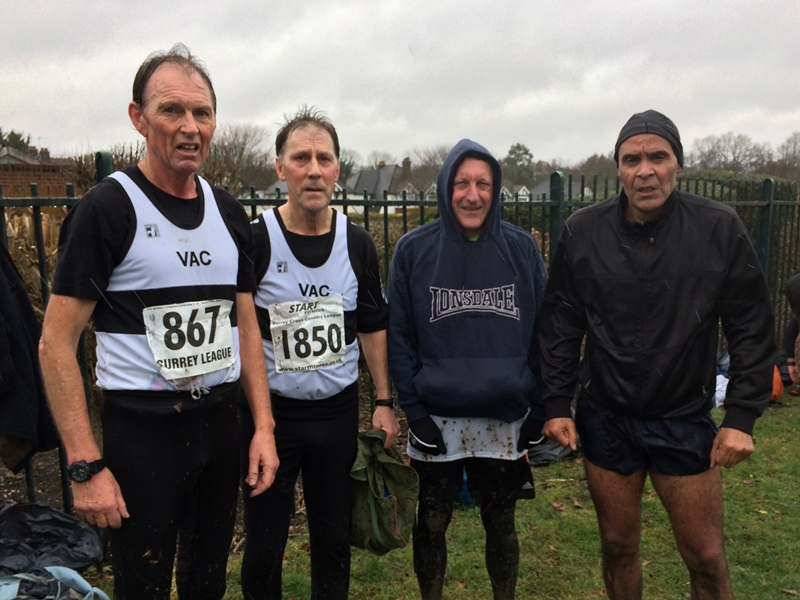 Tony Harran, Barry Attwell, Gary Ironmonger and Vic Maughn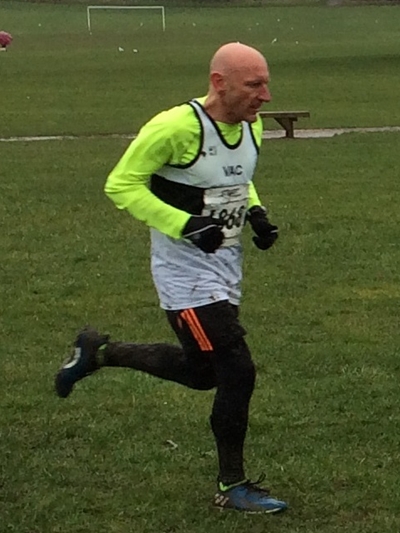 Gary Ironmonger, first VAC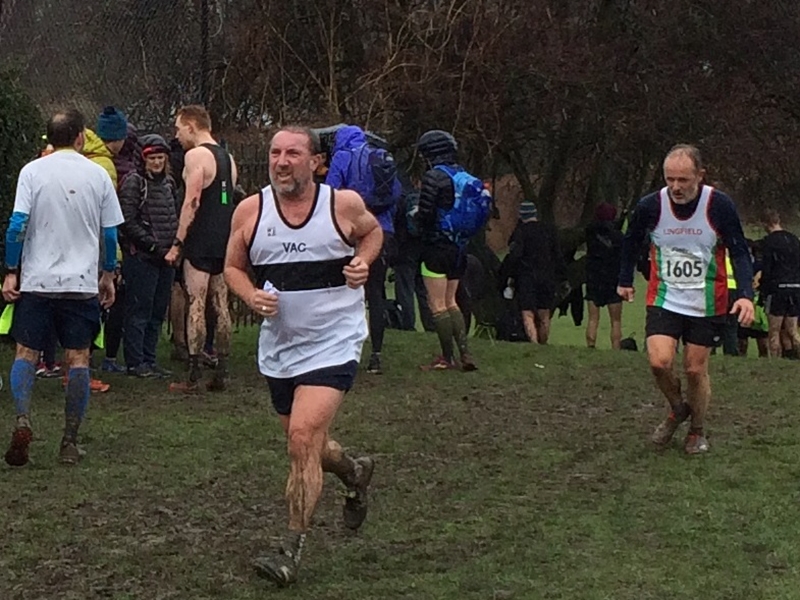 Gary Budinger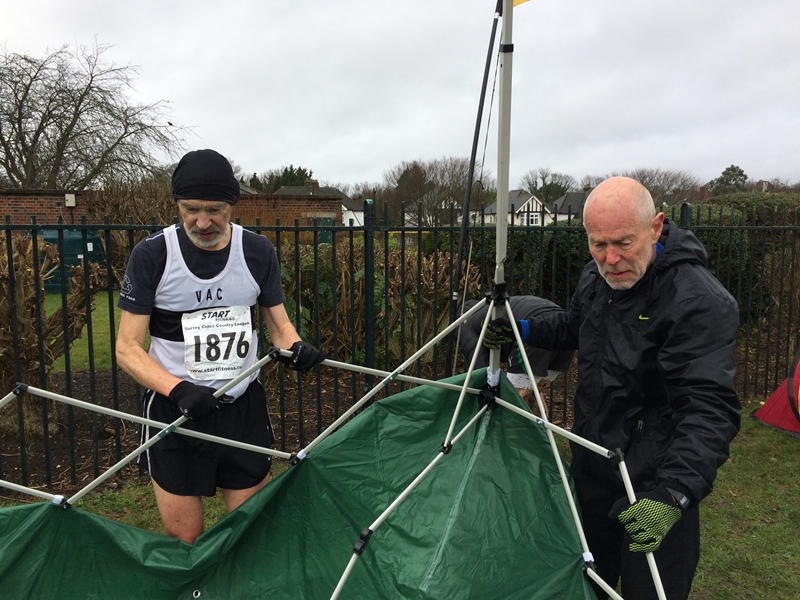 Andy Murray and Team Manager, Paddy Clark, tend to the gazebo
Eight VAC men started the final match of the series at a cold and muddy Lloyd Park. Constant rain made the usual slippery two lap, 5 mile, course even more challenging. Gary Ironmonger was first home for VAC in a great 7th place in Division Four, and 1st M55. The trio of Vic Maughn, Barry Attwell and Tony Harran held firm in the top half of the racers to take valuable places. Vic was 2nd M55 and Barry was 1st M60. Andy Murray and Carey Gray followed, reversing their usual finish order, with Andy ahead of Carey this match. Gary Budinger wasn't far behind. VAC's 8th starter, Tony Austin, wisely dropped out, feeling unwell having struggled round the first lap. Perhaps the biggest casualty of the day was the VAC gazebo which finally bent its legs and succumbed to the wind and rain, having sheltered us well throughout the season.
With three men short of a full team, VAC finished in 10th position on the day. This brought us in at 8th overall, with a total score of 2680.5 in the final standings, but tantalisingly close to Elmbridge in 7th, with only 1.5 points difference. The Surrey League also makes awards to leading individuals in the M40-49, M50-59 and M60 age groups. VAC's Gary Ironmonger won the silver medal in the M50 category with his four great performances. Carey Gray and Andy Murray also ran in every fixture. Carey hasn't missed a match since 2011!
Thanks go to Paddy Clark, the team manager, who has marshalled the team, provided the essential practical support and kept spirits high.
VAC Placings, Division Four, Lloyd Park
Race Pos.
Time
Name
Age Group
Age Grp. Position
7
32:22
Gary Ironmonger
M55
1
32
35:26
Vic Maughn
M55
2
36
36:05
Barry Attwell
M60
1
45
36:47
Tony Harran
M55
5
94
42:44
Andy Murray
M60
4
97
43:20
Carey Gray
M55
11
102
45:18
Gary Budinger
M55
13
DNF
Tony Austin
M60
115 finishers
Division 4 Team results, Lloyd Park
1 Holland Sports 228.
2 Collingwood 296.
3 Horley Harriers 419.
4 Runnymede Runners 471.
5 British Airways 574.
6 Windrush AC 608.
7 Lingfield Runners 618.
8 Wild Trail Runners 628.5.
9 Barnes Runners 687.
10 VAC 717.5.
11 Elmbridge 989.
12 Epsom Oddballs 1024.
Division 4: Final Overall Team Results
1 Collingwood 1300.
2 Runnymede Runners 1476.
3 Holland Sports 1584.
4 Horley Harriers 1905.
5 Wild Trail Runners 2155.5.
6 Windrush AC 2642.
7 Elmbridge 2679.
8 VAC 2680.5.
9 Lingfield Runners 2936.
10 British Airways 2954.
11 Barnes Runners 3042.
12 Epsom Oddballs 3686.
Full results of the Division 3/4 match and team placings are here.

---
VAC Cross Country Championships and Masters Open race, Wimbledon Common 20 January 2018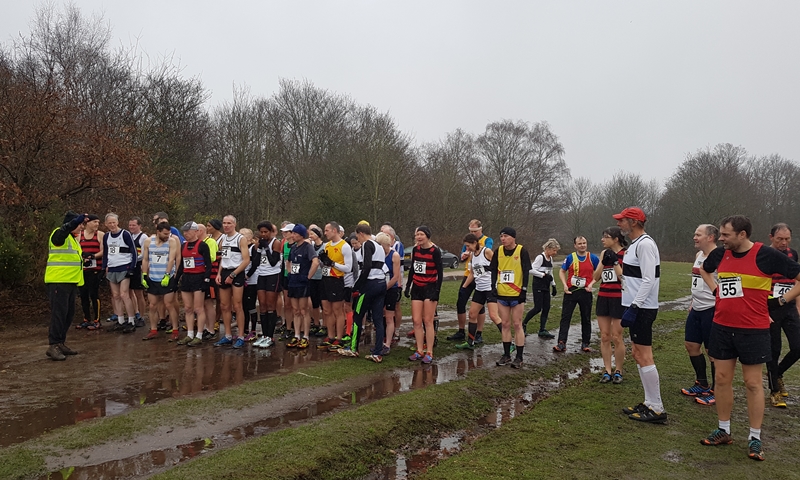 VAC CC Champs, the starting line-up (photo by Stephanie Burchill)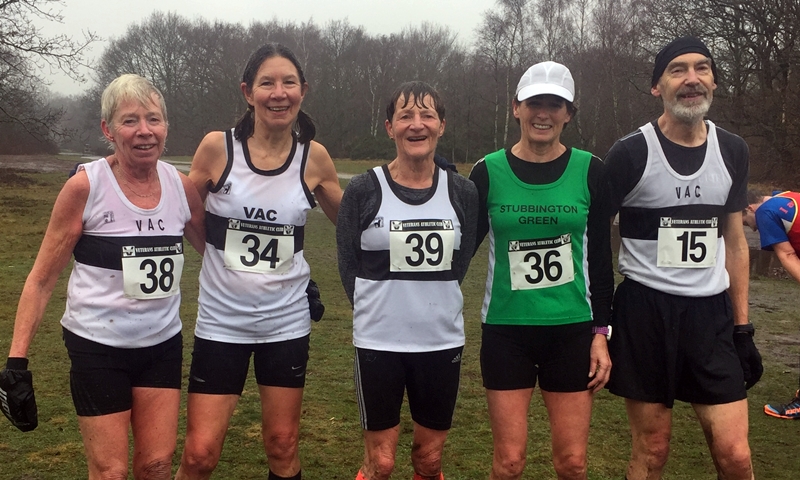 Margaret Moody, Maggie Statham, Ros Tabor, Penny Forse, Andy Murray (photo by Martin Berry)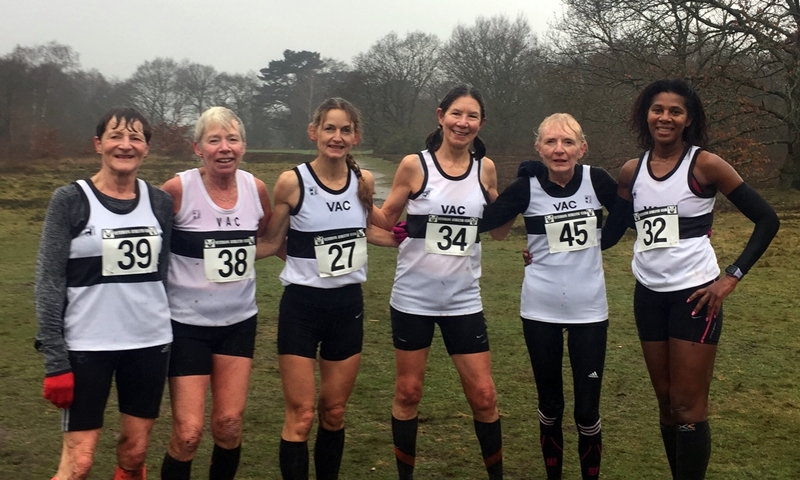 Ros Tabor, Margaret Moody, Fiona Russell, Maggie Statham, Carol Jones, Patricia Thomas (photo by Martin Berry)
Fifty runners completed the 4.5 mile course on Wimbledon Common in the worst rain that most could remember for VAC's championship race. The two-lap course presented a tough challenge with deep puddles, muddy swathes and soggy sand on the horse-ride hill.
Paul Cheetham won the race in a time of 25:31, only 21 seconds short of the M45 course record, set in much more favourable conditions. Fellow M45, Gary Towers, was second, only 19 seconds behind, having been in the lead for a while. In third place came Dan Hallam, first M40, in 27:07, closely followed by first M55, Gary Ironmonger, in 27:15. Terry Booth had a great run, finishing 9th to win the M50 Gold medal. Peter Giles was also in good form and in drier conditions would surely have broken his own M70 course record, which he missed by just 18 seconds. Barry Attwell and Mike Mann won the M60 and M65 Golds. Although it wasn't a day for breaking records, a brand new M85 age-group record was posted by Richard Pitcairn-Knowles. His time of 52:30 was faster than his M80 record of 52:46 set in 2016!
For the women, Tracy Galbraith from Eastern Veterans led the way, finishing in a good time of 31:16, taking the W50 Open Gold medal. First for VAC was Lucy Woolhouse, the W55 Gold medallist, in a time of 31:38, holding her own in a fine battle for places as she and four men all finished in a six second burst. Marie Synnott-Wells (W50), Fiona Russell (W45), Margaret Moody (W65), Maggie Statham (W60) and Lesley Bowcott (W70) all won Gold medals in their age groups.
Special thanks on such a wet day go to the officials and helpers.
Finish Line: Stephanie Burchill, Maurice Doogan, Tom Richards, Don Turner
Registration: Martin Berry, Maggie Statham
Results: Peter Kennedy, Janet Kennedy
Marshals: Joe Aspinall, Paddy Clark, Dennis Williams
Course setters: Mike Mann, Andy Murray, Dennis Williams
Medical Support: Alison Jones
VAC Cross Country Championships, Wimbedon Common, 20 January 2018
Results
Pos.
Bib
Time
Name
Age Gp.
Club
VAC pos.
OPEN pos.
First Claim Club
1
54
25:31
Paul Cheetham
M45
VAC
M45-1
Barnes Runners
2
7
25:49
Gary Towers
M45
VAC
M45-2
Eton Manor AC
3
3
27:07
Dan Hallam
M40
VAC
M40-1
Herne Hill Harriers
4
42
27:15
Gary Ironmonger
M55
VAC
M55-1
Herne Hill Harriers
5
12
27:34
Tony Tuohy
M55
VAC
M55-2
Dulwich Runners AC
6
51
28:06
Rob Marcus
M40
Guest
M40-2
Walton AC
7
43
28:25
Len Reilly
M55
VAC
M55-3
Kent AC
8
58
28:34
Felix Allen
M45
VAC
M45-3
Hercules Wimbledon AC
9
8
30:28
Terry Booth
M50
VAC
M50-1
Guildford & Godalming AC
10
29
31:16
Tracy Galbraith
W50
EVAC
W50-1
Oxford City AC
11
10
31:26
Andrew Simms
M50
VAC
M50-2
Herne Hill Harriers
12
9
31:33
Philip Cross
M50
VAC
M50-3
Woking AC
13
50
31:34
James Bartosik
M35
Guest
M35-1
Walton AC
14
49
31:36
Tony Harran
M55
VAC
M55-4
Herne Hill Harriers
15
33
31:38
Lucy Woolhouse
W55
VAC
W55-1
Veterans AC
16
22
31:39
Peter Giles
M70
VAC
M70-1
Hercules Wimbledon AC
17
56
31:50
Barry Attwell
M60
VAC
M60-1
South London Harriers
18
47
31:57
Victor Maughn
M55
VAC
M55-5
Herne Hill Harriers
19
41
32:00
Tom Cheetham
M50
Guest
M50-4
Hercules Wimbledon AC
20
53
32:03
Richard Clark
M60
VAC
M60-2
Hercules Wimbledon AC
21
55
32:34
Andrew Masters
M40
Guest
M40-3
Lewes AC
22
46
32:36
Matteo Maino
M50
Guest
M50-5
Barnes Runners
23
19
32:52
Michael Mann
M65
VAC
M65-1
Dulwich Runners AC
24
20
32:58
Stephen Plested
M65
VAC
M65-2
Ealing Southall & Middlesex AC
25
31
33:06
Cathy Stewart
W50
SCVAC
W50-2
Aldershot Farnham & District AC
26
44
33:31
Marie Synnott-Wells
W50
VAC
W50-1
Ranelagh Harriers
27
27
33:46
Fiona Russell
W45
VAC
W45-1
Mornington Chasers
28
18
33:52
Peter Kennedy
M65
VAC
M65-3
Lewes AC
29
4
34:17
Trevor Robinson
M40
EVAC
M40-4
Dagenham 88 Runners
30
32
34:59
Patricia Thomas
W50
VAC
W50-2
Ealing Southall & Middlesex AC
31
30
35:12
Mary Setyabule
W50
VAC
W50-3
Herne Hill Harriers
32
36
35:18
Penny Forse
W65
SCVAC
W65-1
Stubbington Green Runners
33
38
35:30
Margaret Moody
W65
VAC
W65-1
Basingstoke & Mid Hants AC
34
23
35:39
Roger Green
M70
VAC
M70-2
Woodford Green with Essex Ladies
35
34
35:55
Maggie Statham
W60
VAC
W60-1
Holland Sports AC
36
39
35:58
Ros Tabor
W65
VAC
W65-2
Dulwich Runners AC
37
15
36:07
Andy Murray
M60
VAC
M60-3
Dulwich Runners AC
38
6
36:30
Gareth George
M45
VAC
M45-4
Epsom & Ewell Harriers
39
37
37:35
Jane Georghiou
W65
VAC
W65-3
Farnham Runners
40
45
37:41
Carol Jones
W60
VAC
W60-2
Ealing Southall & Middlesex AC
41
13
38:23
Anthony Austin
M60
VAC
M60-4
Hercules Wimbledon AC
42
14
39:03
Martin Garrett
M60
VAC
M60-5
Sudbury Court RC
43
11
39:28
Ian Strong
M55
VAC
M55-6
Epsom Oddballs RC
44
21
39:37
John Carter
M70
VAC
M70-3
Wimbledon Windmilers
45
48
39:39
Jo Quantrill
W60
VAC
W60-3
South London Harriers
46
28
41:38
Sarah Allen
W50
VAC
W50-4
Herne Hill Harriers
47
40
44:02
Lesley Bowcott
W70
VAC
W70-1
Wimbledon Windmilers
48
57
44:36
Christine Munden
W45
Guest
W45-2
Thames Valley Harriers
49
52
47:05
Bill O'Connor
M70
VAC
M70-4
Queens Park Harriers
50
25
52:30
Richard Pitcairn-Knowles
M85
VAC
M85-1
Sevenoaks AC